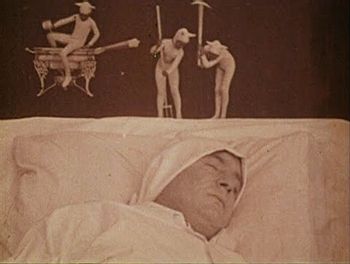 Dream of a Rarebit Fiend is a 7-minute 1906 film directed by Edwin S. Porter, based on Winsor McCay's comic strip Dream of the Rarebit Fiend.
A man at a restaurant makes a pig of himself gorging on Welsh rarebit
, a cheese-and-toast dish that does not include rabbit. The man staggers out of the restaurant, and soon begins to hallucinate, staggering down the street as the world spins around him, finally clinging for dear life to a lamppost. After being helped home the man collapses into bed, but then has an elaborate dream in which all his furniture marches away and devilish imps emerge from a floating Welsh rarebit chafing dish to poke at him. Finally the man's bed flies off into the sky, taking him on a wild ride over the city, before dropping him—back into bed, where he wakes up.
---
Tropes: