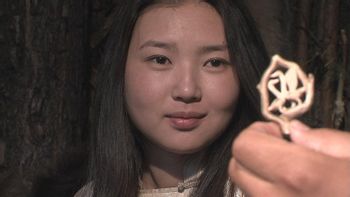 A Pearl in the Forest is a 2008 film from Mongolia. The Buryats were (and still are) an ethnic group living in southern Russia and northern Mongolia in the area around Lake Baikal. In The '30s Soviet dictator Joseph Stalin decreed the collectivization of agriculture, a change which brought untold suffering upon the peasant farmers of Russia. Many Buryats responded to collectivization, and to the violent purges that Stalin unleashed in 1937-38, by fleeing across the border to Mongolia.
Unfortunately for the Buryats, Mongolia was a satellite state of the Soviet Union. The film is set in 1937 and dramatizes the devastation that Stalinism brought to one Mongolian village. Markhaa is an ethnic Buryat and a member of the Mongolian military police. He has come back to his village to find and arrest Buryats from Russia who are hiding in Mongolian Buryat villages. While there, Markhaa sets his sights on Sendem, the prettiest girl in the village. She is pledged to her true love, Dugar, another villager. Unfortunately for Sendem, Dugar, and everyone else in the village, Markhaa doesn't care, and will stop at nothing to have Sendem.
For another Mongolian work that deals with the violent oppression of this era, see the novel The Green-Eyed Lama.
---
Tropes:
---