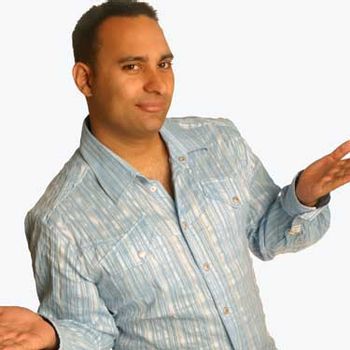 "I'm Russell Peters, world-famous sex addict and rocket scientist, just kidding, I don't know shit about rockets."
If Kal Penn represents Indians in America, Russell Peters represents the community in Canada.
Russell Dominic Peters (born September 29, 1970) was born in Toronto, Ontario to Eric and Maureen Peters, and raised in Brampton. He is of Anglo-Indiannote A Eurasian community in South Asia strictly defined as people or descendants of people who had a European father and South Asian mother descent. His father was born in Bombay, India and worked as a federal meat Inspector and his mother was born in Calcutta, India. He has an older brother named Julio Clayton who was also born in Calcutta. Peters began performing in Toronto, Ontario in 1989. He has since also performed in the UK, Australia, mainland China, Hong Kong, Singapore, Denmark, South Africa, the Caribbean, Vietnam, New Zealand, Philippines, Sri Lanka, Sweden, India, UAE, Bahrain, Jordan, Lebanon, and the United States Trinidad among other places. His comedy special Russell Peters: Outsourced, aired on Comedy Central on August 16, 2006. The DVD version features his uncensored performance. The DVD has been popular, especially in Canada, selling over 100,000 copies. Outsourced remained on the National DVD Chart over one and a half years after release. He also gained popularity in most Asian countries.
Peters' comedy focuses largely around his Indian upbringing and racial stereotypes, as he often parodies his parents and South Asian culture, as well as various other Asian, African and Hispanic cultures. Peters' comic routines on the Outsourced DVD are about Asians, Hispanics, English accents, terrorists, and his parents, among other things. Topics ranged from different types of Asians, the English accent, terrorists, Africans, and his adventures in Hong Kong while experimenting with Cantonese, and adventures with a Nigerian lady in Beijing's KFC (nega...). Some of these acts were criticized as being "racist," but the show remained typical of his style. Two of his most popular catchphrases are "be a man" and "somebody gonna get a hurt real bad". During the encore for the show, before doing the famous line, he mentions that he would be retiring that joke/line after that show. Many viewers misunderstood this message and believed that Russell Peters was retiring from his career as a comedian. The official reason is that his father recently died before the release of the DVD and many jokes were based on him. From now on, Peters would be focusing on different material.
As of late 2017, Peters has moved into acting as well as the eponymous protagonist of The Indian Detective, where he plays a ... well, Indian-Canadian constable who, during his suspension from the Toronto police, comes to Mumbai to see his father, but also immediately gets embroiled in the world of Indian crime and law enforcement.
---
This performer provides examples of:
---