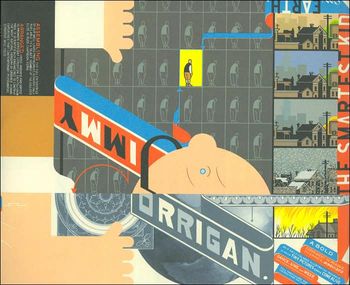 Jimmy Corrigan, the Smartest Kid on Earth is a bold experiment in reader tolerance, disguised as a gaily-colored illustrated romance in which tiny pictures seem to come alive by Chris Ware, originally appearing in his comic book series Acme Novelty Library.
Jimmy Corrigan, the Smartest Kid On Earth, is a lonely, 35-year old emotionally-impaired human castaway who lives by himself and calls his mom at least once a day. Suddenly, he gets a plane ticket from his father which he has never seen before! So he goes to meet him! What exciting adventures await him?
Meanwhile, a hundred years ago, Jimmy's lonely, emotionally-impaired human castaway grandfather James Corrigan is taking a trip to Jimmy's sick great great grandmother, while Jimmy's great grandfather is helping in constructing "The White City" of the 1893 "World's Columbian Exposition". What exciting adventures await Jimmy's grandfather?
For James "Jim" Corrigan, former host to the embodied wrath of God over at DC Comics, see The Spectre.
---
Tropes:
---