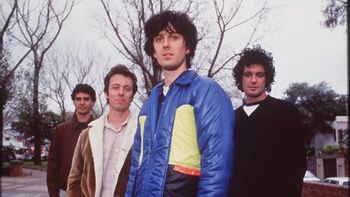 Custard is an Australian indie rock band. The band formed in Brisbane in 1990 as Custard Gun with David McCormack (vocals, guitar), James Straker (guitar) Paul Medew (bass) and Shane Brunn (drums). Matthew Strong soon replaced Straker, while Brunn was replaced by Danny Plant, who was in turn replaced by Glenn Thompson. The band is known for its often humorous lyrics, which are sometimes cryptic and sometimes literal. Musically, their formative influences include Pavement, Jonathan Richman and The Go-Betweens. Along with Regurgitator and the massively successful Powderfinger, they formed the crux of the much-lauded Brisbane music scene of the mid to late 90s.
The band had a commercial breakthrough in 1995 with "Apartment", the first single from Wisenheimer, which became a radio hit on Australia's national broadcaster Triple J. The song ended up #7 on the station's annual Hottest 100; at the time, this was the best placing by an Australian artist, but the balance has shifted considerably in Australians' favor since. In 1997, Custard released We Have the Technology, which spawned three singles that were similarly popular on Triple J, but commercial success eluded the band until 1999's Loverama. The album's lead single "Girls Like That (Don't Go for Guys Like Us)" was a minor chart hit, placed #3 in the Hottest 100 and the video won an ARIA award.
The band broke up in 2000, after which three of its former members formed short-lived bands of their own. David McCormack formed The Titanics with Glenn Thompson and his (David's) then wife Emma Tom (now Emma Jane) and Tina Havelock-Stevens. The Titanics released two albums in 2000 and broke up in 2002. Matthew Strong formed The Boat Show with former Regurgitator drummer Martin Lee and released a single EP. The Titanics' sound was similar to that of Custard, while The Boat Show played a harder brand of alternative rock. McCormack went on to release five albums under his own name and as David McCormack & The Polaroids.
The band reunited for the occasional show between 2009 and 2012 before releasing its first album in 16 years, Come Back, All is Forgiven in 2015.
David McCormack currently voices the character of Bandit in Bluey.
Discography:
Buttercup/Bedford (1991)
Gastanked EP (1992)
Brisbane EP (1993)
Wahooti Fandango (1994)
Wisenheimer (1995)
We Have the Technology (1997)
Loverama (1999)
Come Back, All is Forgiven (2015)
The Common Touch (2017)
The Band (Live in The Basement) (2018) note
Respect All Lifeforms (2020)
Tropes present in the band's work include: