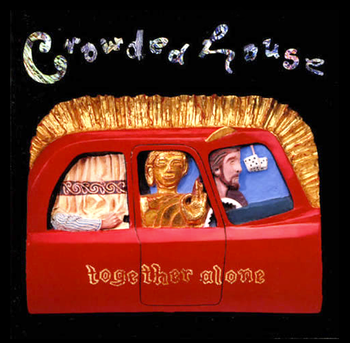 Together Alone is the fourth studio album by Crowded House, released in 1993. Riding off the success of their previous album Woodface, Crowded House, now minus Tim Finn and plus Mark Hart, regrouped in a house belonging to frontman Neil Finn's friends in the secluded town of Kare Kare, New Zealand, to record their forth album. The result was a highly atmospheric album, borrowing heavily from traditional Māori music and Post-Grunge, in addition to the band's Power Pop sensibilities.
While critics saw it as a fine album, albeit not as good as Woodface, the album remains a strong fan favourite out of the Crowded House discography.
Together Alone would also turn out to be the final full album with Paul Hester, who left the band during the tour supporting the album in 1994.
---
Tracklist:
"Kare Kare" (3:35)
"In My Command" (3:43)
"Nails in My Feet" (3:39)
"Black and White Boy" (4:00)
"Fingers of Love" (4:26)
"Pineapple Head" (3:27)
"Locked Out" (3:17)
"Private Universe" (5:39)
"Walking on the Spot" (2:54)
"Distant Sun" (3:49)
"Catherine Wheels" (5:12)
"Skin Feeling" (3:56)
"Together Alone" (3:55)
---
Principal Members:
Neil Finn - Lead Vocals, Guitars, Keyboards
Paul Hester - Backing and Lead Vocals, Drums, Percussion
Nick Seymour - Bass, Backing Vocals
Mark Hart - Keyboards, Guitars, Lap Steel, Mandolin
---
Feels like nothing matters, in our private troperverse...
Alliterative Title: "Kare Kare".
Bilingual Bonus: Much of "Together Alone" is sung by a Maori choir.
Darker and Edgier: Compared to Woodface, with dark, ethereal ballads taking the place of poppy acoustic songs.
Domestic Abuse: The topic of "Catherine Wheels".

She's gone

But towards the light

Watching her whole life unfold

Bruises come out dark

So strong was his hold on her

Regarded by some as his slave

Driven to Suicide: Heavily implied to have happened to the woman in "Catherine Wheels".
Echoing Acoustics: All over the album, but particularly prevalent on "Kare Kare" and "Private Universe".
Epic Rocking: Whilst not to the extent of other examples, "Private Universe" and "Catherine Wheels" are two of the longest songs Crowded House ever recorded.
Genre Mashup: Although Together Alone shares the Power Pop roots of the earlier albums, it is also heavily influenced by Folk, Post-Punk, Dream Pop, Grunge, and especially World Music in the form of traditional Polynesian styles.
Location Song: "Kare Kare", a homage to the town.
Lyrical Cold Open: "Nails in My Feet".
Mood Whiplash: The upbeat "Distant Sun" is followed by the very dark "Catherine Wheels".
New Sound Album: Played with: Together Alone explored new genres but was still definitely Crowded House.
Non-Appearing Title:"Kare Kare".
One-Man Song: "Black And White Boy".
Scenery Porn: A "Making Of" promo video for the album contains many shots of the gorgeous Kare Kare Beach landscape.
Step Up to the Microphone: Paul Hester sings lead vocals on "Skin Feeling"
Talk About the Weather: In "Private Universe", Neil says there's no time or place to.
Title Track: "Together Alone", a song based on a Māori creation myth.
Word Salad Lyrics: "Pineapple Head". Most of the lyrics were taken from a fever dream Neil Finn's son had.
World Music: The album makes use of traditional Māori music.
---