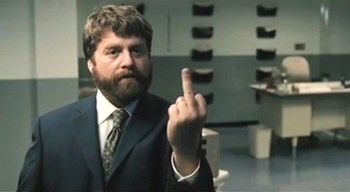 Visioneers is a satirical black comedy dealing with the dehumanizing aspects of capitalism and American society as a whole.
Zach Galifianakis plays George Washington Winsterhammerman, an employee of the massive Jeffers Corporation. The only bright spot in his day is talking on the telephone with Charisma (Mia Maestro), a fellow employee with a charming voice and a caring attitude. His story is set in a world where people, for little apparent reason, have begun spontaneously exploding all over the nation; this phenomenon has been apparently linked to dissatisfaction with one's life and dreaming (which few in this world do).
As his life gets more complicated and stressful, the normally passive George is forced to change his life or risk death by languishing in a life that doesn't fulfill him.
Trust us, it's a lot funnier than it sounds.
---
This show provides examples of:
---