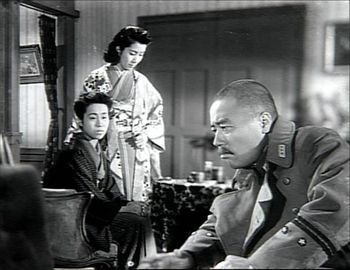 "Did the war make anybody happy? Who was this war for?"
Morning for the Osone Family is a 1946 film directed by by Keisuke Kinoshita.
The film chronicles the Japanese home front from 1943 to 1945 as World War II turns bad for the Japanese. The Osone family consists of mother Fujiko, daughter Yuko, and sons Ichiro, Taiji, and Takashi. The Osones are generally of a left-wing political bent, as most dramatically demonstrated by Ichiro, a news reporter who has written a subtly anti-war essay in his paper. Taiji is a budding young artist while Takashi, the youngest, is still a student. Daughter Yuko is engaged to marry Mr. Minami, son of an arms manufacturer.
Their relative domestic happiness is disrupted when the war intrudes on their life as it is intruding into the lives of everyone else in Japan. Ichiro is arrested when his subtly anti-war editorial turns out to not have been subtle enough. Taiji, much to his horror, receives a draft notice. And worst of all, Japanese militarism arrives in the Osone house in the person of Fujiko's brother-in-law Issei, a colonel in the Army and an ultra-conservative nationalist. Issei as the eldest male in the family immediately takes control of the household, much to the displeasure of his niece Yuko.
Morning for the Osone Family was one of the first Japanese films made after the war. Kinoshita would return to this anti-war theme eight years later when he made his masterpiece, Twenty-Four Eyes. Haruko Sugimura, who plays family matriarch Fujiko in this film, played a very different part as selfish daughter Shige a few years later in the very famous film Tokyo Story.
---
Tropes: