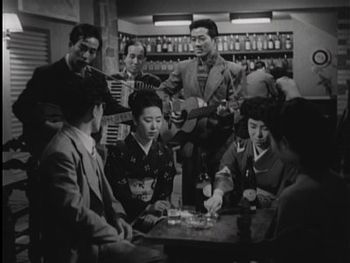 Ginza Cosmetics (銀座化粧 Ginza Keshō), is a 1951 film from Japan, directed by Mikio Naruse.
Yukiko is an aging geisha, now in her forties, in the Ginza district of Tokyo. While she was apparently once a geisha in the classic style, she now works as a bar girl at the rather sad Bel Ami bar, and in after-hours works as a prostitute with men she picks up at the bar. She is raising a son, Haruo, who is about eight, and is often left to his own devices when Yukiko is working at the bar or entertaining johns at the apartment. Yukiko and Haruo live with Kyoko, a younger and more innocent hostess at the Bel Ami whom Yukiko wants to protect from going into prostitution like her.
If being a middle-aged hooker weren't stressful enough, Yukiko's job at the bar is in peril, as the Bel Ami isn't doing so well and Sachiko, the owner, might have to sell to cover her debts. While all of that's going down, Yukiko's friend and fellow hooker Shizue asks her to play tour guide to Mr. Ishikawa, a friend of Shizue's Sugar Daddy, who is in town on business. Suddenly, as Yukiko shows Ishikawa around Tokyo, a chance at love and an escape from her life appears.
---
Tropes: