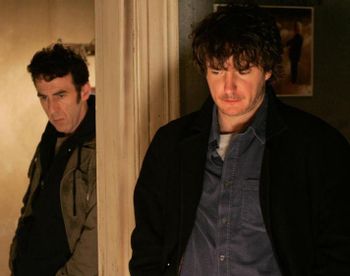 A Film with Me in It is a 2008 Irish Black Comedy/Thriller starring Dylan Moran (of Black Books fame) and Mark Doherty, who also wrote the script.
Mark (Doherty) is a going-nowhere actor and clarinet player who lives in a crumbling flat with his increasingly disgruntled and frustrated girlfriend Sally (Amy Huberman) and his wheelchair-bound and vegetative brother David (David O'Doherty), and spends most of his time hanging out with his best friend Pierce (Moran), a struggling screenwriter and director who is planning a project which is intended to kickstart their respective careers. His flat is slowly falling to bits because his landlord, Jack (Keith Allen), refuses to do repairs until he gets the rent owed from the perpetually short-of-cash Mark.
One day, a wobbling chandelier finally gives up the struggle against gravity, which kickstarts a chain reaction of accidents that result in an increasing number of dead bodies piling up in the flat before Mark's disbelieving eyes. Panicking, he summons Pierce for help, who hits upon the idea of treating it as if it were a pitch for a film, to enable the two to figure out how to get out of the mess in which they've become embroiled.
---
A Film With Me in It contains examples of:
---