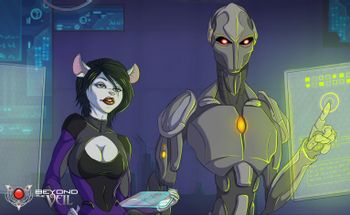 Beyond the Veil
is the story of Emperor Nicodemus Aurelius, ruler of three galaxies, and dead for three centuries. Up until a hapless team of explorers stumbles across one of his supercomputers and the machine downloads his and his four most loyal followers' minds into their bodies.
Unfortunately, the damned computer put him in the body of a woman.
However "Nikki" doesn't seem to mind that much really, all she wants is to get her Empire back, and she'll do whatever it takes to do that.
Beyond the Tropes:
---