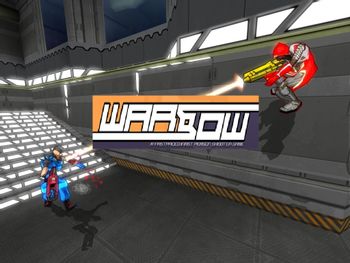 Warsow
is an exclusively-multiplayer first person shooter based on a
heavily
modified version of the
Quake 2
engine. Set in a cartoonish, futuristic universe, the game focuses on advanced movement strategies over straight combat (indeed, the game features a built-in "race" mode, which was the most popular mode at one point), although people do get shot at some point.
The gameplay makes heavy use of the Special key, which allows you to dodge, jump off walls, slide up ramps, and other intricate manoeuvres, depending on the context. This adds to the puzzle of getting from point A to point B in as little time as possible, as well as opening up possibilities for trick jumps in combat. Other FPS staples like bunny hopping are in full force as well.
The game also features a novel ammo system; picking up weapons gives you "weak" ammo, while picking up specific ammo drops gives you "strong" ammo. Strong ammo, naturally, is better than weak ammo, although how it's better varies from weapon to weapon. However this feature is removed in later version.
Warsow is free and can be downloaded from its official site here
; additionally, some Linux distributions feature it in their package manager. Ubuntu users can use this
method.
---
This game provides examples of:
---