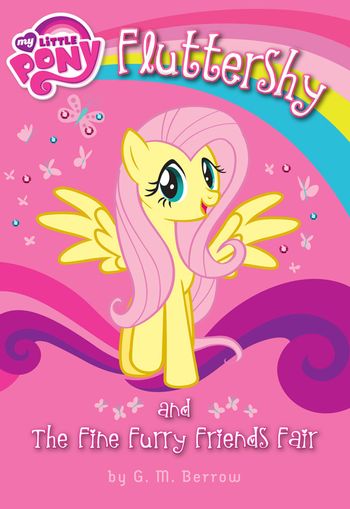 "Fluttershy is shocked to discover that her pet bunny, Angel, wants to enter the annual Fine Furry Friends Fair herding contest! Who's ever heard of a bunny herding cows and sheep? Fluttershy agrees to train him, but their first practice is a disaster. Fluttershy is too afraid of failure to continue, until all her friends bring something special to help out."
The sixth officially licensed My Little Pony: Friendship is Magic chapter book of a series of books by G. M. Berrow, and part of the overall My Little Pony (Generation 4) universe.
After watching a bunny talent show, Angel Bunny wants to show that he can be very talented and special, as well, and decides to try his paw at sheep-herding at the annual Fine Furry Friends Fair. Fluttershy tries to help him, but the two fail to herd the sheep every single time. Between Fluttershy's nerves and Angel attempting something that no bunny has ever done before, how do they plan on competing?
This book provides examples of:
---