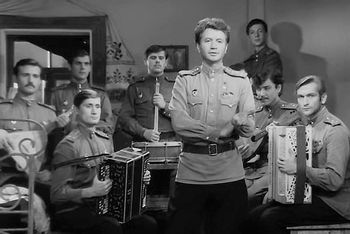 Only Old Men Are Going to Battle is a 1973 film from the Soviet Union, shot in Ukraine.
It was directed by Leonid Bykov, who also stars as Captain "Maestro" Titarenko, the leader of a Red Army squadron of fighter planes doing battle against the Germans in Ukraine in 1943. His motley crew includes Sergei Skvortzov, his second-in-command who is suffering from battle stress, and newbie arrivals to the squadron Vitya "Darkie" Shchedronov (named for a song he sings about a dusky Moldovan woman), "Romeo" Sagdullayev (pretty-boy handsome, charms the ladies), and "Grasshopper" Aleksandrov, a serious young man who lied about his age to get into flight school, but still likes to catch grasshoppers. Capt. Titarenko is a devoted fan of music, and his squadron moonlights as a band of musicians when they aren't fighting Germans.
The phrase (or rather word) "old man" in Russian has the colloquial meaning of "experienced person", and in this case refers to the veteran pilots, who call themselves this to distinguish themselves from the newly arrived flight school graduates.
Compare The Dawn Patrol, a 1930 American film about British fighter pilots in World War I that deals with many of the same themes.
---
Tropes: