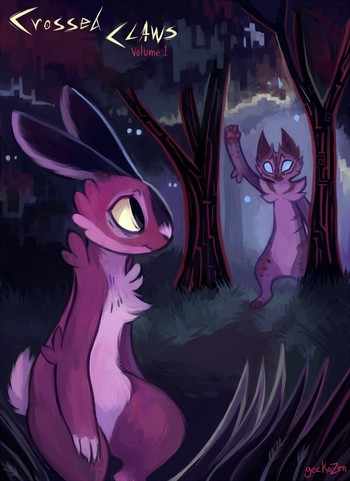 Crossed Claws is a Fantasy Webcomic by geckoZen, about a group of animals (mainly rabbits) living in a community known as the Hollow.
Rabbit siblings Ria and Dewey are coming home from the market when Jered, the a local Doomsayer, starts screaming about seeing cats out in the field. Writing it off as just the ravings of a madman, Dewey brushes it off, but Ria isn't entirely convinced. So that night, she sneaks out into the field to see if cats really have returned.
It turns out there's some truth to Jered's raving, except Sandy, the cat in the fields, is the sweetest and kindest creature Ria has ever met. They spend the night playing out in the fields, but during a game of hide and seek, Ria sees some unsettling things that cause her to question her new friend.
And what are these "Tall Things" she speaks of?
Crossed Claws can be found on geckoZen's deviantArt
page and on FurAffinity
.
---
Tropes:
---