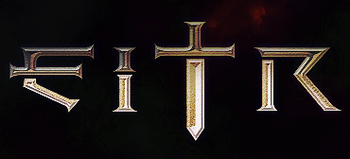 Eitr is an isometric Action RPG game developed by Eneme Entertainment being published by Devolver Digital, inspired by games such as Dark Souls, Path of Exile, and Diablo. The game is set to be released after many delays to 2019 for the PC and PlayStation 4.
The game's setting is based on Norse Mythology, and the player takes control of the Shield Maiden, a young lady who, due to the tampering of Loki at birth, is immune to the titular and incredibly poisonous Eitr. She sets off on a journey through the 9 worlds interlinked by the Yggdrasil, now corrupted by the primordial poison, in an attempt to cleanse the lands of darkness.
The game has a diverse combat system somewhat similar to Dark Souls. Weapons have thier typical uses but also a secondary attack like a reaching strike for the sword. Items can also be imbued with gems that allow the Shield Maiden to channel magic through them yielding interesting effects like flaming arrows, lightning swords and freezing shields. The game has a loot system where enemies can drop random items and weapons.
The game also uses a system of godly boons called Favors that boost skills and stats, but must be weakened to be turned into permanent levels lest they be lost on death.
---
Eitr contains examples of:
---