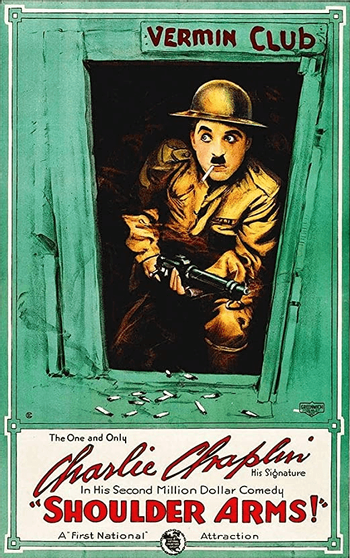 Shoulder Arms is a 1918 short film (46 minutes) starring and directed by Charlie Chaplin.
In this film, Charlie is an American doughboy fighting in World War I. After an opening sequence showing Charlie's incompetence at basic training, the film cuts to the trenches of France. Charlie goes over the top, dons a gas mask to deal with Limburger cheese, and goes on a dangerous scouting mission behind enemy lines, where he meets a pretty French girl (regular Chaplin leading lady Edna Purviance).
Originally intended to be a feature film, with two long sequences removed—one where Charlie is a Henpecked Husband who's glad to get his draft notice, and another comic sequence dealing with Charlie's medical examination.note Technically it is a feature film, as AMPAS defines a feature as 40 minutes, but most sources consider 1920's The Kid as Chaplin's real first feature at an hour long. Shoulder Arms, released three weeks before the Armistice, is possibly the first comedic war movie ever made.
---
Tropes: