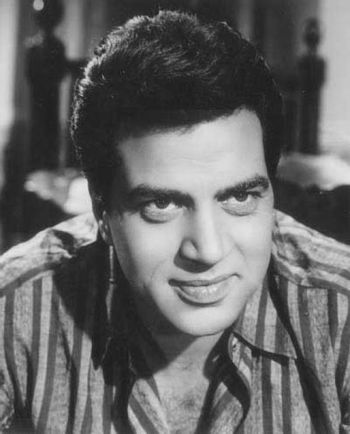 Dharamendra Singh Deol (born 8 December 1935), better known as Dharmendra, is an award-winning Bollywood film star who has appeared in more than 200 Hindi-language films. He was more or less the
Mr. Fanservice
and token gym rat of Bollywood cinema from the start of his career in the early sixties to sometime in the early seventies, which led to him being nicknamed "the Greek God of Bollywood" and "Garam Dharam" ("garam" being a hot spice mix).
In private life, Dharmendra had a reputation as a drinker...up until he fell in love with Hema Malini during the filming of Sholay, an actress he had worked with several times before. He was already married (to Prakash Kaur, since 1954), and religious and cultural issues prevented him from getting a divorce. He married Hema anyway, and supported two separate households, one for each wife. Hema encouraged him to quit drinking and look after his health.
Perhaps remembering the crazier things that went on in his time, Dharmendra has gone on record saying he does not believe that the Mumbai film industry is a suitable place for girls to work. He was unperturbed by his sons Sunny and Bobby joining the industry, but was vocal about his displeasure regarding his daughter Esha's choice of profession.
In 1997 he received the Filmfare Lifetime Achievement Award for his contribution to Hindi cinema. He is also the father of actors Sunny Deol, Bobby Deol (with his first wife) and Esha Deol (with his second).
His best-known films include
---