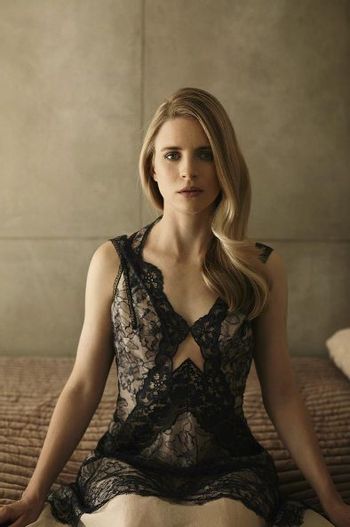 Brit Heyworth Marling (born August 7, 1983 in Chicago, Illinois) is an American actress, screenwriter and film producer.
She graduated from Georgetown University, with a bachelor's in economics, and was offered a job with Goldman Sachs, which she turned down in favor of a career as an artist. After which, she moved to Los Angeles with friends Mike Cahill and Zal Batmanglij to pursue screenwriting and acting.
She first gained recognition in 2004 with the documentary Boxers and Ballerinas and later became a Sundance star through the Searchlight movies Sound of My Voice, Another Earth, and The East, which she co-wrote in addition to playing the lead role. The first two were featured simultaneously at the 2011 Sundance Film Festival.
---
She appeared in:
Community note
The Company You Keep
The Better Angels
Posthumous
I Origins
The Keeping Room
---
Tropes
---