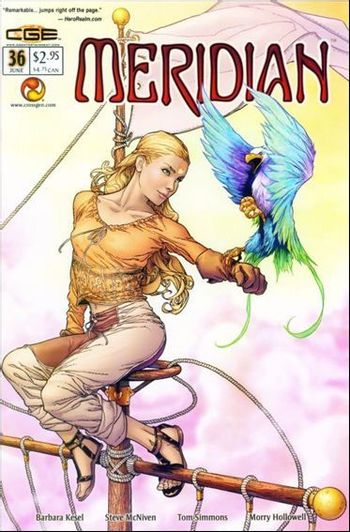 Meridian
was a comic by
CrossGen
. It was set in a universe of flying ships and floating islands. The comic follows a noble girl named Sephie and her uncle Ilahn, both of whom receive mysterious Sigils at a reception on
Meridian
, the island that Sephie's father rules. Each Sigil seems to grant a different set of powers; Sephie focuses on healing and gentle pressure, while Ilahn uses his abilities for destruction and intimidation.
The comic was eventually cancelled with the collapse of CrossGen as a company, and the rights were bought by Disney. So far, there have been no plans to bring the series back.
---
This series provides examples of:
Citywide Evacuation: Minister Ilahn of Cadador had threatened to cut off the floating city-state of Torbel's fuel supply over trade contract negotiations in Issue 3, but it isn't until Issues 18 and 19 that Torbel's problems are revisited. Turns out Ilahn made good on his threat and the city of Torbel running on fumes, unable to support its own weight. With the foundations of the town crumbling and sections of the city falling down all around them, protagonist Sephie and her Pirates of the Wind rally all the flying ships they can to evacuate the citizens of Torbel. Even with Sephie's incredible powers bolstering the carrying capacity of the evacuation fleet and her crew risking their lives to rescue trapped and wounded Torbellians, hundreds of the city's residents perish when the city eventually cracks down the middle and falls into the ocean.
---