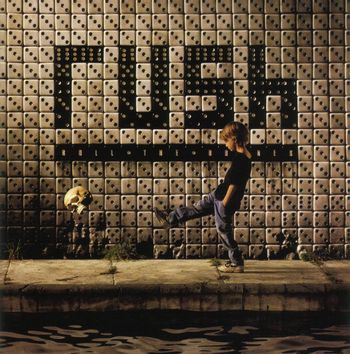 Roll The Bones is the fourteenth studio album by Rush, released in 1991. The album was the second of two albums to be produced by 80's pop producer Rupert Hine. The album shows synths going further in the background texture and the guitars are prominent on a lot of the songs. "Dreamline", the title track, and "Ghost of a Chance" were big hits from the album.
It currently remains the last Rush album to receive a platinum certification (sell at least one million copies) in the United States and it charted #3 on the Billboard charts, the highest position since 1981's Moving Pictures, which also charted #3. Fan and critc reception was pretty positive, although once again it was criticized its thin sound on the production end.
---
Tracklist:
"Dreamline"
"Bravado"
"Roll The Bones"
"Face Up"
"Where's My Thing? (Part IV, "Gangster of Boats" Trilogy)"
"The Big Wheel"
"Heresy"
"Ghost of a Chance"
"Neurotica"
"You Bet Your Life"
---
Principal Members:
Geddy Lee - lead vocals, bass, synthesizer
Alex Lifeson - guitar, backing vocals
Neil Peart - drums, percussion
---
Roll The Tropes
---