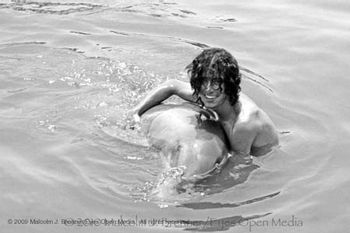 There are many Interspecies Romance-themed novels with varying degrees of realism. However, Malcolm J. Brenner's Wet Goddess, first published in 2010, is a whole different story:
Author's Apology: I am sure almost anybody could write a better novel than this. Its chief defect, it seems to me, is that most of it happens to be true.
And since interspecies romance is viewed rather differently in real life, the controversy was unavoidable. There's much more to it, though. During his nine months long relationship with Ruby, a bottlenose dolphin kept captive in a local theme park in Florida, college student Zachary Zimmermannote while based on rather accurately described real events, the entire story is officially a work of fiction has an opportunity to learn a lot about dolphins... and humans.
You can find out more about the book on the official website
, or read the first 50 pages for free
.
---
Wet Goddess provides examples of:
---