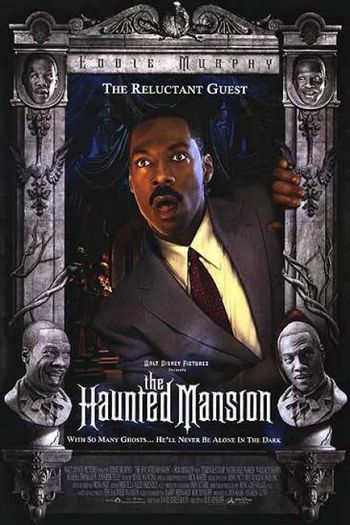 "You try, you fail. You try, you fail. But the only true failure is when you stop trying."
— Madame Leota
The Haunted Mansion is one of Disney's ventures in adapting their theme park attractions into movies. It was theatrically released in November 2003 and wasn't quite as successful at the box office as Pirates of the Caribbean: The Curse of the Black Pearl, which was also released in 2003.
Workaholic realtor Jim Evers (Eddie Murphy) and his family — wife Sara (Marsha Thomason), son Michael (Mark John Jeffries) and daughter Megan (Aree Davis) — are invited to the old and haunted Gracey Manor outside of New Orleans. Things take a sinister turn when the family learns that the ghostly owner, Master Edward Gracey (Nathaniel Parker) and his butler Ramsley (Terence Stamp), both believe Sara to be the reincarnation of Gracey's long-lost fiance Elizabeth and that she will be the key to lifting the curse on the house that keeps the 999 souls from passing onto the next world. With the help of Madame Leota (Jennifer Tilly) and a few ghostly servants, Jim and his kids must uncover the truth behind what really happened to Elizabeth, encountering the many ghosts of the graveyard, zombies, haunted suits of armor and the gates of Hell themselves opening.
The film was met with weak responses from critics and fans because of the film's decision to focus on the antics of Eddie Murphy and de-emphasize some of the ride's more notable elements. For this reason it earned a 13% approval rating amongst critics at Rotten Tomatoes. But the movie does have its fans, and kids seem to love the film (plus it's easier to make sense of whats going on if you DVD Skip everything between the opening credits and when the family arrives at the house). The bright spots are the gorgeous set designs, ride-based Mythology Gags, and the music, which pays a nice tribute to Buddy Baker and Grim Grinning Ghosts.
In 2010, Disney announced plans to take another whack at a Haunted Mansion movie, to be helmed by Guillermo del Toro, though it has fallen into Development Hell between del Toro's busy schedule and trying to get the right script. In 2015, it seemed to have started taking additional steps forward, with the announcement of Ryan Gosling as the star but news after that also died out. In 2020, another attempt was made by screenwriter Katie Dippold
of Parks and Recreation, The Heat, and Ghostbusters (2016), reportedly with Justin Simien (Dear White People) directing and Rosario Dawson, Lakeith Stanfield, Tiffany Haddish and Owen Wilson starring. The new version is scheduled for release on August 11, 2023.
---
The Haunted Mansion provides examples of the following tropes:
Glowing Eyes of Doom:

Ramsley at the end, when he conjures a horde of spirits to kill the people responsible for ruining his plans. A demon drags him off to hell before anyone is harmed.
---
---