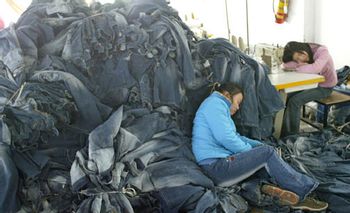 "The people we make jeans for are huge! they have waists this wide!"
— Jasmine
China Blue is a Documentary directed by Micha X. Peled and released in 2005. It depicts the working conditions in China's textile industry.
The documentary was mostly shot in a single factory, Lifeng, in Shaxi, an industrial suburb of Guangzhou. Peled got the access by claiming he was actually doing a piece on the factory manager and suggesting, ostensibly for the sake of convenience, that his camera operator be allowed to stay in the workers' dormitory. Even then he was subjected to police harrassment and the shooting was interrupted on several occasions. However, the final result is a strikingly candid depiction of the economic exploitation of China's mingong, the 130 million migrant workers—most of them young women—who move from the countryside to the city in order to take up a job, any job, that will help them contribute to their families' income.
Peled focuses especially on 17-year-old Jasmine, a girl from rural Sichuan who has just moved to Guangdong hoping to find a factory job. The documentary follows her around for her first three months at Lifeng, and also shows two of her co-workers, 14-year-old Li Ping and 20-year-old Ah Lan.
Another documentary that depicts the plight of China's migrant workers is Last Train Home.
---
Contains examples of: