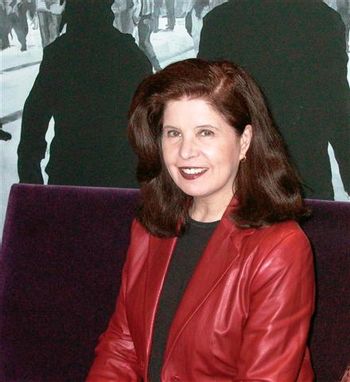 Nancy Anne Kress (born January 20, 1948) is an American
Science Fiction
writer, best known for her popular
Beggars in Spain
series (based on a
Hugo-winning
novella). Her fiction tends to be more grounded portrayals of science fiction; advanced biology and genetic engineering are common themes in her works.
She has written over twenty novels and many short-stories. The third novel of her Probability series, Probability Space, won a Theodore Sturgeon Memorial award, and she's dabbled with (science-fictional) horror in her novel, Dogs. In addition to science fiction published under her own name, she has also written a YA fantasy series, the Soulvine Moor Chronicles, as "Anna Kendall".
She was married to fellow SF writer Charles Sheffield from 1998 until his death in 2002.
---
Works by Nancy Kress with a page on this wiki:
Selected other works:
The Prince of Morning Bells (1981)
An Alien Light (1988)
The FBI Agent Cavanaugh series:

Oaths and Miracles (1996)
Stinger (1998)

Maximum Light (1997)
Yanked! (1998, part of David Brin's Out of Time series)
The Probability trilogy:

Probability Moon (2000)
Probability Sun (2001)
Probability Space (2002)

The Greentrees series:

Crossfire (2003)
Crucible (2004)

Dogs (2008)
The Soulvine Moor Chronicles (as Anna Kendall)

Crossing Over (2010)
Dark Mist Rising (2011)
A Bright and Terrible Sword (2013)

Flash Point (2012)
---
Tropes in her other works:
---