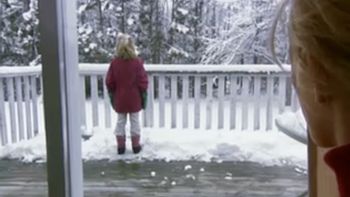 There Are Monsters is a short film about a quiet Canadian town where strange things are happening. It includes encounters with a Creepy Child hanging out in the main characters' backyard (the page image) and a very friendly convenience store clerk with bloody fingers and a Nightmare Face smile. Makes frequent use of Nothing Is Scarier and is considered by many to be scary.
The whole thing is available
on YouTube. If you do check it out, please add to this page if possible.
---
Contains examples of:
---