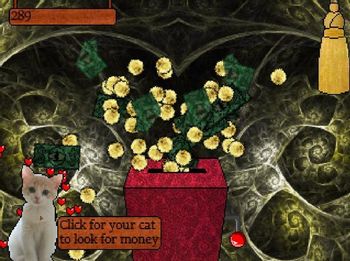 Exoptable Money
is an indie game and a prequel to
Presentable Liberty
. The game revolves around making as much money as possible, which spouts from a single red box. Over time, the player will receive letters from unseen characters who wish to 'help' you make more money.
Remakes of both this game and Presentable Liberty have been announced
on Kickstarter. The first attempt and second
attempt both failed, but a third
and last attempt was recently launched. Sadly, the games will never get a revamp, because the creator, Wertpol, committed suicide sometime in early 2018.
---
This game provides examples of:
---