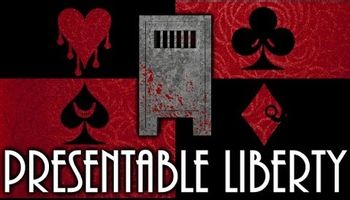 Presentable Liberty
is an indie horror game. You play as an unnamed prisoner in a near-empty cell with nothing to do but read the letters a myriad of enigmatic characters slide under your door.
It can be downloaded here
on GameJolt.
Even the names of tropes on this page could be considered massive spoilers, so many end-game plot twists are unmarked. Playing the game before reading this page is advised.
For the prequel game, see Exoptable Money.
An improv driven fandub of the game was completed by the Let's Dub Project.
Remakes of both this game and Exoptable Money have been announced
on Kickstarter. The first attempt and second
attempt both failed, but a third
and last attempt was recently launched. Sadly, the games will never get a revamp, because the creator, Wertpol, committed suicide sometime in early 2018.
---
This game provides examples of:
---