These are the characters appearing in the Detective Nigbone machinima.
New York Police Department
Detective Nigel "Nigbone" Bone'part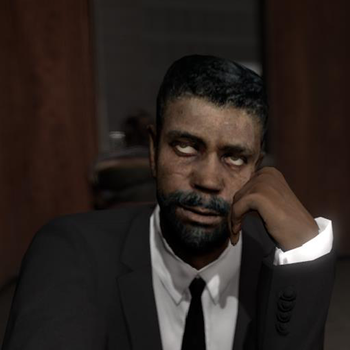 The protagonist of the show.
---
Characterization Marches On: First episode showcases Nigbone as an overall incompetent cop, who is only able to get his job done when he tricks a witness into confessing a crime, in stark contrast to later episodes, which showcase him as wierd and unfriendly, but otherwise Great Detective.
Papa Wolf: He is pretty protective towards children, often causing more chaotic antics to ensure.
Politically Incorrect Hero: He has been shown to be pretty prejudiced towards homosexuals throughout the series
Detective Kaczynski
Nigbone's partner, who was originally one of the officers in NYPD, before getting promoted to Detective.
---
Detective Fleming
Sergent Monroe
Officer J.J. Collins
Criminals
The Vampire Killer aka "The Ass Tickler"
A serial killer running loose in the city, who drinks the blood of his victims (and molests their assholes, according to Nigbone).
---
Ass Shove: Nigbone insists that he keeps shoving his fingers up peoples assholes and hence calls him "Ass Tickler", though there is no forensic evidence to back this up and everyone thinks he's just being crazy. At the end, it turns out that [[The Cuckoolander Was Right: Nigbone was right about the case all along]].
The Unnamed Killer
Jimmy Regaysi
Gaybriel Regaysi
Civilians
Misty Jizz
Brody Calan
A gay man with bizarre sexual fetishes
---
---