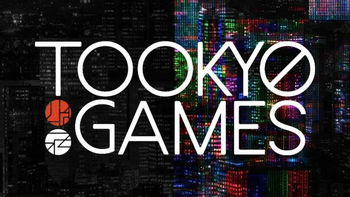 Too Kyo Games is a Japanese independent game developer company. The company was created in 2017 by former employees of Spike Chunsoft, including writer of the Danganronpa series Kazutaka Kodaka and the writer and director for the Zero Escape series Kotaro Uchikoshi. Besides them, composer Masafumi Takada and illustrator Rui Komatsuzaki (both known for their work with Kodaka in the Danganronpa franchise), assistant writer Yoichiro Koizumi (who worked in Danganronpa spin-offs Ultra Despair Hagakure and Killer Killer), illustrator Shimadrill (who did the CGs for UDG and V3) and director Takumi Nakazawa (who worked Uchikoshi in the Infinity series).
The company was publicly announced in September of 2018, revealed to be working in 4 projects with original IPs.
<!—index—>
Games
Anime
Akudama Drive (October 2020): An anime project inspired by violent 90s western movies and marketed with the words "Everyone is a villain", with Kodaka as writer, Studio Pierrot in charge of the animation, and Komatsuzaki doing the character art. Initially presented as Project #2.
<!—/index—>