Air date: April 16th, 1995 (US,) October 17th, 1995 (UK)
Adapted from: Duke the Lost Engine, "Sleeping Beauty"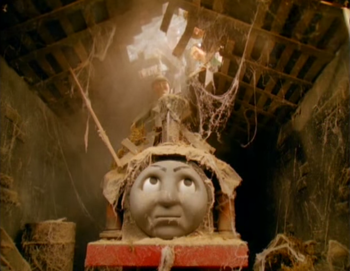 This episode is part two of Thomas' story about the Mid-Sodor Railway. After the Railway closes down, Duke is left in his shed to sleep until he is needed again. Decades pass and one day a team of people approach the Fat Controller with the intention of finding Duke. The railway has since been overgrown by nature, but the team has maps that will lead them to Duke.
After many hours the search ends, quite by accident, when one of the team members falls through the roof of Duke's shed, having not realized he was standing on it and age had weakened the roof to where it could collapse. Duke wakes up and asks the men if they are vandals, but they assure him that they are there to rescue him and reunite him with Stuart and Falcon. After digging him out of the shed, they take Duke to his new home, the Skarloey Railway. Falcon and Stuart - now Sir Handel and Peter Sam - reunite with their old friend, who complained that they woke him up and started to tell them about the good old days.
Tropes featured in the episode: