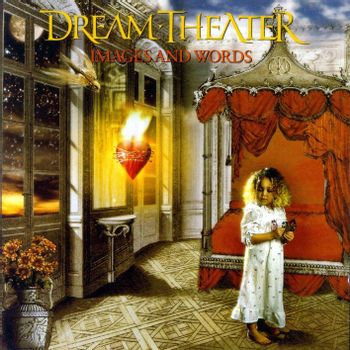 Images and Words is Dream Theater's second album released in 1992. After firing their previous singer Charlie Dominici, the band got James LaBrie, making his debut with Dream Theater on this album.
Regarded as a landmark of Progressive Metal, Images and Words still remains the band's most commercially successful album and is regarded as a '90s classic. How good is it? In April of 2013, it won Loudwire's fan-voted March Metal Madness award for best metal album of all time. It also has their only top 10 hit: "Pull Me Under".
You can more read more about it on The Other Wiki
.
---
Personnel:
James LaBrie - Vocals
John Petrucci - Guitar
John Myung - Bass
Kevin Moore – Keyboards
Mike Portnoy – Drums
---
Tracklist:
"Pull Me Under"
"Another Day"
"Take the Time"
"Surrounded"
"Metropolis Pt. 1: The Miracle and the Sleeper"
"Under a Glass Moon"
"Wait For Sleep"
"Learning to Live"
---
This album provides examples of:
---