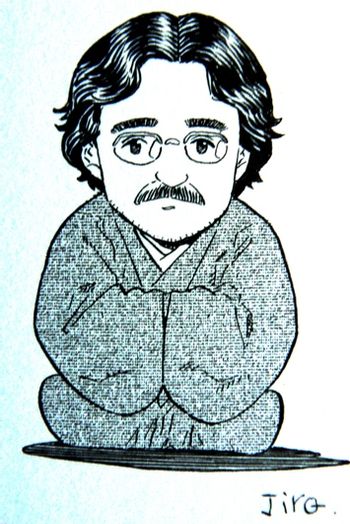 Taniguchi Jiro (谷口 ジロー, 14 August 1947 – 11 February 2017) was an author of Shōnen Demographic and gekiga mangas. Born in Tottori, he started out as a mangaka in 1969. His first published work was Kareta Heya (A Desiccated Summer). In 1970, he discovered the French-Belgian school of comics, then virtually unknown in Japan, and was influenced by the ligne claire (clear line) style pioneered by Hergé, the creator of Tintin; ironically, Hergé had himself developed his seminal style under the influence of a Chinese artist.
From 1976 to 1979, he worked with scenarist Sekigawa Natsuo to write hard-boiled stories such as City Without Defense, The Wind of the West Is White and Lindo 3. From 1984 to 1991, he and Sekigawa wrote the historical trilogy Bocchan no Jidai, about the cultural transformation of Japan during the Meiji Era.
From the 1990s, he begins to focus on small things in everyday life, relations between people, and between humans and animals. His stories become more contemplative and wistful; with The Man Who Walks, he abandons plot altogether to depict, simply, a man taking a walk in his Tokyo neighborhood. Land of Dreams is a series of short Slice of Life stories about ordinary people and their pets.
He often used elements from his own life in his stories, most notably with The Almanac of My Father and more recently A Zoo in Winter. He sometimes introduced elements of Magic Realism: in A Distant Neighborhood, the main character is a middle-aged man who is sent back in time to relive his teenage years; in A Bright Blue Sky, an adult man finds himself in the body of a 20-year-old boy after a traffic accident.
He has cooperated on several occasions with French-Belgian graphic artist Frederic Boilet, who has been instrumental in making Taniguchi better-known in Europe.
Taniguchi passed away from a disease on February 11th, 2017.
---