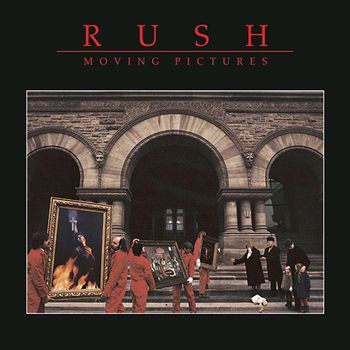 Moving Pictures is the best-selling 1981 album by Rush. Their most popular album commercially, this was the album that cemented Rush as rock superstars and they were the most popular touring artist of 1981. The album was one of the first to be certified multi-platinum by the RIAA when the certification was created in October 1984, and eventually went 4-times platinum. The album contains their most popular songs "Tom Sawyer", "Red Barchetta", "Limelight", and "YYZ".
Fan and critic reception was extremely positive, and not only is it considered to be the best album of 1981 for music in general that year, it is considered one of the greatest albums in rock history. The Moving Pictures tour was documented on the 1981 concert film/live album called Exit...Stage Left. The also play the entire album live on their 2010 Time Machine Tour to celebrate the album's 30th anniversary. It was also used by
Phil Ken Sebben as the top level of his threat chart.
Not to be confused with the Discworld book of the same name.
---
Tracklist:
Side One
"Tom Sawyer"
"Red Barchetta"
"YYZ"
"Limelight"
Side Two
"The Camera Eye"
"Witch Hunt (Part III of Fear)"
"Vital Signs"
---
Principal Members:
Geddy Lee - lead vocals, bass, synthesizer
Alex Lifeson – guitar, synthesizer
Neil Peart - drums, percussion
---
Vital Tropes
---