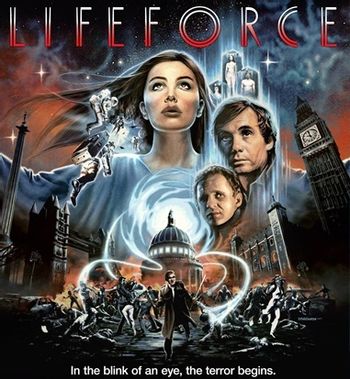 "I mean, in a sense we're all vampires. We drain energy from other life forms. The difference is one of degree. That girl was no girl. She's totally alien to this planet and our life form... and totally dangerous."
Lifeforce (1985), is a science-fiction horror film directed by Tobe Hooper for The Cannon Group. It was written by Dan O'Bannon (writer of Alien), based on an equally strange sci-fi novel by Colin Wilson.
In 1985, an Anglo-American space shuttle mission to Halley's Comet finds in the comet's tail an abandoned spacecraft with three (apparent) naked humans, two men and a woman, in suspended animation encased in glass pods. Later, after taking the pods aboard, the shuttle goes out of contact with ground control. A rescue mission finds that all the crew are dead, but the three people in the pods are still alive. The three not-really-humans are brought to the United Kingdom, whereupon the female wakes up and starts sucking the life out of everyone she encounters before escaping. Meanwhile, the sole survivor of the shuttle's crew, Col. Carlsen (Steve Railsback) returns to earth in an escape pod with a tale of terror.
It's a race to stop the aliens before they drain the lifeforce of every living thing on Earth.
Not to be confused with Life Energy, which is a trope. Also not to be confused with the NES port of Salamander.
---
This film provides examples of:
---