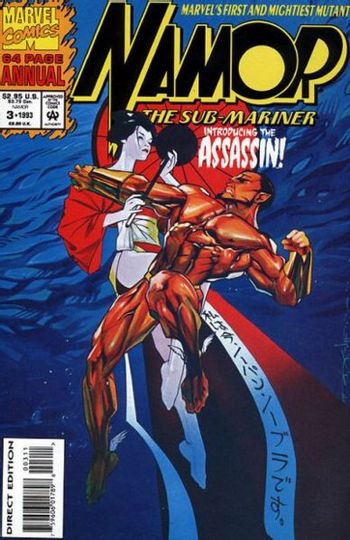 Gru: [en inglés] Eres una mujer hermosa ... ¿hablas español?
Mrs. Hattie: [en inglés] ¿Me veo como si hablara español?
Gru: [en inglés] Tienes una cara... [en español] como un burro.
Un mensaje oculto en un idioma extranjero. Esto hace que estos mensajes sean legibles solo para audiencias bilingües e internacionales. El plus puede ser cualquier cosa, desde un punto relevante de la trama hasta un diálogo adicional (a menudo usado para demostrar que han investigado seriamente el lenguaje) hasta un gag al azar. Lo opuesto a "Mientras Suene Extranjero" (donde un idioma extranjero se usa descuidadamente con las esperanzas que nadie notará y suena ridículo o inverosímil si un espectador puede entenderlo).
Como habrás calculado, esta puede ser una forma muy inteligente de esconder maldiciones de los censores. De hecho, los censores de Hollywood alguna vez exigieron traducciones al inglés de cualquier parte de un guión escrito en un idioma extranjero (ya sea real o inventado) precisamente para evitar esto, ya que los subtítulos tradicionalmente no se usaban en películas estadounidenses incluso cuando un personaje estaba hablando un idioma que no sea inglés.
Si ya entender la palabra por otros medidas, es un retruécano de muchos significados.
---
Ejemplos:
En la película The Thing de John Carpenter, se ve al inicio a los protagonistas salvando a un perro, que es perseguido por unos militares gritando en un idioma desconocido. Sin embargo, ese idioma es un dialecto ruso real, y revelan que el perro es un ser extraterrestre muy peligroso y que no se acerquen a él, pero como nadie en Estados Unidos habla ese dialecto, el spoiler pasó desapercibido.
En los créditos de la película The Lord of the Ring: The Return of the King, se pueden leer unos escritos que aparentan ser del alfabeto elfico, pero se trata de un mensaje escrito en un dialecto de los indígenas de Nueva Zelanda, dedicándoles palabras de agradecimiento y referencias a sus creencias en su idioma, que pasaron desapercibidos por el público general.
En la primera película de Iron Man, Tony Stark es secuestrado por una organización terrorista, quienes reportan al mundo que lo tienen como rehén. El mensaje es enviado, si mal no recuerdo, en arameo, y deja salir muchos spoilers acerca del villano de la película sin que nadie se enterara.
---