Created By: Ronka87 on January 13, 2010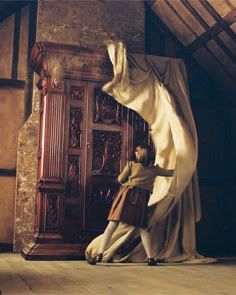 Launching tomorrow
: Last call for examples and stuff. You know you have an example you want to share. There is something hidden under a large, white sheet. You don't know what it is, the characters don't know what it is, but sooner or later, you will. It is inevitable. Equally inevitable is that when whatever it is behind the curtain is revealed, there will be a great deal of pomp behind removing it. It will be shot in slow motion from four different angles. There will be a
collective gasp
. This is an important moment. This is the Dramatic Curtain Toss. A relative to the
Dramatic Unmask
and subtrope of
The Reveal
. Any number of
reactions
may follow.
---
Examples:
Lucy's discovery of the wardrobe between worlds in (the film of) ''The Lion, the Witch, and the Wardobe'', pictured.
Done several times in the film of Harry Potter and the Half-Blood Prince, when Draco removes the dustsheet on

the Vanishing Cabinet as he attempts to fix it

.
I know of at least one Archie Comics story where Archie accidentally knocks off the head on a statue of a local businessman; he has it repaired in time for the official unveiling of the statue, but when the curtain comes off, we find out the repairman screwed up and put the head of a pig on instead. Oops.
Hello,
Unknown Troper
. You'll need to
get known
to lend a hand here.