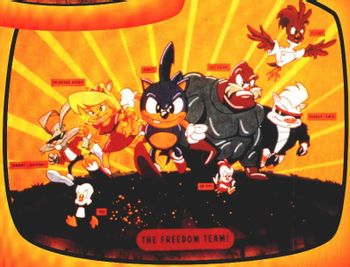 Shows with their own pages:
---
Individual examples:
open/close all folders
Cartoon Network
Codename: Kids Next Door has a few of these examples:

Numbuh 3 was originally going to speak Japanese (with English subtitles) and Numbuh 5 was originally not going to speak at all. They realized that Numbuh 3 not speaking English and Numbuh 5 not speaking at all while the boys on their team talked with no problem could be interpreted as sexist (and possibly racist, since Numbuh 3 and Numbuh 5 were respectively Asian and black while Numbuh 1, Numbuh 2, and Numbuh 4 were all Caucasian), so they scrapped both ideas.
Also, one of the latter seasons' 11 minute episodes, SPANKENSTINE, was originally penned as a Thanksgiving 30 minute special. Numbuh 2's addiction to chocolate sauce? It was actually supposed to be cranberry sauce.
In a crazy case of this, the official website (no less) for the show has under Numbuh 5's entry: "Her big secret: She wears glasses." Which is the case in the pilot (and CARAMEL, and her opposite-verse self in POOL; the flash game Operation: STARTUP on the CN website can have her wear glasses briefly to reveal hidden objects), but not the character as we know her.
Originally, the kids of Sector V were side characters for an rejected pilot called Kenny and the Chimp. They were five friends who lived next door to Kenny, had a different name for themselves every time they appeared, and were just out for trouble. Also, their tech was originally supposed to be traditional shiny stuff, but Cartoon Network asked this to be changed since Dexter's Laboratory had already done the same thing.
And according to some rumors, OP ZERO was originally going to be the series finale but a few more seasons were announced (though the series did end with a movie: Operation: I.N.T.E.R.V.I.E.W.S., where live-action adult incarnations of the Kids Next Door tell an unseen reporter about their final mission — with all shipping questions answered: Yes, Numbuhs Three and Four ended up married — though most people saw through that like Grandma's underpants, and yes, Numbuhs 2 and 5 ended up together, also a Foregone Conclusion.
Numbuh 1 originally had a different voice in the pilot. After the boy who played him refused to work on the cartoon, they briefly considered Tom Kenny, but his voice was deemed too mature-sounding.

Courage the Cowardly Dog also has quite a few instances of this.

Originally, the mask Eustace uses to scare Courage was going to be a shotgun, but this was later changed due to network censors.
In 2015, John R. Dilworth had posted on his tumblr that Cartoon Network had ordered two Courage holiday specials, one being a Christmas special and the other a Halloween special. These two specials were ultimately scrapped for unknown reasons.

Originally, The Powerpuff Girls were going to be called "the Whoopass Girls," but Cartoon Network's censors, in one of the few times they've ever cracked down on anything considered risqué for children, objected.

Also (in McCracken's first sketch), the Girls originally had slightly different designs such as different dress styles, having lines drawn on their hands to represent fingers (as opposed to the fingerless nubs they currently have), their hair being drawn slightly different, etc. However the biggest design change was that Bubbles was originally the green one and Buttercup the blue. No one knows whether that design would have an impact on their names and personalities (or even the show itself).
Buttercup's name was originally going to be Bud, to accentuate her tomboy attitude. The reason it didn't stick was because one of McCracken's friends found the name too short and abrupt when compared to the other two. The current name was suggested and taken as it had a nice ring to it, and while also keeping the B Theme Naming.
Season 5 was to have an episode, "Deja View", that had the Girls being whisked to an alternate universe Townsville with their alternate counterparts, the "Powerpunk Girls", trading places with them. Deadline and budget issues (the alternate universe scenes were to be CGI) caused the episode to be scrapped, but the storyline was retooled as issue #50 of the comic book.
Rainbow the Clown was originally not going to be beaten up by the Powerpuffs at the end of "Mime for a Change". The executives wanted the Girls to beat him like they would with any normal villain.

Code Lyoko was originally Garage Kids, with a darker theme and lacking Aelita. The digital world was called "Xanadu" instead of "Lyoko". Also, Yumi could use telekinesis in the real world. It was later revamped, with a clearer boundary between the digital world and real world.
The Secret Saturdays was originally pitched as the comedic adventures of three animal heroes (all of them previously thought to be mythical in Real Life) with a human Tagalong Kid as they prevented an evil dodo bird from exposing the existence of other cryptids, with the art taking inspiration from the Mickey Mouse Comic Universe. But various networks didn't "get" the show, leading the creator to heavily rework the concept into the action/adventure show it became.
Camp Lazlo:

The show was originally envisioned as a children's storybook. However, Joe Murray decided the characters had much more potential if they were put on television instead.
Lazlo was supposed to have a Brazilian accent, but the execs told Murray that only one of the three main characters could have any sort of accent. So Lazlo got an American accent while Raj kept his Indian accent.
Scoutmaster Lumpus was originally going to be a horse, but Murray felt that Lumpus being a moose fit the setting better.
One of the co-writer's blogs discusses a Thanksgiving special being written, but that apparently never got produced.

Originally, the titular hero of Ben 10 would have transformed into human superheroes, with the show seeming to be more inspired by Dial H for Hero. Ben's first design had him as a freckled redhead as well. Gwen was originally going to be a classmate and friend of Ben's, and she appeared in earlier concept art with a long ponytail and a pink shirt. The first part was probably changed because it would make no sense for her to be on a vacation with him, especially if their relationship was as antagonistic as it was in the final show.

Man of Action's idea for the sequel series was Ben 10: Hero Generation, in which a teenage Ben and Gwen would become mentors to a group of kids with mysterious alien powers. However, Cartoon Network gave the sequel project over to Glen Murikami and Dwayne McDuffie, and Ben 10: Alien Force was developed instead. Remnants of Man of Action's concept can be found with the "Plumber's Helpers" characters, who appear irregularly and aren't mentored by Ben and Gwen, who instead fight evil alongside a reformed Kevin instead.

Time Squad has a few:

Dave Wasson himself was going to voice Officer Buck Tuddrussel.
A season 2 episode ("Out with the In Crowd") featured a Time Squad unit of the very skilled (yet very rude) JT Lazer and Lance Nine Trillion. Carlos Ramos, a writer for the show, stated that JT and Lance would have become actual villains had the show been renewed for more episodes.
In 2019, Carlos Ramos had posted a script for an unproduced episode on his tumblr. This episode would have featured the main characters visiting Adam and Eve, with Ramos wanting Tommy Chong to play Adam, but creator Dave Wasson found it too obvious of a choice since the Biblical figures were already going to be portrayed as hippies.
Dave Wasson had mentioned on Instagram that he wanted to bring back characters such as the Earl of Sandwich for another episode, and have an episode featuring President Franklin D. Roosevelt (who was first seen on "The Prime Minister Has No Clothes") as well.
"Orphan Substitute" was originally not supposed to air because the September 11th attacks happened and Cartoon Network was worried over complaints about the episode's portrayal of George W. Bush. The ban didn't last, though, as Cartoon Network aired the episode (and the preceding episode "Floral Patton", which was only banned because it was attached to "Orphan Substitute") on a Thanksgiving weekend block in 2003 and nothing came of it.

The original premise for Total Drama was called "Camp TV" and was going to have just 12 main campers instead of the 22 that we know now (although some of the others would've appeared, just not been very important). Some of them looked exactly like their present counterparts (i.e. Geoff), some had minor differences (e.g. Lindsay, Harold, Trent, Duncan, Leshawna, and Owen) and some looked nothing like they do now (e.g. Tyler, Ezekiel, Katie, Sadie, DJ, and Cody). Also, Heather, Noah, Izzy, and Courtney didn't exist in the original pitch, although the concept art for Eva has her looking very much like Heather. While some characters had the same personalities in the final product (e.g. Geoff being the party guy, Duncan being a delinquent, Harold and Beth being the resident nerds/geeks), others had different personalities or had different relations with their fellow campers (e.g. Gwennote was still a loner but not a goth and was originally Geoff's girlfriend and hated Trent, and Lindsay was the intended main antagonist, though she still maintained a relationship with Tyler). More information can be found at the official TD Wiki.

The Island episode "Haute Camp-ture" was supposed to feature a Fashion Show challenge, but the idea was dropped at the last minute to istead take a look at what the eliminated campers were up to. As a result, the episode's title was changed to "After the Dock of Shame" in some TV guides.
According to the Fresh blog, one of the locations they decided not to do for World Tour was Hershey, Pennsylvania. Toronto, Russia, Scotland, Taiwan, and Mexico were also left out, though the cast did spend some time crossing Mexico in the second to last episode, and Russia appeared in

Bridgette

's post-elimination bonus video, as well as one of the Aftermaths

after she was shipped there by Blaineley

.
Revenge of the Island went through quite a few changes in development too. Several characters looked very different from their final concepts (Mike, Cameron, Zoey, and Dawn) or had different names (Dawn was named Molly and Jo was called Mary), and one didn't even exist in the original lineup (that would be Silent B). Furthermore, due to the 2011 Fukushima nuclear disaster, some parts of the "radioactive mutant" theme of the season had to be downplayed, like the Toxic Rats originally being named the Radioactive Rats and Fang also having the ability to shoot lasers from his eyes (which would explain why an episode is titled "Truth or Laser Shark").
Harold, Leshawna, and Tyler were all planned to be among the classic contestants who would make cameos in episodes of Revenge of the Island, but their scenes were cut at the last minute in order to save time.
Owen, Cody, Brick, and Anne Maria were all originally considered for Total Drama All-Stars, but were replaced with Sam and Gwen in the end when the creators decided to downsize the cast for the season. However, Owen does get a cameo in the final episode, and Cody is mentioned by Sierra throughout the season.

On Total Drama Presents: The Ridonculous Race, the host Don was originally named Chadley Chizzleton and had a completely different design based on Ron Burgundy.

Leonard from Pahkitew Island was put in The Ridonculous Race at the last minute because the creators originally wanted a magician character but figured "he was just as good" as well as to save money on production. This also lead to Tammy's creation as the magician had to be paired up with an assistant. A few other teams were considered but ultimately cut, including an elderly couple in their nineties, a team of Pranksters, a team of Extreme Girls who were obsessed with over the top reality TV, and a team of nerds.
The Final 3 for Ridonculous Race changed a few times throughout the writing process. Among the known considered choices were Ice Dancers, Best Friends and Sisters; Ice Dancers, Police Cadets and Sisters; and Ice Dancers, Police Cadets and Best Friends.

Total DramaRama's kiddified versions of the teenagers were originally meant to all be eleven-year-olds, but co-creator Tom McGillis convinced Cartoon Network to age them down even further to being four-year-olds because he believed it opened more ideas for stories.

Brian Froud and Megan Fahlenbock both wanted to reprise Harold and Gwen respectively for the show, but for unknown reasons, Fresh TV rejected them and replaced them with Darren Frost and Lily Bartlam respectively. Megan Fahlenbock would eventually go on to make a guest appearance in "Tiger Fail"

as an elderly Gwen during the ending.

Space Ghost Coast to Coast was to feature a sidekick to Space Ghost, played by character actor Hervé Villechaize of Fantasy Island fame. Sadly, Villechaize shot himself before production began, resulting in the producers throwing out the proposed character out of respect.
Over the Garden Wall. Series creator has said that there were actually dozens of alternative endings discussed and planned out before they settled on the final one, including ones where only Greg made it home, though they felt this undermined Wirt's character development. The very first one had the boys boarding the black train in the very first episode, instead of narrowly being hit by it. They realize that it's an Afterlife Express and jump off, getting stuck in the Unknown, a place between life and death. The Beast wasn't a bad guy, just somebody doing his job, trying to get them to board the train. Eventually, they accept their fate and get back on board...only to realize that the train was returning to life, and Wirt was deliberately avoiding his problems until now.

Apparently, this original idea was scrapped because a) it had too many similarities to Spirited Away and The Polar Express and b) it's kind of difficult to talk about kids "accepting death" in a childrens' cartoon.

Jack Spicer from Xiaolin Showdown was originally going to pull a Heel–Face Turn at one point and become the dragon of metal.
Sheep in the Big City:

The original purpose of the sheep-powered ray gun that General Specific and Private Public were trying to use Sheep in was that the top secret military organization intended to use it to take over Wisconsin. The show's creator Mo Willems instead decided to not give an explicit purpose for the sheep-powered ray gun because he felt it would be funnier to imply that General Specific and Private Public weren't very bright.
Mo Willems revealed in a blog post that Cartoon Network approached him to create a TV special to wrap up the series, which would've involved Sheep being captured by a rival of General Specific named Admiral Qualities. Mo Willems couldn't do it because of his work on Codename: Kids Next Door.

An adaptation of the Uglydolls toyline was considered as a show for Cartoon Network, according to an interview on the "Marsham Toy Hour" podcast. The idea ended up falling through, and the toyline would make its animated debut with the 2019 Uglydolls movie, with its connecting show going to Hulu instead, leaving the Cartoon Network plan entirely.
Spacecataz started life as a full spin-off of Aqua Teen Hunger Force starring the Mooninites and the Plutonians. However, the execs thought there was little, if anything, that could be done with the premise, so the pilot was instead split into pieces that were used as the opening clips for season 3 of ATHF.
Based on DC Comics
The
DC Animated Universe
had quite a few things like this, given its long length and famous run-ins with characters being
Exiled from Continuity
and
Executive Meddling
:
Superman: The Animated Series:

An early idea for the series was to have it be a team-up show, much like the later Batman: The Brave and the Bold series. Each episode would have seen Superman teaming up with different members of the Justice League, but Jenette Kahn put the kibosh on the idea, arguing that Superman would have been overshadowed in his own TV show.
Captain Marvel was originally going to appear in an episode, but both the infamous problems about his name (I Am Not Shazam) and trouble trying to figure out how to put him in without having to create a Justice League delayed his DCAU integration until Justice League Unlimited. Even then, they were only able to have him in one episode and name-check him in another.
Early on, the designers toyed with the idea of everyone wearing clothing from the 40s and 50s (complete with Jimmy Olsen wearing his trademark green suit and red bowtie from the comics), similar to the retro aesthetic of Batman: The Animated Series.
Clancy Brown, who voiced Lex Luthor, originally auditioned for the role of Superman.
Sherman Howard had played Luthor in The Adventures of Superboy and apparently gave a great audition when the DCAU team was looking for their Lex. They were very interested in offering him the role until they heard Clancy Brown. Howard was subsequently cast as The Preserver in two episodes of Superman, and later Derek Powers on Batman Beyond.
Ma and Pa Kent were supposed to be the ones to die at the end of "Apokolips...Now!", but DC said they would have to be resurrected. Since Bruce Timm wanted to kill off someone for real, the production team settled on Dan Turpin instead.
The climax of A Fish Story was supposed have Luthor set off an underwater explosion that would create a massive tidal wave, but the idea was cut for being too expensive to animate.
"Little Girl Lost" was originally going to be much darker, with humans being rounded up and sent to some very Nazi-esque camps to be turned into Parademons.
Paul Dini and Bruce Timm originally wanted to use Kara Zor-El as Supergirl, but they were denied by DC Comics due to the then-current "Superman is the only survivor of Krypton" edict. Although they went as close as they could get, with Kara being Clark's adopted cousin and from Krypton's "sister planet", Argo (a Mythology Gag to that side of the House of El living in Argo City in the comics), essentially making her as close to Kryptonian as possible. An additional Mythology Gag is her family name - Kara Zor-El's mother was named Allura In-Ze, with said surname given to the show's interpretation of Kara.
"Legacy" was intended to be the kickoff for a season's worth of episodes about Superman trying to regain the world's trust, but instead became the series finale. The subplot about the world not trusting superheroes was eventually used in Justice League.

Batman Beyond:

After being pressured to add a Batgirl-like female hero to the series, Bruce Timm considered introducing a futuristic version of the Huntress. Given that Huntress is the daughter of Batman and Catwoman in some continuities, this could have opened up some interesting story ideas.
One rejected script featured the son of Superman and Lashina, who had been conceived during Superman's time under Darkseid's control. The son would have set his sights on Earth after having conquered Apokolips, leading to an all out battle against Batman and the Justice League. A subplot would have been Superman struggling with the guilt of not having known his child.
Another rejected script had Terry become an item with Maxine after Dana breaks up with him. That episode is a double What Could Have Been, as Bruce Timm's original plan for the episode would have explored Terry and Dana's relationship more and ended with it being strengthened. Timm rejected the episode script after Alan Burnett changed the entire purpose.
Mr. Freeze's role was originally just a one-off gag appearance, where Terry was getting a soda for Bruce and, in an awkward moment, would find Mr. Freeze's head and they'd briefly stare at each other, and then Terry would close the fridge and give the soda to Bruce. This was discarded because it was an insulting and unfitting ending for his character.
A second DVD movie was planned after Batman Beyond: Return of the Joker, which would have seen the return of Catwoman. Though the film was scrapped, elements of it were used in the "Epilogue" episode of Justice League Unlimited.
The Terrific Trio from "Heroes" were slated to return in the early 2000's comic series, but Marvel Comics objected due to their resemblance to the Fantastic Four.
Hilary Bader pitched a Lighter and Softer sequel to the series, which would've seen Terry and his family moving to a Terraformed colony on Mars.

Justice League has a lot of ideas that either never came to fruition, or was almost made, but were eventually scrapped;

As mentioned in the Superman section, there was talk of a Justice League-style cartoon where Superman would team up with members of the JLA way back in the late 90s. In addition to the likes of Supergirl, Vixen, Doctor Fate, and The Question, the team also would've included Black Lightning, Mister Miracle and Lightray of the New Gods, and Nightshade (in a Psylocke-inspired outfit). Batman would not have been part of the JLA, as he still had his own TV show at the time.
Early concept and pitch art shows a different line-up for the series. One piece had Superman, Wonder Woman, the Flash, the John Stewart Green Lantern (who would've worn a mask), Aquaman (with his classic design) and Orion. Another featured the same line-up, but with Orion gone, and the inclusion of Green Arrow, Black Canary and Hawkman, with Hawkgirl apparently planned to appear as well. Yet another◊ featured Aquaman as he appeared in S:TAS, plus Green Lantern Hal Jordan.
Justice League was originally pitched as being a show about the JLA and their sidekicks, being more aimed for the Saturday Morning Cartoon kids crowd (having been pitched to Kids' WB! originally). Thankfully, wiser decisions were made. A reel of test animation for the early concept shows Robin and Impulse to be the sidekicks, along with a teenage girl version of Cyborg, who ironically ended up becoming a Canon Immigrant. When the show was instead pitched to Cartoon Network, the sidekicks were ditched and the shows tone became closer to that of the earlier DCAU shows. Bruce Timm stated that he was glad that the idea never came to fruition.
The then-believed-to-be-final episode of JLU was to have ended with Clark Kent revealing his identity to Lois Lane.
Had the show been renewed again, there were plans for an additional 13 episode season of Justice League Unlimited, which would have been one large arc featuring the League traveling through time and encountering heroes like Enemy Ace and the Atomic Knights. There were also ideas for the hypothetical season to take place in the Batman Beyond time period featured in "Epilogue". However, nothing ever really evolved beyond the initial idea phase, as the writers were all sure "Destroyer" was going to be the final episode.
The JLU episode "The Greatest Story Never Told" was originally supposed to star Firestorm, but was rewritten to feature Booster Gold instead. Consequently, Firestorm never appeared on the show at all, though he was in a few issues of the tie-in comic book.
The JLU episode "This Little Piggy" would have contained perhaps the greatest moment of the entire DCAU: The Joker would have been shown with Harley Quinn and his gang, laying out his plans for a wild and complex crime. He would have then spotted Batman walking by, carrying a pig dressed like Wonder Woman and talking to it. After a pause, the Joker would have thrown up his hands and called the scheme off, saying nothing he planned could possibly top that. Sadly, they couldn't find a way to fit this into the episode's time constraints.
Originally the "Justice Guild of America" was going to be the actual Justice Society of America, but pressure from DC necessitated the change to not-quite-exact copies.
Plans were made for the Birds of Prey to guest star in an episode with a Broad Strokes retelling of their origin. Barbara Gordon, as Batgirl, would be hospitalized while on a mission and be forbidden by Batman from pursuing the matter further. Unwilling to let the matter go, she would recruit Black Canary and the Huntress and use them to finish the mission while monitoring them over the radio. Unfortunately, the 'Bat-Embargo,' a moratorium on using Batman related characters due to conflicts with The Batman and Batman Begins, necessitated the removal of Batgirl from the story and it was re-written into "Double Date."
Gail Simone said if the executives allowed her to write another episode besides "Double Date", then there would have been an episode with the Queen of Fables as the villain.
There was a planned DTV movie called Justice League: Worlds Collide that would have involved the Justice League facing the Crime Syndicate and would have served as a bridge between Starcrossed and Justice League Unlimited. The movie would have explained the formation of the expanded League and the newly built, much larger Watchtower. The movie never materialized and, after JLU was cancelled, the script was re-written to fit into the DC Original Animated Movies line and was published as Justice League: Crisis on Two Earths. The story remains nearly identical and addresses the same plot points, with only alterations in animation, cast and minor history references serving to distinguish it from the DCAU.
An episode set on the Justice League Watchtower was pitched, and would've opened with Superman and Captain Marvel armwrestling to pass the time.
Former Justice League International co-writer J.M. DeMatteis did an outline for an episode called "Misfortune Cookies," which would've been a comedy about Martian Manhunter's Oreo addiction. According to DeMatteis, it basically would've been the JLU version of "The Trouble with Tribbles."

Miscellaneous:

There had been plans to have a DCAU appearance of the Teen Titans, and groundwork was even laid for it in Static Shock, where Batman referenced Robin being a member of the group. However, the more wacky and cartoony nature of the Titans cartoon put a kibosh on the plans.
Similarly, there have long been rumors for a DCAU Legion of Super-Heroes show, with LSH episode of JLU serving as something of a Backdoor Pilot. However, the LSH show that was eventually produced was not a part of the DCAU, although it did borrow some characterizations and voice actors.

Bruce Timm confirmed that after Batman Beyond, the next Batman show was supposed to have been an Animesque series set even further in the future, which he described as "Batman meets Power Rangers." The show would've revolved around a trio of kids who became their time period's equivalents of Batman, Robin, and Batgirl, and would've featured a robot version of Alfred named "Alpha-Red." Timm seemed embarrassed by even the thought of the show, while Kevin Smith thought it would have been Crazy cool.
In 1999, Alex Ross and Paul Dini began preliminary work on a Shazam! cartoon that would've featured Captain Marvel, Mary Marvel and Captain Marvel, Jr. as the leads. The series would have had a more exaggerated art style, described as a cross between C.C. Beck and The Powerpuff Girls. Unfortunately, this had to be axed when it turned out WB didn't have the television rights to the Shazam franchise.
After the success of The Batman vs. Dracula, there had been plans to make a second movie, where The Batman would face his rogues' gallery, led by Hush, which would have been his first animation appearance. However, Warner Bros. wanted to continue with the idea of The Batman fighting supernatural creatures. In the end, the entire movie idea was scrapped.
Prior to the cancellation of Batman: The Brave and the Bold and the creation of Beware the Batman, there were a number of other pitches. One of them was a Nightwing-centered cartoon. The design for Nightwing in the cartoon seems to hint that this ended up becoming Young Justice. The other pitch was for the Bat-Family (comprised of Batman, Robin [Damian Wayne], Nightwing, Catwoman and Batgirl [Cassandra Cain]) attempting to protect Gotham after a major disaster left it in ruins, a la Batman: No Man's Land.

Two other ideas had came up which would've had Superman and Batman allying with each other. The first idea would have involved the two heroes in a grim and gritty, Escape from New York-like setting, but the creators realized that was too dark. The other would've had an early-in-their-careers Superman and Batman getting together and living together: Clark Kent would still be a cub reporter who came to Gotham for a story, met and befriended Bruce Wayne, but their identities as Superman and Batman would have hated each other. They would have figured out their secret identities, realized they were on the same side, then partner up.
Gotham High probably deserves a mention here. The premise was "What if all the Batman characters were in high school together"?

Legion of Super-Heroes:

The second season was supposed to have featured Mon-El as a major character, but the execs shot this down on the premise that Mon-El was too similar to Superboy. They ended up using the Darker and Edgier Canon Foreigner Superman X instead.

Also, Alexis Luthor was to have a major role as The Dragon to Imperiex and end up making a Heel–Face Turn that got her elected to a position of great political power, free to screw around with the Legion legally. But the network executives demanded less female characters, feeling that boys didn't want them, so Alexis' role was scrapped.

According to James Tucker in an interview with World's Finest Online, had the show continued with a third season, it would be planned to be the final season, and revealed details about it:

It would take place three years after the previous season.
Superman would return as the main character.
The main storyline would focus on Brainiac 5's return and his quest for redemption.
Brainiac 6 would serve as the Big Bad for the season.
Supergirl, Sensor, Magnetic Kid, Wildfire, Tellus, Princess Projectra and Shadow Lass would be introduced.
Blok and Dawnstar would have major roles after having becoming background characters in the previous season.
Ferro Lad's twin brother would appear, while Superman X would become a regular character, but in a reduced role.

Greg Weisman originally wanted Green Arrow's sidekick Speedy as part of the core cast of Young Justice. Brandon Vietti argued against Speedy's inclusion, suggesting they have a female archer instead. Presumably, they bypassed Speedy II (Mia Dearden) and Arrowette (Cissie King-Jones) due to thinking they fit more as second-gen sidekicks like Tim Drake and Cassie Sandsmark. So they came up with Artemis Crock, the daughter of two Golden Age villains from the Injustice League. This led to Artemis becoming Green Arrow's protege while Speedy was given a slightly reduced (but still meaty) role as a supporting character, eventually taking on his Red Arrow name.

According to Weisman, there were several as-of-yet unrevealed teen heroes who were supposed to join the main cast in season 2, but they had to be cut for pacing reasons. A few members from the timeskip also had their planned appearances cut:

Donna Troy and Mary Bromfield were meant to debut at Rocket's bridal shower in "Satisfaction", but their roles were cut for time and budgetary purposes. Weisman later revealed that Donna would have used the "Troia" codename, while Mary would have been "Sergeant Marvel". Donna was also originally planned to be in season 1 as Wonder Girl, but had to be written out due to DC declaring her off-limits for use at the time. By the time she was cleared for usage, it was too late in production of the season to squeeze her into an episode. Season 3 ultimately cleared her for appearance...as a United Nations Themysciran ambassador, indeed named Troia as planned.
The Marvel Family would have also had a storyline in season 2, along with Red Tornado and Zatanna. Freddy Freeman would have used the codename "Lieutenant Marvel" instead of "Captain Marvel Jr.". The limited amount of episodes however, meant that these stories would be quickly scrapped.
There was consideration of having all the surviving timeskip-era members (i.e.: Troia, the other two Marvels) in the series finale, but there was not enough time for the character designers to work them into a scene. In the end, only Tempest got to make a silent cameo, and Troia only appeared in season 3 at last as an ambassador.

There was to be a Marvel Family story in the tie-in comic, but it was shelved when editorial wanted Weisman to switch to the Invasion era.
Brandon Vietti had commented that he wished they could have used Red Hood as a villain, but there was no room for him in the season 2 outline. Meanwhile, Greg Weisman clarified that there were no plans at all for Jason Todd or Red Hood in the second season. Season 3 ultimately brought Jason into the Red Hood role at last, being present among Ra's al Ghul's minions.
Arrowette was to appear in season 3, had it been greenlit. Weisman had put in foreshadowing towards the end of the first season, by showing a younger Cissie witnessing Green Arrow and Artemis rescuing her father. When season 3 was Un-Cancelled, Arrowette indeed joined the Team in the timeskip between seasons 2 and 3 ...except that due to the storyline of Batman and several Leaguers quitting the Justice League in the season premiere, Arrowette essentially wound up an extra due to her having to leave the team as a result, only fully rejoining the team in the season finale.
Christopher Jones has stated that had the show been renewed for a third season, Supergirl would have appeared.
Weisman, Vietti and Jones pitched ideas to continue the show to Cartoon Network, including a TV film series, an Arrow family-centric spinoff, an Earth-16 set comic book and a crossover with Scooby-Doo.note
The Wonder Twins from Super Friends and Rose Wilson / Ravager were going to appear in the show had it been renewed for a third season.
Of course, with the announcement that the show has been renewed for Season 3, many of the above examples may become subversions.

Though a Teen Titans animated series eventually came to be, there were several aborted attempts to get one off the ground:

Hanna-Barbera was developing a Teen Titans series in the mid-70s, though it was rejected. Nothing has been said about the premise of the series, though concept art revealed the members: Robin, Lilith, Wonder Girl, Aqualad, Mal, and Kid Flash. A Poorly-Disguised Pilot was included as an episode of Super Friends, which revealed it to be more of the same, but with younger versions of the characters.
In 1983, Hanna-Barbera tried once more and pitched an adaptation of "The New Teen Titans" to ABC. It almost happened, until the network executives decided that they wanted a show more in line with the Smurfs (which at the time had been very successful). Alan Burnett had developed the proposal, and the team would have included all of the members except Robin (due to him being used in Super Friends). Wonder Girl was stated to be the leader instead, and the Titans would have fought Trigon and Blackfire. Some of the artwork shown at a HB exhibition reveals that Raven and Cyborg would have been given vehicles, for possible merchandise appeal. Cyborg would ride a motorcycle, while Raven would ride upon some sort of hoverboard. Not all was lost, though - the gathered team did show up...in an anti-drug commercial and Cyborg proved popular enough to appear in the final season of Super Friends.

Starfire would have been able to disguise herself as a white woman with Lucille Ball-esque hair, in order to have a secret identity. Changeling was also shown to have a more "normal" looking civilian form, where his green skin and hair would disappear and he'd look oddly more like Dick Grayson would have.
As well, if the anti-drug commercial was any indication, there would have been an original character known as the Protector replacing Robin. Because of the design, it was thought that Protector was originally gonna be Robin until the Super Friends bit came into play. The Protector had previously appeared in anti-drug comics featuring the Titans, as there was a licensing issue with Robin that required all panels to be redrawn to feature the new hero.

At some point in the '90s, there was to be a DCAU Titans series featuring the original five members. It never got any further than some concept art of the characters.
The actual animated series itself had a few plot and character ideas that never happened, due to the limited amount of episodes for each season:

Terra was to initially be in more episodes and the opening sequence of season 2.
An episode featuring the Omega Men was considered but never happened.
There were to originally be 20 episodes in season 5, but Cartoon Network would order it reduced back to 13.
Although there were no solid plans for a season 6, Amy Wolfram developed a pitch called "The New Teen Titans" when the network gave them hope that they could be renewed. It would have involved more teams of Titans being created around the world.
When the show was cancelled, Glen Murakami raised the possibility of it one day being resurrected under the new title Titans, citing the way Batman: The Animated Series was cancelled before being revived as The New Batman Adventures a few years later. Unfortunately, this never occurred.
Season 6 would have likely been focused on Starfire, as she was the only one of the main cast to not have a devoted season arc. The season might have introduced Starfire's brother, Wildfire, on the show, although he did end up appearing in the comic.

Green Lantern: The Animated Series: The series originally had a "Black ops" take on the corps, Greg Weisman and Brandon Vetti were in charge of developing the show, the Protagonist would've been Charlie Vickers along with the appearance of other Earth Lanterns, with Hal Jordan first appearing in the Pilot.

Blue Lantern Razer.
According to Volpe,the Sinestro Arc would've begin with him framing Hal for his crimes, John Stewart would've been sent to capture him, Hal would've explain everything to him and they would've team up to defeat Sinestro.

The first season of Beware the Batman was originally going to feature The Creeper as a guest hero. In addition, other villains considered for the show included Mad Hatter, Nocturna, and Hush. The last one's role was replaced by Deathstroke.

The show left a couple of loose threads, namely the foundation of The Outsiders and Harvey Dent's transformation into Two-Face. In addition, there were several hints at the presence of The Penguin, including TV news/newspaper headlines and dialogue. Considering characters like Tobias Whale, Marion Grange, and Dent were foreshadowed this way, it would've been likely that Penguin was planned for season two.
Glen Murakami revealed a rough sketch of what the Outsiders line-up would've looked like in season two: In addition to Batman, Metamorpho, and Man-Bat, Cyborg and a Robin-like Red Arrow would've joined the team. Also, Murakami revealed that Tatsu would've become the show's version of Nightwing, while Barbara would've become Robin, resembling Carrie Kelley.

Back in the early '90s, there were plans for a Wonder Woman-centered animated series and toy line called Wonder Woman and the Star Riders; the show and characters would have been more of a Magical Girl show akin to She-Ra or Sailor Moon than the comics. This idea only got as far as doll prototypes and a mini comic for a cereal before it was unceremoniously dumped. The designs, minus Wonder Woman, were re-purposed for Tenko and the Guardians of the Magic. This page showcases the disastrous idea.
In 2006, a pilot of a new interpretation of Plastic Man was offered to Cartoon Network. Sadly, it was never picked up, despite being impressively well animated, containing a lot of both visual and verbal fun and managing to gain quite the fandom (that still hoped it would "pull an Adventure Time"). It eventually did sort of "pull an Adventure Time," being aired as a series of shorts on the DC Nation block; the version of Plastic Man from the pilot also showed up in Batman: The Brave and the Bold as a major recurring character.
While the actual show only showcased Superman, there were design sketches for other characters for Super Best Friends Forever. Robin would have resembled his Dick Grayson incarnation and be just as skinny as Batgirl, Batman would have looked like a big, hulking brute almost reminiscent to his Dark Knight Returns incarnation and Wonder Woman would have had a majorly chiseled look to her.
Justice League Action was originally going to be a Batman show instead of a team series.
Wendy from Super Friends was originally intended to be Batman's niece, which was awkwardly handled in the first scripts (according to script advisor E. Nelson Bridwell, they "had her openly referring to the Caped Crime-fighter as 'Uncle Bruce', while he introduced her to people who were not supposed to know The Batman's identity as 'my niece'").
Mike Mignola did concept art for an animated New Gods movie that ultimately went unproduced.
DC Super Hero Girls began its life as Super Best Friends Forever, five shorts created by Lauren Faust for Cartoon Network's programming block DC Nation. Faust went on to pitch the show as a full-on series to the network, but they turned it down. Years later, Cartoon Network picked up Super Hero Girls, and many elements carried over. One famous example is "#TheLateBatsby", effectively a remake of SBFF's "Time Waits for No Girl".
Animator Vinton Heuck had pitched an animated series called Superman Family, inspired by Superman (Rebirth) and Super Sons. It would feature Silver Age-inspired stories starring the Kent family (Clark, Lois and Jon) as well as other S-Shield bearers such as Supergirl, Kong Kenan and the John Henry and Natasha Irons versions of Steel. Sketches also revealed that Damian Wayne would play a big part of this as well as Mr. Mxyzptlk.
Storyboard artist Jerry Gaylord pitched a series focusing on three alternate universe versions of DC's heroes who would've had adventures across the Multiverse. The main trio consisted of Superman's spoiled grandson, an African version of Wonder Woman and a version of Batman who grew up poor on the streets of a Neo-Tokyo-inspired version of Gotham.
Shawna Mills pitched a series called House of Batman, which would've focused on Batman raising his four sons (Dick Grayson, Jason Todd, Tim Drake and Damian Wayne).
Disney
Mickey Mouse was originally going to be named Mortimer Mouse, after Disney's pet mouse. However, a number of people, including his wife, convinced him that children wouldn't want to watch a character named Mortimer. That was when Disney's wife suggested the name be changed to Mickey. A character named Mortimer Mouse was later introduced as a rival for Mickey in an animated short and was later reintroduced in House of Mouse. In fact, Mickey Mouse was only created because Disney was Screwed by the Studio on the earlier Oswald the Lucky Rabbit shorts he made at Universal. If not for that, who knows how long Walt Disney may have stayed at Universal working on Oswald cartoons.
Greg Weisman had so many scrapped ideas for Gargoyles spin-off series. These included the continuing adventures of King Arthur, the New Olympians, and a few other characters introduced during the Avalon World Tour, a series where Brooklyn travels through time, and a number of Punch Clock Villains earning a measure of redemption. He has said that he will try to re-integrate these into the comic.

None of these ideas quite match the original series proposal: a comical derivative of Adventures of the Gummi Bears with Xanatos as the bumbling descendant of a wizard.

This version also had Broadway as a female, but the network didn't like the idea of an overweight female lead. The clan was also led by another female named Dakota, but she was deemed uninteresting, so they created Goliath and retooled her into Demona.

Phineas and Ferb spent sixteen years in Development Hell, so a lot of ideas came and went over time:

The pilot shows a few original ideas that were scrapped: Phineas was more sarcastic (the creators wanted him to act like an annoying little brother), Doofenshmirtz's name was "Meddleshmirtz," and the boys were going to be canonically nine instead of canonically indeterminate. Also, Ferb never spoke, aside from one remark "They're the only mammals to lay eggs," implying he might have been planned to be The Voiceless instead of just The Quiet One.
The theme song was originally meant to be sung with a slower start and with a classic Disney chorus. Disney decided that it needed to be more modern, so they had Bowling for Soup record it in their signature style. Interestingly, the lyrics and melody were barely changed.
In addition to the above about Ferb being The Voiceless, he originally wasn't supposed to be British and was intended to be voiced by Mitchel Musso while Jeremy Johnson would have been He Who Must Not Be Seen. (Something similar would have also applied to Stacy, who would just be someone Candace would talk to over the phone.) Once the decision was made to make Ferb British, the creators wanted to retain Musso's voice so they expanded on Jeremy as a result.
At one point in the development process, the Flynn-Fletcher family pet was a capybara; this character eventually evolved into Perry the Platypus.
A proto-Irving can be seen in the early character designs, and he would have been part of the boys' group of kids. As time went on and the characters of Isabella and Baljeet came to be, he was shelved, only to debut in the series proper in the season two episode "Hide and Seek", gradually settling into his Tagalong Kid role. Likewise, the bugs from "Doof 101" and "The O.W.C.A. Files" also existed on paper long before they found a place for them onscreen.
"Tip of the Day" began its life as a 22-minute episode instead of one of Two Shorts, and the plot was completely reworked over the development process. Initially, the kids would have found out about a secret society in the vein of The Da Vinci Code working to prevent the word "aglet" from becoming widespread knowledge lest civilization collapse as a result.
In "The Wizard of Odd", there were plans for a full version of Buford's "I Want" Song, but it was shortened to a gag in the final version to save time.
The 2-parter "Where's Perry?" was originally called "World Without A Platypus", and both parts originally served as the Season 3 finale and the Season 4 premiere.
In an earlier version of "Phineas and Ferb: Mission Marvel", Iron Man would have gained the ability to wield Thor's hammer after the powers get swapped. However, according to Swampy, this was shut down by Marvel, and the conversation Thor and Iron Man have in the final version is based on their conversation with the Marvel representatives about what can and cannot be done with the hammer.
The ending of "Night of the Living Pharmacists" went through a few versions. In the first storyboards done by Aliki Theofilopoulos Grafft, Phineas would kiss Isabella after her confession, but this was deemed too much. At another point, the same scene would have had more dialogue implying he might reciprocate, but like in the final version, he's cut off before any clear answer can be given. Also, before settling on "Lots of Me" for The Tag, one version would have had Phineas acknowledge Isabella earning her Emotional Bravery Patch and hug her, and another would have explained how the rest of the world was cured.

Milo Murphy's Law grew out of a secondary character in another story that Dan Povenmire and Swampy Marsh were working on. When Dan suggested making Milo the star of his own show, Swampy said that he'd been thinking the same thing himself. Also, he was originally Mikey Murphy (which was still used in early press reports), and the Time Travel plot was added later.
American Dragon: Jake Long is a show that's pretty hard to view outside the context of its positively epic and vindictive degree of Executive Meddling. Some of the interesting ideas that got the axe include:

The Huntsclan's plot with the Aztec skulls was originally going to last the entire second season, with a third season dedicated to Chang resurrecting the Dark Dragon. "Homecoming" would have been a two-parter involving Sun Kim being Killed Off for Real and a revelation that Chang was Jake's grandmother. However, when it became clear the series would not be renewed, the two seasons were crammed together, and Disney vetoed the above ideas, declaring it too dark (and resulting in Writers Cannot Do Math, since they couldn't say Jake's mother was born out of wedlock).
Rose was supposed to stay in New York after losing her memories, with Jake attempting to rebuild their relationship, but Disney decided this was "too confusing," so she was relocated.

In 1989, Disney negotiated with Jay Ward Productions to produce a revival of Rocky and Bullwinkle, titled The Secret Adventures of Bullwinkle. What would have come of it? New Rocky and Bullwinkle stories, new Peabody's Improbable History stories, new Dudley Do-Right stories, new Mr. Know-It-All segments and a whole new segment called Fractured Scary Tales, which would've been spoofs of famous horror films. The negotiations failed, but as a consolation, Disney was given exclusive home video rights to Ward's cartoons throughout the 1990s. However, because the series was scrapped, the team behind the concept was pressured to come up with a replacement series. The resulting replacement? Darkwing Duck.
The original pitch for Darkwing Duck was very different:

It was originally going to be a James Bond spoof called Double-O Duck, with Drake Mallard as a globe-trotting spy working for SHUSH. All the villains were going to be agents of FOWL (Fiendish Organization of World Larceny) with Steelbeak overseeing them as the show's big bad. The DuckTales (1987) episode "The Masked Mallard" inspired the writers to think up some more episodes featuring Scrooge's heroic alter ego. Eventually, they came up with so many episodes, they decided to create a new show starring a different character.
The writers came up with the idea of a spin-off set 20 Minutes into the Future, featuring Gosalyn as either a teenager or young adult, and featuring her own superhero alter-ego, Quiverwing Quack (who had previously appeared on Darkwing, and was a Green Arrow parody, right down to the trick arrows). It never got past the planning stages.
There were also several episodes planned that never got produced, including the return of such baddies as Paddywhack and Taurus Bulba. Taurus Bulba did in fact come back as a cyborg. It's just that after that episode, they never did anything with the plotline.
Also, Darkwing and Morgana were eventually going to get married and have kids together down the line if the show had continued.
There were plans for an episode where DW and Evil Twin Negaduck had to team up to defeat a somehow revived Manifest Dark Side Negaduck.

Quack Pack was meant as a direct sequel to DuckTales (1987), where Donald returned from the Navy and Scrooge, realizing that Donald would inherit his business one day, returns his nephews to him to teach him some responsibility. Considering the amount of negative press the finished product got, and how it became the killers of The Disney Afternoon, maybe the original idea would have worked better.
If DuckTales the Movie: Treasure of the Lost Lamp did better at the box office, there was also going to be a Chip 'n Dale Rescue Rangers movie. Subverted, as 30 years later, there finally is.
There is a quite large book on exactly this subject called The Disney That Never Was, including the original version of The Jungle Book, which was to be much darker in coloration, and much more faithful to the original, and the never-implemented Hiawatha and the Pearl-Father.
The 1990 Roger Rabbit short "Rollercoaster Rabbit" was originally to have a scene where while Roger and Baby Herman reached the top of a ridiculously high lift hill, the top would have been a crossroad with a stoplight, which turned red and the cart would stop. There, a long cart that passed them would have contained every animated character that has ever appeared in a Disney film (for example, Mickey and Minnie would have been seated at the front while large characters like Monstro and Chernabog would have been way in the back). In the end, it had to be cut because the animators felt it wasn't worth it (If the cart went as fast as originally planned, the audience wouldn't have been able to see the characters and if it had been slowed down, the cartoon's frantic pace would have been thrown off).

The animators tried to do this again for a segment in Fantasia 2000 where Mickey Mouse would conduct an orchestra of Disney characters performing "Pomp and Circumstance" to an amphitheater audience of all the characters. It was canned because they felt that it felt more like a showoff gimmick and that they would constantly have to cut away from Mickey to see another section of characters. The music piece, however, would end up being used in a segment based on Noah's Ark and starring Donald Duck.

Star vs. the Forces of Evil:

The show was originally going to be about a grade-school girl with an overactive imagination who constantly thinks she's having amazing adventures. It was changed to a high school girl who actually is fighting the forces of evil.
The character Marco was originally named Sol, obsessed with shows like Dragon Ball Z, and Star's rival instead of her best friend.
Flying Princess Pony Head was originally going to be constantly drooling and have blood dripping from her neck.
Star was originally going to have to keep her magical powers a secret from all the other kids in her school, but in the end all the humans know about her and her magical excursions but are Fantastically Indifferent.
In the Halloween Episode "Hungry Larry", Jackie was going to appear wearing a mermaid costume, as a reference to the fan theory that she was actually a mermaid.

You can watch Motorcity's original pilot here. Remember, the show was in development for over 10 years.
W.I.T.C.H.:

The series never got a third season, but Greg Weisman, showrunner for season two, gave some details on how he envisioned how the season would've gone down: "I have to admit that my memory on WITCH's never-happened third season are a bit vague now. But Sylla and Riddle were very important, and Taranee, and I think Martin and Cornelia would transfer to Riddle's school. The Guardians would take on a temporary new member, as in the comics. There were other elements from the comic, including characters I can now picture in my head — but whose names I can't immediately call to mind. But Irma's mom would have been very important."
Pieces of the original pilot animation can be found around YouTube and the US opening, but the original idea would have put the girls (minus Will again) at full power in civilian form. As well, Irma's Guardian form color scheme was reversed in the pilot, but set back to normal when the series started.

Gravity Falls:

Alex Hirsch originally planned for the Myth Arc to be three seasons. The season two story arc regarding Stan's portal and The Author's identity would have been its own season, with "Not What He Seems" being the season finale. Meanwhile, the final story arc wherein Bill must be prevented from getting the rift would have been a third season. However, he was so worn out from the showrunner experience after completing the first season that he decided to condense the remaining plot.
Bill Cipher was not originally the Big Bad; Hirsch had the idea of something living in the woods having that role. He never came up with anything that great, however, and ultimately it was decided that Bill would work as the main villain. And boy, did he ever!
Bill was originally supposed to be green (like the actual Eye of Providence on money), but "it looked weird."

Elena of Avalor had its own page.
Muppet Babies (2018) has a few examples:

Early reports mentioned that the new character would be a baby sheep named Bobbi Baba, while the reports that came out two months before the show premiered said that Summer Penguin is the new character.
In this article released the day before the show's Canadian premiere, it was revealed that Matt Danner just did scratch work for Kermit before a notable voice would be cast, but the higher-ups liked his performance and cast him in the role proper.

Chip 'n Dale: Rescue Rangers was originally supposed to star Bernard and Bianca from The Rescuers, but due to The Rescuers Down Under going into production at around the same time, Bernard and Bianca were dropped. The show would've been called Metro Mice, and was to feature an entire cast of original characters. However, it was later decided that established Disney characters should be the leads, which led to Chip and Dale being integrated into the show. Other characters that had been created were either dropped or retooled into Gadget, Monterey Jack and Zipper.
Early pitch materials for Super Robot Monkey Team Hyperforce Go! had numerous differences from the show that would eventually be released. Some examples of this include...

The title uses the word "Ultra" instead of "Hyper". Probably they remembered the Ultraforce comics—whose 1995 animated adaptation was produced by DiC, a former subsidiary—and changed it to avoid a lawsuit from Marvel (who owned original publisher Mailbu Comics, and wasn't yet owned by Disney when Hyperforce was made).
The monkeys didn't yet have their names, and were only referred to by their colors.
Antauri was the leader of the Monkey Team, and Chiro was instead a younger Tagalong Kid.
Roles and personality traits being swapped around. For example, early Nova was said to "try her best to be sweet, gentile, and peaceful", whereas the final Nova was more boisterous.
The city of Shuggazoom was instead called Pachinko Town, and appears to be set on a futuristic Earth.
The Super Robot had no weaponry of its own, and resorted to fisticuffs rather than the final version's missiles and lasers.

An Animated Adaptation of The Haunted Mansion by Kubo and the Two Strings co-creator Shannon Tindle was pitched at one point, but has since been shelved indefinitely. A TV special was also once planned for release in 2014 before being scrapped.
Amphibia:

The show was originally called Amphiland. Anne had both of her shoes, Sprig was originally called Weed and was voiced by Thurop Van Orman, and Grime lived in a castle instead of a tower.
Marcy went through some changes during development: she was going to have a witch in the woods persona, she wore glasses, and she was going to carry a sword and a violin.

The Owl House was originally supposed to be about Luz's adventures in the Boiling Isles after she died, as the Boiling Isles was originally the afterlife.
In 2014, a new Winnie the Pooh TV series was in development called The World According To Winnie The Pooh that was set in modern day England. The series was a collaboration between Disney Television Animation and Cartoon Saloon with a pilot episode called "Friendship Phone-blems" being created around the same period. The series was passed by new Disney ABC leadership alongside Disney XD's "Welcome To Simpleton" & "Very Important House" on 2016. Footage of the pilot was uploaded to YouTube on January 5, 2023.
Hanna-Barbera
Hanna-Barbera
was a studio famous for a wide variety of ideas getting greenlighted, but a lot more got changed along the way.
In the mid-1950s, a young Hollywood upstart named Jack Nicholson sent his portfolio to MGM's cartoon department in the hopes of getting hired as a cleanup artist on Tom and Jerry. The unit closed less than a week after his job interview.
Dastardly and Muttley in Their Flying Machines was originally conceived as Stop That Pigeon (the show's theme song), and the two principals, along with Klunk and Zilly, were a jelly-bellied Red Baron-esque character and an orange dachshund with flying goggles. Dick Dastardly and Muttley were originally meant to be on The Perils of Penelope Pitstop as the protectors of Penelope's brother. The two were instead drafted into Stop That Pigeon, replacing the Baron figure and dachshund, and that show was renamed.

The Superstars 10 Movie Yogi's Great Escape was originally pitched to be a globe-trekking Wacky Race to be called Around the World with the Wacky Racers, it was later retooled into Yogi's Great Escape. Also worth noting one of the Scooby movies in this set did feature some Wacky Racing.
Mumbly was in itself going to be a Muttley spinoff with Muttley now a good guy detective. But instead Mumbly was created and had to take over villain duties for Muttley when the rights blocked Muttley's use. Both were preceded by the dog Mugger from the Hey There, It's Yogi Bear! (1964), all three characters were voiced by Don Messick. In the Laff-A-Lympics comic book, written by Mark Evanier, Dick Dastardly and Muttley meet Dread Baron and Mumbly and it is revealed that Dick Dastardly and Dread Baron are brothers.

Scooby-Doo also has a few never-used ideas, right down to the concept of the series:

It was originally meant to be about a traveling band that solved mysteries. However, Scooby Doo wasn't going to be the main character, and he was originally going to be a sheepdog named Too Much. The studio rejected the initial proposal because the Archie Show (on CBS) already had a sheepdog named Hot Dog. (And two other sheepdogs named Hot Dog Junior and Chili Dog!) CBS rejected the presentation art for the show (first called "Who's Scared?" and "Mysteries Five"). During a plane ride, producer and then-CBS executive Fred Silverman was inspired by a Frank Sinatra song, where the titular singer ad-libbed a line by singing "dooby-dooby-doo". Silverman liked the sound of that line so much that he changed Too Much's to Scooby and decided to make him the main character of the series after he was changed to a Great Dane (inspired by a staffer at H-B who raised Great Danes as a hobby).
Secondary problem: the comics section of the newspaper had a Great Dane (Brad Anderson's "Marmaduke"), so designer Iwao Takamoto gave this animated Great Dane a slanted back, bow legs and bulging chin.
The 13 Ghosts of Scooby Doo was cut short before the last two ghosts were caught. One was debatable but modern day WB considered the series to have caught 12 of the 13. Apparently the writers were surprised when the next season came round and the network was fine with airing reruns instead of getting an order for a second season to finish the plot. Tom Ruegger had said they were totally prepared and expecting a second season of that incarnation.
Early concept art depicted Fred with brown hair instead of blond. Also, Velma didn't have her trademark glasses, and she wore a necklace with a flower on it.

From 1959 to 1961, Hanna-Barbera tried to set up a new animated show that at various stages was going to be named Mr. and Mrs. J. Evil Scientist, The Gruesomes, and The Gruesomes and the Twosomes, but the characters only ever got animated for Poorly Disguised Pilots on Snooper and Blabber and Snagglepuss. A comic book series did, however, materialize. After this, the Scientists were retooled into the Gruesomes and added to the Flintstones, which also didn't lead to a show of their own.
In the last season of Wait Till Your Father Gets Home, they got another Poorly-Disguised Pilot that was an attempt to launch an animated Car 54, Where Are You? spin off.
The Fonz and the Happy Days Gang. An animated spinoff to Happy Days was the subject of an Urban Legend of Zelda about a What Could Have Beennote , but in the end really did have one of its own. After a successful first season a second was ordered and a Laverne and Shirley animated series with an equally odd story choice debuted. For the third, the Fonz show was shelved to make room for a Mork and Mindy one but instead they chose to combine the other two into "Laverne and Shirley with the Fonz". But this segment was cut short when Cindy Williams quit the real life role. What exactly the future for animated Fonz world would have supposed to have gone from here, no one fully knows.

Also there's art circulating showing Scooby and Animated Fonz together for a crossover that was never produced.

Jonny Quest was revived in the '80s as "The New Adventures of Jonny Quest", but only ran 13 episodes. The original intent was an order of 39 episodes (three seasons), but the poor ratings and reception led to it getting the axe quickly. Little has been said about what might have happened past episode 13, though one of the writers on the series had hoped to include Jessie Bradshaw more as a semi-regular character.

A '90s revival of the series, "Jonny Quest's Extraordinary Adventures", was planned to be released in 1995 with an order of 65 episodes. Delays on the series led to the original writer and art director being fired after the first 26 stories. The new creative team started work on a separate series, titled "The New Jonny Quest", which itself only lasted 26 episodes. Due to Executive Meddling, both series were combined and aired as one show: The Real Adventures of Jonny Quest.
Had Real Adventures not been cancelled, the Quest team would have operated out of Palm Key once more. There were also plans to explore the history of Jonny's mother for the proposed season 3 premiere.

The second season of 2 Stupid Dogs was originally going to feature new incarnations of other Hanna Barbera shows besides Secret Squirrel but that didn't come to pass.
While it was not common for the studio to make pilots for most series (as most were sold on drawings or storyboards), one such was entitled The World Color it Happy. This block show contained two animated segments, the first being a new funny animal, Toing Tiger (whom appears to be a proto Cool Cat, but more like Snagglepuss goodness replacing all the Cool Cat badness) and the Gang From Galaxy, a Jonny Quest like show but "Recycled IN SPACE!".
Another show that actually went to pilot but was never sold was Duffy's Dozen. This show featured a mother and father who adopted 12 ethnically diverse children and a sheepdog. The show aimed for a primetime pick up and had an extra gimmick of each episode featuring the animated characters interacting with live action photographs of real American landmarks.
The Partridge Family 2200A.D. was originally pitched as a Jetsons teen series, in most drafts feature Judy as a reporter, Elroy and Astro assisting her, and get ready for this, Astro's Son, named Tralfaz after his father. Drawings of this version are circulating on the Internet, but other earlier versions find reporter Judy now going steady with Jet Screamer! But when pitched to the network, they gave Hanna Barbera the money but asked they used the Partridge Family instead. Curiously, Partridge kids Danny, Laurie, Chris and Tracy (voiced by their prime time counterparts) appeared in cartoon form the previous season on Goober and the Ghost Chasers.

Likewise Casper and the Angels was not originally pitched with Casper and Hairy Scary as the "guardians", what was to be their guardians at the moment has not slipped out of the grapevine.

Another funny animal named Dan'l Bone has artwork out there. Apparently a canine Daniel Boone probably similar to Touché Turtle and Dum Dum in plot
The Godzilla Power Hour: Toho let them make a Godzilla cartoon. But: could they get his roar? Nope, they had to let Ted Cassidy growl. Could they get his little mini-dino from the movies? Nope they had to make Goodzooky. Could they get his enemies? Nope, they had to make use of the Expy idea. Executive Meddling at its fullest.
The Laff-A-Lympics teams changed over time. The Scooby team at one point included Melody, Alexander, Sebastian, Alexandra and Jeannie. Conflicts with the rights holders for Josie (Archie Comics) and I Dream of Jeannie(Columbia Pictures, who owned the Screen Gems catalog) caused them to be replaced by Captain Caveman and the Teen Angels and Hong Kong Phooey, respectively.

The opening titles were recorded before Jeannie's removal, she's included in the "45 stars" and if you look really close she's included in a quick background frame they didn't bother cutting.
At one point Hong Kong Phooey and Spot were going to be referees, but Spot was dropped and Phooey was added to the Scooby Doobies.
Similarly, Dick Dastardly and Muttley were meant to anchor the Really Rottens. But again, conflicts with the co-rights holders (Heatter-Quigley Productions) caused them to be replaced by Suspiciously Similar Substitute Dread Baron and Mumbly (an existing character who made a still-unexplained Face–Heel Turn to the bad guys).

The last episode of Hong Kong Phooey pitched three new shows, but only one took. We never saw Honcho or the Mystery Maverick again.
At some point in the 1970's Ruby and Spears pithced the concept that would become "Bigfoot and Wildboy" as an animated series to Hanna Barbera. An artwork still eventually surfaced where it was then called "Bigfoot and Little Joe". Eventually the series would be picked up as a live action series by the Krofts.
Likewise interviews later stated the character Fumbo Jumbo that took over some spotlight in an episode of Yogi's Gang was a show that had not sold yet and his inclusion in that episode was aimed to sell the show as a Poorly-Disguised Pilot.
Some interesting finds from Alex Toth's time include drawings of Space Ghost without his mask and presentation art for another show called "Planet of the Dogs", which basically seems to be a take of Planet of the Apes with dogs. This is of course many years before Road Rovers or Thundercats. However funny enough the company would do a dog world just instead of 60s super hero template, it was 80s small village template, The Biskitts.
Joe Barbera had also tried to pitch a spin-off of The Flintstones starring a primarily black cast. Apparently entitled The Blackstones this show (or at least something along the lines) was pitched by Barbera both in the 1970s and 1990s only to be rejected both times.
Joe Barbera had also been working with Michael Jackson on two possible interactions. One was to try and get him to sing in Tom and Jerry: The Movie which didn't happen. Joe and Jackson also worked out a series concept based on The Prince and the Pauper. Most sources say 1992 was the year of the two's first meeting, but if that's accurate remains uncertain.
At one point there was consideration of a spin off for the Grimwood girls from Scooby-Doo and the Ghoul School it however didn't get off the ground and not long after Hanna Babera created Gravedale High.
In one large note, when Turner bought Hanna-Barbera, everything in development at the time was halted and most never got funded under the Turner era. Despite Ted Turner being a walking money machine HB was under a much tighter budget than they had been under Taft. Shows like The Pirates of Dark Water took advantage of that to produce it's art style which in turn got it cancelled for going over budget go figure. They were also much more limited to what network's they could sell too, which high emphasis on ones for Turner networks and eventually for Cartoon Network. Some ideas from this period that never were included:

A whole second round of Superstars 10 films, only two of which ever came to be, Jonny's Golden Quest and A Flintstones Christmas Carol. Others included: another western (but this time with Quick Draw as the main character), a Magilla Gorilla movie with him going to the opera, the Jetsons and the Flintstones meeting again but this time ending up in Rome (where another HB family lived), another Top Cat movie and a movie where Yogi is shipped off to Russia and meets his Russian twin Yaki Bear.

The USA Network actually did help get Jonny's Golden Quest completed making it a rarer exception for the Turner era and is probably an indication they were one of the networks negotiating for part of the Second set of Superstars 10 and they still wanted that new Quest movie.

There more than likely may have also been at least one Scooby movie in there, all three of the last ones had some form of Sequel Hook.
HB also pitched a spinoff with the Trio of Triumph from Yogi's Treasure Hunt in an educational anti-bullying show. Also never funded by Turner.
A movie project called "The Last Herd" was also under way, what it was to be is unknown, but it's speculated to have been about cows.
Another piece of artwork from this time surfaced of what looked like an Elroy and Astro Jetson spinoff with the two in space super hero antics. Possibly similar to Astro's segment on Space Stars.

Speaking of Space Stars, that show originally was going to be 90 minutes long and feature the Jetsons in other segments. Funny enough there were more bumpers made for this in mind, but they never aired on TV. The DVD release actually included all of these segments who were now seen for the very first time. On a Warner Archive podcast two of the show's writers were surprised to learn all of those actually got fully animated.
In terms of the Turner period, due to the above situation where you could argue Ted Turner didn't give Hanna Barbera or Cartoon Network as much budget as they could have utilized, in 1994, Fred Seibert helped created the What A Cartoon! Show as a chance to produce new shorts and help show the cable providers the network would have months of premieres to build their "animation library" forward as well. Seibert argued for the price of two seasons of other shows they could get 48 weeks of premieres. So most of the non What a cartoon shows were ended despite Cartoon Network's liking of most of them. It is unlikely Fred Seibert intended this to be the end of everything not Cartoon Cartoon. The shorts even included the chances for Dino and George and Junior to get solo series. Had CN and HB have had more budget the two may very well have co-existed. However once the WB merger happened Seibert left before he could greenlight anything to make up for this. The gap provided here is also what lead Warner Bros to launch the projects that gave birth to both the Scooby-Doo Direct-to-Video Film Series and the Tom and Jerry Direct-to-Video Film Series.
There have been several attempts to revive Quick Draw McGraw for a new audience but every attempt to do so has been shot down by Warner Bros.. These included a spaghetti western series by Jorge Gutiérrez, a movie that only has one existing poster, a 90s TV special that never made it past the concept art, and a TV special in the same vein as The Flintstones: On the Rocks.
Animation producer John Cawley pitched about three celebrity-starred pitches to Hanna Barbera during the late '80s; two of which were immediately rejected and one of which was taken into consideration but was eventually turned down. The two that were rejected was one that starred Oprah Winfrey as a traveling reporter which Hanna-Barbera didn't think Winfrey was a strong-enough celebrity for her own show at the time and one that had Whoopi Goldberg as a multimillionaire Robin Hood-esque character, which the studio believed that the show should be more of a standard and generic use for the character, such as making her a private eye detective. The pitch that was taken to consideration was an Eddie Murphy animated series where the actor plays a character performer portraying multiple characters. The idea fell through when the crew found out that Murphy thought the idea of doing Saturday Morning cartoons was 'silly'. Years later, Murphy would end up becoming the iconic voice of Donkey in the film franchise, Shrek.
According to Van Partible, creator of Johnny Bravo, Joe Barbera was a huge Seinfeld fan and would occasionally do a Cosmo Kramer impression in the studio. Partible stated that had Barbera still would've been in charge of the studio, an animated spin-off of Seinfeld would've been in the works.
According to Butch Hartman, he and Seth Macfarlane pitched an "Adam West" cartoon series to Hanna Barbera and Cartoon Network, influenced by their experiences working with West on Johnny Bravo, where West fought crime alongside a secretary named Robin (homaging West's 1966 Batman career). But it was ultimately rejected by the studio.
Based on Marvel Comics
The Micronauts animated series, set to air on the Sci Fi Channel from 1998-1999, including a five-part miniseries, 26 episode syndicated series, action figures and a Marvel tie-in comic.
Jack Kirby's Devil Dinosaur comic book was originally developed as a pitch for an animated series. However, the development deal failed to turn into a production deal, and the comic itself ended up getting cancelled soon after.
Jack Kirby also pitched a Thor series to Ruby-Spears, which was never picked up. A piece of presentation art showing the Midgard Serpent attacking a city in Asia is just about the only publicly known evidence of proposed series that still remains.
Spider-Man: The Animated Series' adaptation of Secret Wars (1984) was originally going to feature a number of additional characters, most notably Mister Sinister. These were later scrapped for numerous reasons, namely costs since Sinister's voice actor, Chris Britton, is Canadian based (the cast of X-Men: The Animated Series had previously been flown to LA from Canada for their appearance in the crossover, which proved expensive).

The oddest of the bunch for the heroes of that storyline was the Lizard. That was because originally, it was supposed to have been the Hulk. However, he had his own cartoon on UPN at the time and was replaced with She-Hulk. However, she ended up joining the Hulk in his series so the green-skinned character was replaced again with the Lizard.
An outline was written for an episode featuring Spider-Man teaming up with Ghost Rider to fight Mysterio and Dormammu. It ended up scrapped because Marvel was developing a Ghost Rider cartoon for UPN, and Fox refused to promote a character who was about to end up on a rival network.
Had the series continued, Peter and Madame Web would have found the real Mary Jane in an alternate Earth version of Victorian London around the time of Jack The Ripper, with the ripper turning out to be Carnage.
At one point, there were plans for Fox Kids to do a low budget adaptation of the first 26 issues of the original Silver Age comics, which would have extended the contract with Marvel long enough to allow the network to continue airing Spider-Man: The Animated Series.
Potential ideas for future episodes had Spider-Man: The Animated Series lasted longer.

The villains the Puma and the Beetle were considered to appear.
The Kingpin's son Richard Fisk would have assumed the identity of the Rose.
Because the Hulk's own cartoon had ended its run at the time, it would've been possible for him to finally make a guest appearance instead of just being mentioned.

Spider-Man Unlimited:

At one point very early on in production, the producers had briefly considered doing the show as an adaptation of Spider-Man 2099.
Spider-Man was supposed to meet his Counter Earth counterpart, with the twist being that this Peter had never lost his Uncle Ben, and as a result had become his world's version of Venom. Marvel demanded that this plot thread be nixed after the unanimously poor response to The Clone Saga.
A possible script for "Destiny Unleashed Part 2" can be seen here.
Also this website lists summaries for unproduced episodes and other ideas that reveal the following:

Spider-Man encountering Counter Earth versions of Mary Jane and Black Cat.
Lord Tygra defecting from the Knights of Wundagor to form a government in order to unite humans and beastials together.
Venom and Carnage merging together to become King Carnage.

Spider-Man: The New Animated Series

The show was originally supposed to feature Black Cat in an episode. However, once the producers got the popular rapper Eve to voice the part, they instead created a new villainess named Talon, who was essentially an African-American Expy of Black Cat.
It ends on a similar coda to The Spectacular Spider-Man: After Spider-Man is influenced by the Gaines twins to mistakenly throw Indy off of a building, putting her in a coma, New York comes to hate Spider-Man. After defeating the twins, Peter packs his Spider-Man suit into a briefcase, loads it with bricks, and throws it into the river. A second season was planned, where Peter retrieves his suit, and other villains emerge, such as the Vulture, but it was canned.

The Spectacular Spider-Man. Greg Weisman hoped for a 65 episode run (ending with Peter's graduation from High School) - however Marvel got the animation rights to Spider-Man back from Sony, but Sony still held the rights to "The Spectacular Spider-Man " work product. Sony couldn't make more seasons of Spectacular, because they no longer had the animation rights. Marvel couldn't make more seasons of Spectacular because they didn't have the rights to that version of the character. And because of that, we wind up ending with the revelation that all of Peter's friends save Mary Jane are alienated from him, Harry hates Spider-Man, Gwen remains his girlfriend after some emotional blackmail from Harry, and Peter didn't even stop the bad guy. One assumes later seasons (even just one more given a few episodes' warning it was about to end) would have chosen a more upbeat coda. Some fans have even went as far as to pretend the non-canon Spidey/Gargoyles radio play produced months later is a more upbeat and hopeful conclusion to the series.

Greg Weisman has stated that the third season was to include Hobgoblin and Scorpion. Norman Osborn was not to return until at least Season 4. Carnage and Hydro-Man had both appeared in non-powered form during Season 2. Dr. Miles Warren might have finally gotten to upgrade himself and become a proper supervillain. And some statements made online indicated that Molten Man was being groomed to join the fight alongside Spider-Man.
Apparently Weisman had more backstory for the nature of Flash and Peter's rivalry planned out and how they stopped being friends. Also although the rights were tied up, Weismen said he would have liked to have been able to have had a Spidey/Human Torch crossover. The Big Man/Tombstone was going to be Wilson Fisk, but his rights were tied strictly to Daredevil adaptations and thus couldn't be used. He apparently approached Marvel about continuing the series in comic form, but they never got back to him (Disney/Marvel and Sony's iffy-ness about the rights probably played a factor).

Ultimate Spider-Man:
Spider-Man and His Amazing Friends was supposed to have Spidey team up with Iceman and the Human Torch. However, the rights to the Torch were still being held up, so they ended up making a new heroine known as Firestar.

Firestar was originally going to be named Heatwave. This was possibly changed due to the fact that DC Comics already published a Flash villain by that name.
The Black Knight episode almost featured the Dane Whitman version of the character in addition to the original Sir Percy iteration. However, the story editor felt casual viewers would be confused by two different heroes named Black Knight, so Dane ended up being cut.

Attentive viewers of The Avengers: Earth's Mightiest Heroes might have noticed a few fleeting references to Wolverine and the X-Men (2009), such as Nick Fury asking one of his agents to send Whirlwind to the Mutant Response Division. Josh Fine, associate producer of Wolverine and supervising producer for the first season of The Avengers, later revealed to have considered making some crossovers between those two shows. Wolverine would have gone on a SHIELD mission with Hawkeye and Black Widow. The Beast would have teamed up with Ant-Man in a different episode. However, Wolverine and the X-Men underwent cancellation before Marvel could make those crossovers. Christopher Yost, head story writer of The Avengers, still went on to publicly confirm that Wolverine and The Avengers take place in the same universe. An EMH tie-in comic written by Yost himself contradicts this, though. Quicksilver and Scarlet Witch are seen as teens who defected from Magneto's Brotherhood, which is completely at odds with their portrayal in Wolverine and the X-Men (2009).
Speaking of The Avengers: Earth's Mightiest Heroes, some early choices for the first villain the Avengers would capture together included Doctor Doom and Magneto. However, it apparently seemed inappropriate for "Earth's mightiest heroes" to team up and defeat a villain who another superhero team had already fought several times before. Thus, the episode about the Avengers' founding saw them overcoming Graviton, whose control over the forces of gravity made him a worthy opponent despite his obscurity. The heroes would later get to fight Doctor Doom in the second season premiere.

As well, Captain America was supposed to fight the Nazis during World War II instead of HYDRA. However, the censors told Marvel that they could either use real ammo for fight scenes, or they could have their Nazis. They went with the real ammo.
Prior to the show's cancellation, the crew had mentioned that the third season would have been the "magic" season. Doctor Strange and the Scarlet Witch would have appeared, with the latter even having been foreshadowed during the second season (a photograph of her was on Nick Fury's wall during the Secret Invasion storyline).
The Sentry was originally going to be introduced in "Assault on 42" as one of the inmates in the titular prison. After this, he would've gotten his own spotlight episode dealing with his origin, followed by him becoming a member of the New Avengers in their self-titled debut.
Avengers Assemble was originally going to be a direct follow-up to Earth's Mightiest Heroes, with the focus on a new team of Avengers. After The Avengers broke box office records, the new show was cancelled mid-production in favor of a cartoon starring the cast of the movie.
Christopher Yost posted some additional details on what would've occurred in Season 3, including the debuts of (in addition to the aforementioned Doctor Strange, Scarlet Witch and Quicksilver) the X-Men, The Defenders, The Eternals, Namor, Tigra, the West Coast Avengers, and Nova, as well as villains like Magneto, Nightmare, Kulan Gath, the Juggernaut, the High Evolutionary and Rama-Tut. The Surtur subplot hinted at in season 2 also would've been resolved. A two-part episode adapting elements of both Avengers vs. X-Men and House of M would've served as the finale. Also, Carol Danvers would've adopted the Captain Marvel identity.

In the 1980s, ABC picked up a series starring Daredevil and a guide dog named Lightning the Super-Dog. The project was dropped due to a verbal altercation between a Marvel employee and an ABC exec. According to Tom Brevoot, the altercation seemed to be the cover to Daredevil Vol. 1 #184, which sported Ol' Hornhead holding a revolver on the cover.
Other shows pitched during that same period included an Iron Man show, as well as a series starring Ant-Man and The Wasp. Two other proposed Marvel series would've been about entirely new characters, with one being called The Monstress (which would have starred a tall and beautiful female barbarian) and Muffy (a show about a transforming VW Beetle).
A Teen Hulk cartoon was pitched in the 80s, seemingly based on the recurring Teen Hulk Joke Character from Crazy Magazine. As the name implies, the show would've been a comedy about a jittery teenager named Chester Weems (with the presentation art even having the phrase "Help, mommy!" written above him) who could transform into the Hulk, à la Fred and Barney Meet the Thing. Another proposal was called Hulk Hound, and featured the Hulk as an anthropomorphic dog.
Had Fantastic Four: The Animated Series been renewed for a third season, there were plans to adapt Sue's pregnancy arc. She-Hulk and Medusa would also have appeared and joined the team.

Iron Man: The Animated Series also had third season plans. Dubbed "The Fall and Rise of Tony Stark", where Julia puts Tony into a downward spiral after a "put up or shut up" ultimatum, and Tony had to deal with his inner demons.

Wolverine and the X-Men (2009):

The end of the series hinted at an adaptation of Age of Apocalypse as the story arc for season 2, which would have featured Cable, Havok and Deadpool, among others, along with the return of Emma Frost. Character designs of both new characters and series regulars in AoA attire have since surfaced on the internet, most notably at Facebook's Save Wolverine and the X-Men page, along with some script samples. There were even designs that put Cyclops and Jean Grey in their 90s era Jim Lee costumes (designs that showed Cyclops actually smiling).
Deadpool was also confirmed to show up in Season 2, but the show didn't make it that far.
Furthermore, Wolverine and the X-Men was originally conceived as a solo Wolverine cartoon (to cash in on the solo X-Men Origins: Wolverine film), presumably focusing on his early life before he joined the X-Men, but someone apparently decided Wolverine wasn't a strong enough seller on his own so they changed it to an X-Men show where he just happened to be in charge - for better or worse.
Jim Ward revealed at a panel at SDCC 2012 that when he was originally cast as Professor Xavier, he wasn't going to emulate Patrick Stewart, but decided to do so after he'd heard Tom Kane emulating Ian McKellen as Magneto.

At the time of Marvel's near-bankruptcy in the mid-1990s, they were planning solo shows based on two of their heroes. First, another Daredevil series was pitched to Fox Kids in 1999, but it was pushed back to air alongside a live-action movie that ended up not being made. Concept art shows that the villains would've included The Kingpin, Elektra, The Punisher and Namor; It would have been Darker and Edgier than similar shows of the time.
A cartoon spin-off was supposed to follow Ang Lee's 2003 Hulk movie, which would have aired on Kids' WB! alongside X-Men: Evolution. Like Evolution, the series would've had a high school focus, with the main character being Bruce Banner's teenage son Bryce, who would've had the power to transform into a Teen Hulk. Jason Marsden was reportedly cast as Bryce, but the project never made it into active development.
Likewise, a show called Hulk: Gamma Corps was originally supposed to air to cash-in on The Incredible Hulk. It never got off the ground, but elements of it (such as the Leader's gamma chargers) were absorbed into The Avengers: Earth's Mightiest Heroes.
A Thor cartoon was planned to follow the release of the first live-action movie, with Marvel Animation aiming to produce an initial batch of 26 episodes. Concept art of Thor and Loki was revealed, including a piece that showed Thor wielding a hammer that resembled Ultimate Mjolnir.
According to the producers, Iron Man: Armored Adventures would've featured Wolverine, Thor, Captain America, and the Fantastic Four as guest-stars had it been renewed for a third season. It also would have featured more of Hawkeye and Black Widow, and villains would have included Mauler and the Raiders, as well as bigger threats like the Skrulls and Galactus.
There was to be an X-Men animated series in 1983 for NBC, but similar to the case of the Titans cartoon, it was scrapped in favor of having more cute and child-friendly shows to ape the success of the Smurfs. The lineup would have included Storm, Colossus, Nightcrawler, Cyclops, Kitty Pryde (using the codename "Ariel"), Ms. Marvel (renamed "Lady Lightning"), Thunderbird, and Videoman (who had previously appeared on Spider-Man and His Amazing Friends). It would've been a High School AU of sorts, featuring the cast as teenagers attending a public high school. Ironically enough, that's pretty much the premise of the much later X-Men: Evolution TV series.

The 1989 Pryde of the X-Men cartoon was developed as a pilot for a potential series (again on NBC), but Marvel ran into financial issues and nothing further got off the ground, including an idea for a second special detailing the history of Jean Grey and the Phoenix. (The original idea for the special would've involved the Sentinels, but that was dropped for Magneto and the Brotherhood to pitch toys.)

X-Men: Evolution:

Spyke originally was supposed to have been called "Armadillo," and had a different hairstyle. Several of the other X-Men also had completely different costumes, before the producers decided on a more uniform look for the cast.
Iceman was going to be the last member of the original team before being replaced by Spyke.
Some elements of the aborted fifth season were foreshadowed in the Bittersweet Ending to the series:

Jean was going to become the Phoenix, as it would adapt "The Dark Phoenix Saga" as the main basis.
Scott and Rogue were going to be a romantic couple.
Psylocke and Emma Frost were going to appear in the season. The former was going to be an agent of SHIELD, while the latter was going to be a new student and member of the Inner Circle.
Magneto was going to redeem himself and would become the teacher of the New Mutants, while Wolfsbane and Jubilee were going to return to the team.
Gambit, Colossus, Havok, Angel and X-23 were going to join the team, as seen in the final shot of the series.
The new X-Men line up was going to consist Cyclops, Nightcrawler, X-23, Iceman, Beast, Shadowcat, Colossus, Rogue and Storm. They would also wear uniforms inspired by the X-Men Film Series.
The Brotherhood were also going to redeem themselves and working as SHIELD agents, while Scarlet Witch's hairstyle was noticeably longer.
A fleet of Sentinels were going to be led by Nimrod, implying that there were plans to adapt the "Days of Future Past" storyline.
Mister Sinister was going to appear, according to producer Boyd Kirland.
The anti-mutant sentiment was going to continue.
Danielle Moonstar would have met the X-Men, as foreshadowed in Kitty's dream in the penultimate episode of the series.
Legion's story arc would've been resolved.
In relation to the planned Phoenix saga for the series, the Shi'ar race, Madelyne Pryor, Bishop, Cable and Rachel Summers were also planned to appear as well as the possiblity of having Scott's father Corsair showing up.

After the success of the first two Ultimate Avengers films, there were plans to adapt Ultimate War, the crossover mini-series that pitted the casts of The Ultimates and Ultimate X-Men against one another. Little is known about the film, but it reportedly would have featured the Avengers and X-Men battling over the fate of Magneto, with Scarlet Witch and Quicksilver showing up as well. The DVD was also planned to include a solo Thor film, which would have been based on the original Beta Ray Bill story from Walt Simonson's run. The project was shelved in favor of Hulk Vs., and was eventually cancelled entirely after Disney purchased Marvel.
Ben Bates created a fully-voiced animatic pitch for a Captain Marvel cartoon that was not picked up. The short featured Carol Danvers (who could change into Captain Marvel via a Magical Girl Transformation Sequence) battling the female villains Titania and Letha, and also had an appearance from Spider-Woman as Carol's friend and crime-fighting partner. Concept and pitch art produced for the show also indicates that Squirrel Girl would have appeared had the series been picked up.
Donald Glover, a.k.a Childish Gambino, was working on an animated series for FX about Deadpool. However it was scrapped by FX due to Creative Differences as well as the Disney/Fox merger that was happening at that was taking place at that time.
Lauren Faust once pitched an action-comedy series called Kitty Pryde and the New Mutants, which would have starred Kitty, Dani Moonstar, Karma and Wolfsbane. Faust never heard back from Marvel, but eventually wound up doing a similar idea for DC with Super Best Friends Forever and DC Super Hero Girls.
Nickelodeon
The Legend of Korra:

Asami Sato was originally going to be a Equalist

along with her father

. Mike and Bryan liked Asami's interactions with Korra, Bolin, and Mako too much to flush it with a betrayal, so they re-wrote her to be an Unwitting Pawn.
Zuko's family was going to play a fairly significant role in the original outline of Book 4. His daughter, Firelord Izumi, was going to have a bigger role in helping Korra. There were also plans to introduce her daughter (Iroh II's younger sister) as yet another a Love Interest for Mako. The creators jokingly encouraged fans to use this as Fanfic Fuel. They ultimately decided that there just wasn't enough time to to properly introduce them, especially once they got a full episode cut out of the budget.
Kya had dreadlocks in her concept art, which she lacks in the final.

Hey Arnold! has a few:

Long before All Grown Up! was a twinkle in Klasky-Csupo's eyes, series creator Craig Bartlett had announced his intention to make a flash-forward series after Hey Arnold ended centering around Helga Pataki named "The Patakis," and would focus on what Helga's life would be like in high school. The jury is still out on whether that would have been a good thing, but in the end, none of the networks he pitched it to wanted it, as they felt the series was too similar to Daria on MTV (and too depressing to watch as a whole, given what viewers have seen on such episodes as "Helga on the Couch" and any episode where Olga comes over and her parents upset over her and neglect Helga). Bartlett also pitched two movies to Nick: one meant for TV and one meant for the movie theaters. The made-for-TV one was created — but it ended up being released theatrically and it flopped so bad, that the planned second movie (which was meant to be the Grand Finale, and would have focused on Arnold trying to find his missing parents) was scrapped. The troubles with the other movie are well-documented. See here. Fortunately, the second movie resumed production and premiered as a TV Movie in November 2017.
Originally, there was supposed to be a sexy, female boarder who was infatuated with Arnold and hit on him, making him feel uncomfortable. For obvious reasons (specifically, Media Watchdog groups protesting against the pedophilic undertones), this never came to be. The character (Lana) did appear among the boarders in a few episodes of the first season, but as Bartlett could never go through with his original plans for her and couldn't figure out a new characterization, she swiftly vanished.

The Angry Beavers:

An episode was written, storyboarded, and had lines of dialogue recorded that had the Angry Beavers coming to grips with their show being canceled and lampshading the fact it would be stuck in reruns for eternity. This went against Nickelodeon's guidelines, stating no show should ever acknowledge its own ending - a measure put in place to ensure kids would keep watching reruns with the hope that new episodes would soon follow. Mary Harrington, the producer of this and multiple other Nicktoons, says that she thought this episode was brilliant, but didn't want kids to be sad over the end, in which the brothers die and go to Cartoon Heaven.
Daggett was going to be voiced by comedian Kevin Meaney, but got replaced in the series proper for unknown reasons.

Danny Phantom:

The original concept was quite different: Its title would have been called Danny Phantom and the Specter Detectors, about a normal boy who fought ghosts with his superpowered friends and an owl named Spooky. He and Sam were supposed to have a psychic link, and the creator wanted him to ride a motorcycle. The owl was ditched because the first Harry Potter movie was due to come out soon, and Danny didn't need the motorcycle since he could fly once he decided on giving him ghost powers. Also, Vlad was gonna be a vampire (makes sense considering his Plasmius design and the fact that the real-life inspiration for Dracula was Vlad Tepes.)
Steve Marmel, the former head writer for Danny Phantom (and former writer of Butch Hartman's Fairly OddParents) has also stated his vision for Season Three would have been gravely different than what we have now.
An original version of the intro exists with different lyrics see it here.

KaBlam!:

The series was just only going to be made up of Action League NOW! and reruns and/or revivals of older Nickelodeon shorts from the early '90s. Henry and June were still there, but not as the hosts, They would have their own shorts. It also was going to take place in a live-action comic book. Then in 1995, different animation studios created shorts for the show, and Henry and June became the hosts. The old Nicktoons shorts? Sniz and Fondue made it. That was it.

Sniz and Fondue had two chances to become its own Nicktoon. The first time, Nickelodeon narrowed down its fourth to two contenders and it lost to Rocko's Modern Life. The second time, the show became a major hit on KaBlam! and creator Mike Brandon was given another chance. Brandon butted heads with Nickelodeon's executives and balked, giving the intended slot for Sniz and Fondue to SpongeBob SquarePants.

Prometheus and Bob was originally going to get a live-action movie, but it was scrapped due to a lack of interest.
Henry and June were to get their own spin-off, The Henry and June Show, and the pilot aired in Spring 1999. Because the ratings for the pilot didn't reach Nickelodeon's expectations, the spin-off was scrapped and the pilot never aired again.
Stewy the Dog Boy was planned to spinoff from KaBlam!. The project was shelved completely when Disney came out with Teacher's Pet.

Many people would like to see the third, fourth, maybe further, seasons of The Ren & Stimpy Show produced and envisioned by Spumco, considering that towards the end of the second season, they were getting incredibly good at what they were doing, with episodes like "Son of Stimpy" and "The Royal Canadian Kilted Yaksmen". The later episodes, made by Games Animation, aren't even comparable to any of the earlier seasons' cartoons. If only John K. weren't busy being fired...
Once upon a time, a scraggly young man walked into the Spumco offices stating his intention to write a song for The Ren & Stimpy Show and gave them a sample of his work. The song was immediately tossed in the trash and an instrumental was used instead. That young man who pitched the song in the first place? Kurt Cobain (of Nirvana fame).
Rugrats:

At least 15 episodes were planned but scrapped for various reasons. Most notable of these is "Chuckie Gets Trapped," which would've dealt with Chuckie getting his head stuck in a stair banister.
The pilot episode "Tommy Pickles and the Great White Thing," while never aired on Nickelodeon, was actually planned to be edited into an 11-minute episode in 1993 as part of the series' regular run, but never happened. Not much is known about how this would've played out, with some speculating that there would be all-new animation or would add just an extra 4 minutes and 30 seconds to the existing 6 minutes and 30 seconds of the pilot. This practice would end up being used in the pilot episode for Aaahh!!! Real Monsters.
Back in 2000s, when Nickelodeon adored the series, there was meant to be several spinoffs. Alas only three of them made the light of day: Angelica and Susie's Pre-School Adventure, Tales From The Crib and All Grown Up!. There was originally going to be a spinoff where Susie and her family moved to Georgia to live with her family called The Carmichaels but it never saw the light of day. Tommy And Chuckie's The Adventures of William Shakespeare was similar to Tales From The Crib but set in high school and involving the two imagining the Rugrats characters in William Shakespeare roles.

Dora the Explorer:

The show was originally a live-action show with costume characters called The Knock-Arounds, with Dora originally being a rabbit named Benjamin. Once animation became an option for the show, a Nickelodeon producer noted how that there were no positive Latino humans on animated TV shows back then, and Benjamin was changed into a female human named Nina, with the show being renamed Nina's Pop-Up Puzzle.
In one test pilot, Boots used the Grumpy Old Troll's design.
Another pilot had a more storybook-esque appearance to the animation and featured an orange Benny, who was named Benito.

What do Ed, Edd n Eddy, Pepper Ann, Sheep in the Big City, Time Squad, The Proud Family, Phineas and Ferb, Adventure Time, Star vs. the Forces of Evil, Bravest Warriors, and Lamput have in common? They were all originally pitched to be Nicktoons on Nickelodeon.

There's no word on why Nickelodeon did not pick The Proud Family, Sheep In The Big City, or Time Squad, but given the latter show's risque reputation, it can be assumed that Nickelodeon thought it'd be inappropriate for children.
Phineas and Ferb was pitched to Nickelodeon in 2002note (when Dan was working on SpongeBob SquarePants), and while the pilot wasn't picked up at the time; creators Dan Povenmire (and sometimes Jeff "Swampy" Marsh) worked on shows like Rocko's Modern Life, The Simpsons, and Family Guy, but it wasn't until 2006 when after pitching to various networks, Disney Channel picked it up successfully and it premiered in 2007.
An agreement to air Ed, Edd n Eddy fell through at the last minute because Danny Antonnucci (the show's creator) was afraid Nickelodeon was going to bombard his show with notes on how to tone down the content and make it more palatable for Nickelodeon's audiencenote .
Pepper Ann wasn't picked up because Linda Simensky, the executive who supported the project, left for Cartoon Network.
Adventure Time is an interesting case because its pilot was shown on Nickelodeon's Random! Cartoons and, despite how popular the short was, the network rejected it twice before Cartoon Network claimed it.
Star vs. the Forces of Evil was pitched to Nickelodeon back in 2011, but the pilot was unsuccessful. According to creator Daron Nefcy in a November 2017 interview, she pitched it to Nickelodeon and Cartoon Network while being writers for shows like Robot and Monster until 2013 when Disney Channel officially picked up the series.note
Much like with Adventure Time, the same happened with Pen Ward's Bravest Warriors when it was also pitched for Nickelodeon, and was also aired on Random! Cartoons. It eventually got picked up by Frederator's own Cartoon Hangover by 2012 and is still airing to this day as of 2018 on a new channel on VRV due a Channel Hop with just as strong of a fanbase as Adventure Time.
Lamput, a Cartoon Network India original show, was pitched with Nickelodeon India in mind, thus Lamput's orange blobby design. At the time, Cartoon Network India was looking for original programming, thus the successful pitch there instead.

Back in the early 2000s, Nickelodeon had made a pilot for a show called Constant Payne, an action series starring a teenage girl and her inventor dad living in a steampunk-oriented future fighting the forces of evil. Had it gone on, it would have been the first anime-like cartoon predating the likes of Avatar: The Last Airbender and Teen Titans. While many had suspected that the scene of a blimp dragging itself between two buildings was the cause of the series not being picked up, invoking images of September 11th, it turns out that wasn't the case: the creator was attempting to get Nickelodeon to pay the animators higher wages and not only did Nickelodeon say "No.", but they also dropped the series.
Back in 2004, Nickelodeon aired a pilot episode for a planned Fairly OddParents spin-off based on the Crash Nebula character that exists in that show's universe, presenting the pilot as a Show Within a Show. Said pilot aired maybe once or twice and then never aired again. A commonly believed reason for why the pilot never got picked up for a full series is because the plot was said to be too similar to Sky High, a Disney film released around the same time. However, character designer Ben Ballastrari revealed that bad testing was the result of Nickelodeon passing on a series adaption. If it had been picked up for a full series this would have meant that Butch Hartman would have had three shows running at the same time on the same network (Crash Nebula, Fairly OddParents, and Danny Phantom). Sadly a "full episode upload" to places like YouTube is very rare to find (even more so in English) but the pilot did air as a regular FOP episode in Latin America, Brazil and Italy at least. The Crash Nebula pilot did eventually see more reruns, usually in marathons, but only after enough time had passed to make it unfortunately clear it was never going to be more than a pilot.
Team Umizoomi was gonna be named The Umizumiz and had Milli and Geo less human-like and more toy-like. There were also two other main characters that aren't in the final show; one was named Zig Zag and had the measurement power that later went to Milli, and the other was supposedly unnamed and had the super shapes power that later went to Geo.
As Told by Ginger:

The unaired pilot was quite different from the show we know of today. The main differences were the designs and art style. The hairstyles were different, Miranda and Darren were white, and the style was more humorous, similar to the Rugrats (Deranged Animation and all). Perhaps the biggest difference in personalities were that Courtney was an Alpha Bitch instead of being Spoiled Sweet, and Blake being an Annoying Younger Sibling and radically out of character compared to how he is in the show. (He crashed the party in his underpants!)
Apparently, Nickelodeon had wanted the finale, "The Wedding Frame" to have a less conclusive ending just in the case the show's producers decided to reverse their decision to end it. The proposed "less conclusive" ending supposedly involved

Lois discovering she's pregnant

.
There was talk of having Courtney confess her love for Ginger late into the series. However, Nickelodeon nixed the idea.

T.U.F.F. Puppy: Eric Bauza was originally going to voice Dudley Puppy, but the producers felt that Bauza wasn't right for the character, so they chose Jerry Trainor instead.
Blue of Blue's Clues was supposed to be a cat, but they said that there were too many TV shows where the main character was a cat on when the show was produced (Garfield and Friends and Eek! The Cat, to name two), so she was changed into a dog.
CatDog:

Series creator Peter Hannan originally pitched the ideas as a series of two-minute shorts. Once he recorded the theme song, however, the Nickelodeon higher-ups decided to make it a series.
Before it was pitched to Nickelodeon, CatDog began as an idea for a children's book about a two-headed superhero called The Amazing CatDog Man.
An episode based on Les Misérables was proposed, but never went into production.

The Nick Jr. series Made by Maddie was originally set to premiere September 13, 2020, but it was pulled from rotation due to backlash from viewers over the characters' similar designs to characters from the short film Hair Life.
In 2015, Nickelodeon announced the revival of most of its classic Nicktoons with the production of several specials, leading to rumors of a "mega-crossover" film and even a Shared Universe. However, after the long-awaited Hey Arnold! The Jungle Movie flopped in the ratings, plans for further reboots were cancelled, with the exception of a Rugrats reboot. The already-completed Rocko's Modern Life and Invader Zim were shelved for a year and were finally released on Netflix.
A TV pilot based on this well-known Nickelodeon indent was pitched in 1990 under the name Big Beast Quintet by Colossal Pictures. The proposed Nicktoon would have starred the five funny animals featured in said bumper as news reporters for a TV network called Channel Zero who investigated wacky and surreal goings-on around a town called Animatropolis. However, the first test pilot was deemed too complex for the target demographic and a later reworked version of the pilot (called Channel Zero) was found too boring by test audiences, resulting in the pilot being scrapped. Had the pilot been successful, it's likely that it would have launched alongside Rugrats, Doug, and The Ren & Stimpy Show in August 1991.
Wonder Pets!: The sequel episode to "The Adventures of Bee and Slug", "Bee and Slug Underground", ends with the titular insects boarding a rocket ship, and getting blasted off into space, suggesting another sequel episode ("Bee and Slug in Space!"), but since the show got cancelled, the episode never came to be.
PBS Kids
Transformers
In 1983, Hasbro approached Marvel Productions to make a cartoon based on the Transformers toyline. Marvel Productions proposed a Hanna-Barbera style show centered on a transforming Volkswagen named "Muffler" ("Muffy" for short), three young humans named Matt, Eddie, and Wendy, and their dog Burt. Images of this proposal were later featured in the January 1985 issue of Comics Feature magazine, labelled as belonging to a project titled Car and Cable, implying that by 1985, Marvel Productions was considering producing the series as its own distinct entity, unconnected to Transformers, under that title.
The original Megatron almost had a different name, as Hasbro felt it sounded too dangerous, like nuclear weapons. When Bob Budiansky pointed out that that was the point - Megatron WAS the Big Bad - the name was approved.

Likewise, Starscream was originally going to be called either Ulchtar, Silver Snake or Pretty Poison.

Beast Wars had an episode missing from its lineup known as "Dark Glass", dealing with Rattrap finding a copy of his friend/foil Dinobot's memory engrams and attempting to install them into Dinobot 2. While it never got past the script phase (replaced due to its extreme dark storytelling for the more lighthearted "Go with the Flow") many fans still consider it canon, if only because it fills up a nasty little Plot Hole during the show's finale. There was also going to be a series following Beast Machines called Transtech, possibly dealing with a resurgence in the Great War on a now technorganic Cybertron, but various factors canceled it.

The Merchandise-Driven nature of the franchise also played a part in cancelling Transtech. Hasbro suffered major losses from unsold Phantom Menace toys, so to save money, they imported the Japanese Car Robots anime to buy time and create the Unicron Trilogy.
The Transtech design sketches and toy prototypes eventually got used by Fun Publications by 2008.
The ultimately toyline-exclusive character Insecticon was originally intended to be a cast member in the Beast Wars cartoon. The only remnant of his inclusion is in the script for the episode "Power Surge", which notes his removal and the transfer of his lines over to Waspinator.
Originally the first new Maximal that would have joined the cast was supposed to be Wolfang. However, the cost of creating a model for a completely new character caused the team to decide to go with Tigertron instead, as they could simply use a modified Cheetor model

Tigertron was supposed to be a standard tiger but realizing that many of the Maximals had coloring in that family the decision was made to make Tigetron a white tiger so he stood out.

The original idea for Rattrap was to build off the exposed 'brain' his toy had and make it that his pod was damaged, so that he had misshapened limbs, visible veins, and other deformatives. However this was eventually nixed due to the limits of the CGI and it meaning the toy wouldn't make the figure. The idea of a disabled Transformer was later used to creat Transmutate.
Season 2 was supposed to see Terrorsaur survive and become a Transmetal while Waspinator died. Because Waspinator had become a fan favorite (and favorite of the staff) it was decided to swap their fates.
The writers considered at one point having Blackarachnia and Airrazor break off from their original teams and form a third faction. However this was dropped when the writers couldn't figure out where to go with it long term.
Megatron was slated to die only to be reborn as a giant red fire ant. However Hasbro decided to make this a new character instead, resulting in Inferno.

Speaking of Inferno he originally was supposed to die in the Season 2 finale only for it to be decided that he would survive.

Transformers: Prime originally had Ironhide as a member of the main Five Bot Band, somewhere during the initial planning process, they realized that his personality was turning out far more like that of Animated Bulkhead, and the character was changed accordingly (a different reason given on the Season 1 DVD set was due to Ironhide dying in Transformers: Dark of the Moon.

Lugnut was considered to join the Decepticons, but because the crew felt they had a lot of aircraft on the 'Cons side already, they opted to use Breakdown instead.
Smokescreen was considered for the role of the original sixth Autobot and would've died at the end of the first season. However, it was decided to replace him with Cliffjumper and the death moved to the series premiere, with Smokescreen debuting in season 2.
Raf

was originally intended to die in the season one finale from the Dark Energon poisoning

, as the prophecy foretold. Rumor has it that the studio refused to allow the writers to kill off a child, and forced the writers to give Raf a speedy recovery.
Again, Michael Bell auditioned, this time trying out for the roles of Ratchet and General Fowler. Ratchet went to Jeffrey Combs and Fowler was made into an agent and Ernie Hudson was cast for the part.
Warner Bros.
Freakazoid! was originally designed as a fairly straightforward superhero show with comedic overtones. By the time it aired, it was a pure comedy with little action. On the DVD, the show's creators commented that the DC Animated Universe version of the Creeper is how the original Freakazoid would have been.
Miscellaneous
Adventures of the Galaxy Rangers: In the initial demo real, Zachary's children were also captured and implied to have shared in their mom's Fate Worse than Death. The reaction from the fanbase?
Æon Flux: There was supposed to be a straight-to-DVD animated Aeon Flux feature that never materialized; Peter Chung and Japhet Asher collaborated on a script that would focus more on the series' visual storytelling. For some reason at the last second the executives who greenlit it decided to can it. The rumor mill says that Peter Chung's comments regarding the Aeon Flux movie and how bad it was worked against him.
Alien was going to have an animated series, Aliens: War Games, planned as a series of short episodes similar to Star Wars: Clone Wars.
There were plans for a 13-episode Austin Powers animated series on HBO that was scheduled to air after the release of Austin Powers: The Spy Who Shagged Me.
When The Beatles cartoon show on ABC became a hit, producer Al Brodax made plans for cartoons of 1960s groups Herman's Hermits and Gerry & The Pacemakers for the network while Hanna-Barbera pitched a cartoon of The Beach Boys for CBS. None of these projects went through, although it's been said that The Impossibles (part of the Frankenstein Jr. show) was created in the Beach Boys' stead.
Bionicle: The Journey to One would have probably gone on further had the toyline not been cancelled. Hints are dropped to the heroes having a forgotten past, and an entirely new setting is introduced via the Shadow Realm and the disappeared capitol ruled by Makuta, but none of these amount to anything, and the ending is incredibly rushed.
Bob's Burgers was originally about a family of cannibals who sold their customers human flesh without their knowledge, but Fox forced the creators to drop the cannibal aspect when it was greenlit. The pilot gives a nod to this when Louise spreads false rumors about Bob using human flesh in his burgers and he's forced to contend with the health inspector.

Tina was originally a boy named Daniel. Even after they changed her sex in the final product, her voice actor didn't change and used the exact same voice for the character as before.

Bump in the Night was going to get a third season, but alas, the show got canceled after ABC was acquired by Disney.
Judging by this concept art and premise from Fil Barlow's Deviantart the original concept for Captain N, originally known as Buddy Boy, was going to be very different. The only things that really survived from that iteration were a couple of the designs.
A Charlie Brown Christmas almost never made to air - and wouldn't have, had main sponsor Coca-Cola not insisted. The reason being CBS and Charles Schulz butting heads on several major points:

The network wanted a laugh track. Schulz walked out of a meeting and refused to keep working until the network relented.
The network hated the idea of Linus' now-iconic reading of the Gospel of Luke and wanted it gone (because religion doesn't belong in a Christmas special, apparently). Again, Schulz held his ground.
The network disagreed with Schulz's insistence that the Peanuts gang be voiced by actual children instead of professional adult voice actors.
The network wanted Schulz to ditch the jazzy soundtrack, feeling that it was inappropriate for what was ostensibly a kid's show.
CBS was also annoyed with the fact that a Christmas special didn't have Santa in it at all.
Meanwhile, Coca-Cola initially asked for an hour-long special, but the creative team (especially director Bill Meléndez) said they didn't have the budget or time for it, so it got scaled back to 30 minutes.

Cheetos' Mascot with Attitude Chester Cheetah was to have his own television series on Fox titled Yo! It's the Chester Cheetah Show!, as part of the Fox Kids block. Nothing from the series got past script form, following a massive outcry from parents and Moral Guardians believing the proposed series was a deliberate marketing ploy to sell more Cheetos to children, similar to Mac and Me.
City of Ghosts: Elizabeth Ito wanted to do episodes on Elysian Park and Dodger Stadium, but not enough episodes were greenlit to explore these ideas.
Universal Cartoon Studios optioned an animated series based on the 1996 computer game Creature Crunch, but the project was shelved after years in development.
The Crumpets was going to have more distinctive Crumpet children as well as more diverse looking background children. The completed show has only red haired background children, and even Petite Pousse, the main character of one of the source Picture Books, was cut. Despite these changes, there are TV guide entries and promotions for the show that use concept art with discarded characters, and one web game also features many of these characters.

Pa was going to have a smaller head (when compared to his body) and shorter than Ma. Li'l-One was going to wear a shirt. Fynartz had a completely different appearance as a smaller boy with a bowl cut. Ohoh was originally designed with thin arms. Ditzy had a short height.
Uncle Hurried looked very stylish, his bottom was extremely thin.
Cordless was going to be smaller and probably younger. This could also apply for Cassandra, who looks very different in concept art.
According to the Pff Crumpet profile in Facebook, there are raunchy clips of Cordless and Ms. McBrisk that aren't included in "CrumStep".

Because Daria has a lot of interesting Recurring Extras (many based on people who worked on the show), animator Guy Moore pitched a Lower-Deck Episode where they would star, with Daria and Jane as the voiceless background characters instead. Episode director Karen Disher (herself the basis of Burnout Girl) nixed the idea, since fans were already complaining about any subplot that didn't focus on the Amigas. Ironically, nowadays the background characters are popular OC Stand Ins.
Delilah & Julius: Originally, the show was aimed at the teenage girl demographic with a very different concept for the main characters, "a brawn-and-brains husband-and-wife team of self-made millionaires". The show stars a brawn-and-brains husband-and-wife team of self-made millionaires in their mid-20s. Their considerable wealth frees the pair up from nine-to-five drudgery to engage in more exciting pursuits…like international espionage. Calls to action include rescuing a British pop star being held hostage by copyright thieves, and busting up a capitalist plot to overthrow a government in West Africa.
The Dreamstone was originally planned as a children's storybook. It was later made into a five minute pilot by Mike Jupp to sell the idea. Some differences are noticeable, the setup is Darker and Edgier, the Urpneys are minor characters with Rufus played more as the main protagonist (who differs greatly in design and is voiced by a young Christian Bale), who must journey throughout a very warped universe to save the stone. In addition the dreams themselves would seemingly have a larger play into the story, with the Daydream Bubbles (just a generic form of transport in the finalized series) capable of travelling into people's dreams.
Final Space:

When the series was titled Gary Space, it was originally pitched for Cartoon Network. Afterwards, the show would be pitched to other networks including Fox, FX, Comedy Central, Fullscreen and Youtube.
The original intro sequence for Season 1 was vetoed by the network, in favor of the all-CGI one we ended up getting. It would eventually be used as the opening sequence for season 3.
"The Lost Spy" was originally just focused on the Gary-Little Cato plotline and the Sheryl plotline, before Executive Meddling asked for a Clarence subplot, resulting in the other two being shaved down.
The episode "The Happy Place" "was originally a Space Battle Area where Gary and Little Cato have to fight to the death", according to Olan Rogers.

Olan

:

It was suppose to be a battle arena and Todd was going to put Gary against Little Cato. Gary would of been given Hyper 76 to make him go rampage mode. Hue would of got a new body a Battle Droid. It had a very Ender's Game vibe to it. Todd's revenge would of been watching Gary kill everything he loves. It got pretty dark.

The Season 2 premiere was originally envisioned as a two-part episode, before network demands condensed it down to one.

Garbage Pail Kids Cartoon:

The Garbage Pail Kids trading cards had a cartoon adaptation made consisting of 13 episodes and planned to air on CBS in Fall 1987. Unfortunately, complaints from Moral Guardians forced CBS to cancel airing the show. It wasn't until a DVD release was made in 2006 that the cartoon was finally made available to the public.
Alongside the images of priceless sketches and cels from other animated works, this blog post shows a developmental drawing of the five main characters in both their normal and Garbage Pail forms, which has several noticeable differences in regards to the art style of the actual cartoon and how the characters looked in the cartoon.

The art style would have originally had the Garbage Pail Kids look more like Cabbage Patch Kids as the original trading cards did. It is possible that Xavier Roberts' lawsuit against Topps that forced them to redesign the cards so that they looked less like Cabbage Patch Kids also affected production of the cartoon.
Split Kit, Elliot Mess, and Terri Cloth would have looked a lot more like how they appeared on the original trading cards, though Split Kit's gun was substituted with a blackjack and Terri was still going to have a face on her hand in addition to carrying her face on a washcloth.
Patty Putty was going to be a redhead instead of a blonde and was going to wear a blue blouse and a pink skirt instead of purple shorts, a purple shirt, and a green jacket.
Clogged Duane would have looked like a male version of the trading card character Oozy Suzy/Meltin' Melissa.

Originally, Garfield and Friends was going to just be U.S. Acres without Garfield, but since no networks would pick it up because Garfield wasn't a part of the show, U.S. Acres had to be one third of the show.

There were plans made for a few other seasons, but they were not broadcast. However, a few animation cels from these lost seasons have turned up on the Internet.
After CBS canceled the series, Film Roman pitched a reboot to FOX in an attempt to keep the series going. According to one of the pitchers, right after they rolled tape of this reel to executives, they were immediately rejected and forced out of the FOX network offices.

Mark Evanier wanted to use the U.S. Acres cast in The Garfield Show, but the closest he got was a cameo by Orson intended for the episode "Down on the Farm" that ultimately was cut because of international laws prohibiting cartoons from depicting talking pigs out of concerns of offending Malaysian audiences.
The writers for G.I. Joe: A Real American Hero had some intriguing plans that never materialized, mostly due to Executive Meddling — some of it understandable, some of it not. The most notable is probably the original movie idea, "The Most Dangerous Man in the World", which would have offered a very different spin on Cobra's origins.

Specifically, "The Most Dangerous Man in the World" would have started with Cobra suspending all other schemes for a worldwide manhunt for a single man, and the Joes investigating the reason for this abrupt shift. The Joes would eventually find the subject, who would be revealed as a political science professor who invented the socio-political system that Cobra was based on. The professor was planning to publish a paper documenting a newly-discovered fatal flaw with the system; Cobra wanted to eliminate him to keep the weakness hidden. The entire storyline was scrapped when Hasbro insisted on including Serpentor in the movie and cartoon.
Tomax and Xamot would have been the main villains for Sunbow's concept of season 3, but after the show changed hands to DiC and was Un-Canceled, the new team went ahead with a different idea and the two mysteriously disappeared and were not mentioned.

Grojband was originally planned to be a full 22-minute series until Executive Meddling from Cartoon Network forced Teletoon and Fresh TV to remake it the show using the Quarter Hour Short format so as to better fit in with CN's lineup. This resulted in number of elements being scrapped, including a more extensive theme song and intro that better explained the premise, longer songs, and a Once per Episode plot point of Grojband having to get Trina's diary back to her after they finished using it without being caught by her.

Corey Riffin was originally named Tre Trippin and Laney Penn was originally the band's drummer instead of its bassist.

Heavy Gear deserves a mention. The original plotline for the show was much closer to the Tabletop Game it was based on, with the Heavy Gear Tournament only taking up the first arc of its run. The story after that involved renewed conflict between the North and South, and then with both factions having to team up to fight off an Invasion from Earth. This storyline was however scrapped because the executives thought the plotline would be too hard for Children to follow (despite the fact that the Tabletop Game was originally NOT marketed at that demographic). As a result, the Tournament Arc was kept, but the episodes after that became mostly Exhibition Matches and a pair of Clip Shows.
Heavy Metal was originally planned to have all the vignettes connected and a cohesive plot between all of them, but time constraints forcing production at several companies made this impossible. This would have included things like Hanover Fitse appearing on Zeke and Edsel's spaceship, declaring that Stern would go free, a vignette called "Neverwhereland", which would have the Loc-Nar landing on a planet and changing its development and culminating in World War II, linking Stern and B-17. There was also meant to be a carousel with a taxi, a bomber, Taarna's bird-thing, and the dragonfly-thing from Den in Grimaldi's house, but this was left out for various reasons. Unfortunately, there isn't any information on what would have linked the rest of the vignettes.
Hello Kitty's Furry Tale Theater:

Originally the casting director wanted Tara Strong to voice My Melody and Mairon Bennett to voice Hello Kitty, but at the last minute, their roles were switched.
A second season was planned but low ratings cancelled the show.

The Hero Factory animated specials introduce a continuous plot via a Cliffhanger in the Breakout arc, and immediately drop it, with all of the following episodes likewise ending in unresolved cliffhangers. Due to budgetary issues, the last episode even had to replace all of the voice actors and was only screened online. The concept creator also revealed that the series would have actually served as a starting point for a more expansive franchise, one with a somewhat satirical tone leading to a subversive and deep twist (for what it's worth, the books do hint at some unspecified conspiracy regarding the Hero Factory). This aspect was scrapped entirely, the series ended up as a loose collection of highly simplified, by-the-books episode-length toy commercials.
The 1980s Filmation series Hero High was originally meant to be a new entry in their line of Archie-based cartoons, but was changed at the last-minute due to their rights to Archie having expired!
The Teletoon series Jimmy Two-Shoes was originally going to be for older audiences with some darker elements that were (somewhat) bowdlerized in the final product when Executive Meddling from Disney XD forced the creators to make the show Lighter and Softer so it could be aired internationally (something that becomes even more prominent in the even wackier second season).
Filmation was originally approached to do an animated adaptation of Josie and the Pussycats. It made sense as Filmation had also produced two other animated adaptations of Archie Comics titles, The Archie Show and Sabrina and The Groovie Goolies. However, Filmation had to turn down the show due to their workload and Hanna-Barbera instead made the series. How different would the Josie cartoon have been if it were made by Filmation? We'll never know.
There were two proposed plans for a Jurassic Park animated series.

The first concept would have blended graphic novel-inspired traditional animation with CGI animation with art by William Stout. However, Steven Spielberg himself had become tired of the Merchandise-Driven aspect of the 1993 film, so it was cancelled before production. Stout stated on his website about the cancelled project:

Stout: "This was not going to be a kiddy show (although kids of all ages, including myself, could enjoy it). They wanted the show to be a mature prime time series with top writers and state-of-the-art television animation augmented with quite a bit of CG animation."

Another proposed animated series based on the film franchise, subtitled Chaos Effect was planned with concept art by Tim Bradley but also cancelled. However, the toyline that the TV series was going to be accompanied with, managed to be released in toy shelves. In an interview with JP Toys, Bradley said that he didn't know why the series failed to materialise:

Bradley: "I think it went pretty far—up to meetings that included Steven Spielberg, I believe. I'm not sure why the decision was made to ultimately not produce the series, but Hasbro had already started work on the toys, and they decided to continue on ahead."

The idea of a Jurassic Park animated series would ultimately be realized over two decades later, as Jurassic World: Camp Cretaceous.

Kaeloo:

Stumpy wasn't going to have arms in the original concept, hence the name Stumpy, but then they decided to give him arms to increase the number of things he could do.
For the English dub, they were originally going to not change his name from his name in the original French version, Moignon. However, they eventually decided to change it to Stumpy.

Kipo and the Age of Wonderbeasts:

Dreamworks considered telling Kipo as a feature film, but it was decided it would have been better suited for a television series due to its potential for worldbuilding.
Kipo was originally named Minji.
Mandu was originally the name of the character that would become Wolf. Wolf was also conceptualized as white or Asian.
This concept poster depicts Wolf with another different design.
In the original Webcomic Benson was a very muscular older man who wielded a really big sword

A Kind of Magic: According to one press release, Tom and Cindy were initially supposed to actually be Tom Thumb and Cinderella (their namesakes), and pose as children. They are simply named after them, and actually are children, in the final show.
Haim Saban was once in talks with Gene Simmons for a KISS cartoon in the '90s. Then, Saban made the big mistake in insulting Gene in Hebrew...and Gene replied back in the same tongue.
Land of Oz:

During the early 1930's, cartoonist Ted Eshbaugh planned to make a series of animated shorts based on The Wonderful Wizard of Oz. The project was eventually cancelled due to copyright issues with the Technicolor process. However, the first film of the proposed series was completed. Which can be seen here.
Around the late 1930's, MGM Considered making animated shorts based on the Land of OZ books. But at the last minute, they opted to make an adataption of The Captain and the Kids instead.
Sometime in the 1970's, De Patie Freleng Enterprises was planning to make a Wizard of Oz cartoon series.

In the 1970s Chuck Jones was developing an adaptation of The Lion, the Witch, and the Wardrobe, some sketches can be seen here.
In 2000, Playboy TV planned to work with Mainframe Entertainment to create a CGI television series based on the Playboy comic Little Annie Fanny, but the project was cancelled for reasons unknown.
ABC apparently wanted to make a cartoon of McHale's Navy in 1973, what with cartoons based on prime time properties (Jeannie, The Brady Kids, Lassie's Rescue Rangers, My Favorite Martians, Star Trek) being the rage, but they couldn't get clearance for it. Filmation would have made the show.
The original Mega Man cartoon would apparently have had a third season. Rumors circulate that in the third season, Proto Man would finally switch sides; given that episode quality and story quality was increasing at the time, it looked like it was going to be great...but the toys weren't selling, despite good ratings, the show was canceled, ripping everybody off of what would have probably been one of the best seasons on the show, even with all the inaccuracies.

Early drafts of the series also suggest that, originally, the characters would have their child-like looks from the games. The whole "teenagery muscled"-look was used since, according to the higher ups, boys would never identify with a hero who looked like a little kid.

Metalocalypse was initially titled "Deathclock", which had to be changed to "Dethklok" to write around trademark issues. However, the title soon became "Dethklok Metalocalypse" and was then shortened to keep it from being too complicated. The earliest designs from 2005◊ show a much different look for Pickles as well. According to Brendon Small, Pickles' design had to be overhauled due to likeness issues involving Devin Townsend (his basis).
In The '80s, there were plans for a Merchandise-Driven Saturday Morning Cartoon called Michael's Pets featuring the adventures of Michael Jackson's Real Life menagerie (Bubbles the chimp, et. al.). According to the biography Michael Jackson Unauthorized, it would have aired on CBS, but at the last moment Jackson nixed the show because it would have contradicted the more adult image he was trying to project with Bad. The plush toys still made it to stores in 1987, but bombed, and are now collector's items.
Miraculous Ladybug:

The series was originally pitched as an animesque cartoon aimed at a more teenage audience. Due to troubles getting anyone interested in picking up the show, it was softened up a bit and made into an All-CGI Cartoon.
In the change from 2D to 3D one of the main characters was changed. "Felix" became "Adrien", a younger and nicer character. Felix was changed due to being "too cliché" and because he wasn't deemed a good love interest for Marinette. However, he eventually did make it into the show for a single episode in season three, where he is introduced as Adrien's cousin.
Early concept art implied that Marinette inherited her Transformation Trinket (in the form of a necklace) at the scene of her father's murder. In later storyboards released, it seems like she finds a pair of transformation earrings in the attic instead. In the series proper, both of her parents are alive and fine.
The 2D PV's background lyrics "Every love went through your head/ Giving love turned bad" implied a Dark and Troubled Past for a Sad Clown Marinette.
An episode called Gagotor was planned to air during the second season. It would've guest starred French Comedian Danny Boon and feature a wacky clown themed supervillain. It was first revealed in a promotional video for Season 2 released by TFOU on August 31, 2017. In 2019, Wilfried Pain confirmed on his Twitter account that the episode was scrapped.

Muppet Babies (2018) was originally designed to feature a new sheep Muppet named "Bobbi Baba◊". She was eventually retooled into Summer the Penguin, while retaining most of her character traits.
My Little Pony:

There's a pony in the G1 pilot that doesn't look like any pony ever created. She has the colors of Confetti but the wrong Cutie Mark. Fans theorized that she was either a scrapped design for a pony or an early design of either Confetti or Peachy. It was eventually revealed that she's actually an unreleased pony, First Born.
My Little Pony: The Movie (1986) was supposed to have a Transformers crossover.
Storyboard sketches show that originally G3.5 looked more like G3 except the characters were smaller; even their manes were the same. Eventually though they decided to change the proportions and gave everyone unique manes.

Phantom Investigators:

The show was originally going to be named Daemona Prune, after the leader of the team. Early in production, Kids' WB requested that the staff change it.
Daemona would've used two names- her real name would've been Prunella Daemon and went as Daemona Prune on the job as a Phantom Investigator. Eventually, her real name became Daemona Prune and she didn't give her name out as a Phantom Investigator.
Kira was originally named Nakisha early in production. According to co-creator Josephine T. Huang, Kids' WB suggested that her name should be changed to something "shorter" and "snappier".
Casey was initially taller and slimmer, as seen in this early storyboard.◊
Daemona's costume was originally a brighter shade of green◊; this ended up being used in some of the promotional materials, such as the Carl's Jr./Hardees toys.
Daemona also almost had a skull-and-crossbones design on her costume. While it never made it into the final product, it did remain on her blocking puppet◊, as seen here (she also has cartoony black-on-white eyes rather than her usual blue in the photo, however that may have been a placeholder).
Early in production, Daemona was to have inherited her Phantom Investigator gadgets and books from her great-grandmother; eventually it was changed to her grandmother. However a reference to her inheriting her psychic amplifier from her "great-grandma" accidentally remained unchanged in the script for "Haunted Dreams".
Sony had made a toy deal for the show before it premiered. However due to it's early cancellation, none of the toys hit shelves (and any prototypes made up to that point were most likely destroyed).
This article lists a few plotlines for episodes that were never produced, suggesting that a second season was being planned before the show got cancelled.

If The Raccoons was renewed for a sixth season, the Corrupt Corporate Executive Milton Midas would've become the show's new full-time villain, after Cyril Sneer went through Character Development from Season 3 onwards. This never came to fruition, though, due to the box office failure of The Nutcracker Prince, a film which Raccoons creator Kevin Gillis produced.
Moonglow from Rainbow Brite originally had Mystical White Hair. It was changed to pink because white hair made her look too old.
Season 4 of ReBoot was originally going to comprise of 3 TV movies, followed by a musical episode. Unfortunately, only the first two movies were actually produced, resulting in a nasty Cliffhanger.
Rick and Morty

An alternate scene for "Rick Potion #9" has

alternate

Rick and Morty

explode into pieces, unlike in the completed episode. Rick also has to scrape his scrotum off of the ceiling.

An episode where Morty has to enter Jessica's bloodstream in an attempt to save her from an injury was storyboarded, but not produced for unknown reasons. "Anatomy Park" was probably inspired by this episode.
Season 3 was originally supposed to consist of 14 episodes until production issues made them cut it down to 10. Dvd Commentary revealed a lot of unused plans for season 3:

The original idea for "Vindicators 3 The Return Of World Ender" was Rick and a girlfriend sleeping with a superhero. The B-plot of this story that was cut was Morty wanting to revisit the power suit from the episode "Look Who's Purging Now" because he has a crush on a Vindicator that was cut out of the episode, Arrowgirl/Quiver, who matures into Arrowwoman. The power suit gets upgraded with an AI. Morty, the AI and Arrowgirl/Quiver would have a love triangle that ends with Arrowgirl/Quiver choosing the suit because Morty could not keep up with her sexually. More scrapped members of the Vindicators include: Dr. Reach, the man with stretching powers; Siamese twins, where one is very fit and attractive, and the other one isn't; and a knitting grandma. At one point, the Vindicators all have sidekicks. Million Ants' sidekick is named Three Ants, and Morty and the sidekicks save the day. Another storyline was a pneumatic tube that moves Worldender's body.
The original idea for "The Whirly Dirly Conspiracy" was for Rick and Jerry to go to this bar and bond over a fake adventure they make up, then a real adventure happens. Then the writers came up with the idea of an immortality resort.
The original idea for "Rest And Ricklaxation" was this concept called Shallow Morty, which was this evil version of Morty that was floating around and haunting him. Also, Jessica originally had a bigger role in this episode and even split into positive and negative personalities.
"The Ricklantis Mixup" was originally going to be 21 short stories about the Citadel. Originally, the Rick that runs the Citadel was going to be the Rick in the garage scene in "The Rickshank Redemption". Slick Morty was going to be shown alive on a garbage pile on a planet that Rick refuses to leave a tip on.
"Morty's Mind Blowers" originally was going to show a memory where Rick was with baby Morty, and as he leaves, Summer sees him and tells her parents she saw an old man.
In "The ABCs of Beth", originally Tommy was going to think he was Beth.
"The Rickchurian Mortydate" was not originally going to be the season 3 finale, but when the season was cut down from 14 episodes to 10 episodes, it was re-written as the finale.

Sgt. Kabukiman N.Y.P.D.: An animated series was planned in order to cash in on the success of Toxic Crusaders, itself a spinoff of The Toxic Avenger. The show was never made, but the promo can be found here.
After the animated special Snoopy's Reunion was aired, Charles Schulz thought of working on a miniseries about each of Snoopy's siblings, but the network declined.
Sonic The Hedgehog has a lot of these; there's a reason this series is the page image:

The ABC cartoon (the SatAM version) would have gone on to feature Snively working together with Ixis Naugus as the new villains of the show, but it was canceled at the end of the second season. One of the writers has said that he's actually got ideas for most of the third season, but it's unlikely it'll be picked up again after so many years. One of them was that the Freedom Fighters would have befriended a magician named Nate Morgan, who was a tall and lanky black man. Nate would appear in the Archie Comics, but only his name and race would be transferred over, as there, he was a short man who was into science.
Before the series, they had an idea similar to it which used very heavily edited versions of Sonic's animal friends. The header image above also shows the team was going to be called "The Freedom Team", rather than the "Freedom Fighters".
The original SatAM opening was much more cartoony, almost reminiscent of AoStH. It had the implication that Bunnie Rabbot's creation was due to a quick short circuit that hit her roboticization chamber while Sally was trying to free her. Of the original concept, only Sonic distracting the SWATBots and Sally tossing Sonic a Power Ring to use his Sonic Spin Attack made their way into the darker opening.
New classic designs for certain characters were discovered. A very early design for Princess Sally turned her into a full-fledged human wearing a blue bodysuit and boots. A later design making her a squirrel, but wearing a fancy outfit. Bunnie had two variations, as well - one had her head mounted on a crude robotic body with her ears done up in a braided ponytail, while a second made her a cyborg, but more slender and only her legs were robotic. The biggest change was Robotnik (here spelled "Robotnic") - one version had him big, fat, green and with horns, somewhat resembling Ganon from The Legend of Zelda cartoons. A second one made him pig-faced with an energy ponytail. Both versions still gave him a chicken. There was also a design for a "golden glow" Sonic, which probably meant they were going to translate Super Sonic at one point.

Other designs were also found. Bunnie's evolution continued to a design closer to her finalized form, where only her arm and head were still flesh and blood. Also, Antoine was actually much more strong and dashing before his later lanky and cowardly look.

Adventures of Sonic the Hedgehog was supposed to be a prequel to the SatAM show, with a strong Stern Chase plot, Robotnik as a Knight of Cerebus, and his Robomatic functioning more like the Roboticizer from SatAM. Everything else is still the off-the-wall wackiness that defines the actual show.

Storm Hawks: In the original concepts for this show, the Storm Hawks are a bunch of prison kids who escape into the Wastelands, where they meet Oriole (Piper). In addition to the war against Cyclonia, the plot involves their quest for the Helix, an artifact holding the world together. The Helix is broken up into numerous crystal fragments around the world and it's the Storm Hawks' job to find them with help from the Guardian of the Helix, the White Hawk. (Who, incidentally, is the one who leads Oriole to the others in the first place.) Instead of Master Cyclonis, we have Master Anarchis (Cyclonis's mother?), a fashionista who was formerly exiled to the Terra of Thorns by her brother, Heron, the rightful king of Cyclonia. Piper is a well-traveled, crossbow-wielding adventurer. Finn is younger and smaller (but still the main turrets guy), has a knack for telling tall tales, and fights with energy blades in hand-to-hand combat. Junko has a temper, although he tries to control it. Stork is an expert metal-smith and a loyal friend who is largely confined to the Condor due to a leg injury. Also, there are living storms that have their own names and personalities. Some of this can be found here, although other things like the Helix plot are no longer up.
From posters that turned up after an estate sale and eBay listing from someone who worked for DiC, if The Super Mario Bros. Super Show! was more successful, DiC had plans to also adapt Castlevania, Double Dragon, Metroid, and California Games as part of a Super Mario Brothers Power Hour. Notably, from the posters Samus is male, Castlevania would have been radically different, and Double Dragon looked like it would have been faithful to the video game. Only Double Dragon would later get a cartoon years later.
Christy Karacas and Stephen Warbrick wanted to do Superjail! as a silent cartoon, but Adult Swim refused and insisted that the characters be voiced. They did concede to letting the Jacknife openings be mostly-silent, other than his gibberish.

In a 2012 podcast interview done for Dragon Con, Karacas revealed that the network had shot down an early episode idea that involved Jacknife building a robotic suit of armor to fight Jailbot. It was rejected as the action took place entirely in the outside world, and that the Warden and jail weren't involved at all.
"Time-Police" was originally thought of as one long episode, but the executives at the network ordered it split into two parts. Both resulting episodes wound up having to be trimmed in production due to running over the time limit, especially in the case of "Time-Police part 2".
"The Budding of the Warbuxx" evolved from a slightly different plotline the creators had thought up, in which Alice would have accidentally sat on ketchup and then gotten the idea that she had started her period and was PMSing. One of the ending shots of the episode would have involved Alice looking at herself in the mirror and imagining herself as incredibly gorgeous.

There was an opening sequence that had to be cut for "Warbuxx", though it was reworked and recycled for "Oedipus Mess": Jailbot would have caught Jacknife stealing babies in a hospital, and he would be arrested for that crime.

"Lord Stingray Crash Party" was much longer in the earlier script drafts, so it had to be revised and shortened significantly for the final product. Scrapped portions were explained in a commentary for the episode: Mistress Kilda and Catastro were to have bigger roles, as were the Stars N Stripes. One sequence that had to go in particular involved Alice having sex with all the members of the Stars N Stripes, which would then be used to explain her anger at their deaths. Although the animatic reel has not been released publicly, a brief glimpse of it in a "Behind the scenes" video shows that the Stars N Stripes and Kilda had much different designs. Kilda in particular was to look even more like GI Joe's Baroness, with long hair and glasses.
"Hot Chick" had part of its climax altered for content: Originally, Hunter would first get her crystal taken away by Alice, and then would be attacked and overpowered by the inmates (who'd be wanting to rape her). She would then shapeshift and melt back into her original goop form, and then would be later seen inside her crystal in Alice's room (without much explanation of how she got in there). In the final product, the Twins seal Hunter away into her crystal, and only then does Alice swipe it away.

Hunter and Ozzal had their character designs revamped as well. Ozzal was to originally be a bald humanoid alien resembling Leigh Bowery and would be more flamboyant and expressive. Hunter had visible nipples on her breasts, pubic hair, and her hair was shorter and curlier. The reasons behind the design changes were briefly detailed in the animatic: Hunter had to have hair long enough to cover her breasts and "look more like a porn star", while Ozzal was not supposed to show that much emotion.

At NYCC 2009, the creators explained that "Mr. Grumpy-Pants" started out with an Easter plotline, rather than a Christmas-themed one. The Warden's monstrous inner child was also originally going to be a friendly, annoying kid who only wanted to play with the Littlest Cancer Patient. This evolved into him becoming a monster who hated her and wanted to kill her.

Season 7 of the second Teenage Mutant Ninja Turtles cartoon was originally supposed to be a second set of "Fast Forward" episodes, which would have included an appearance by SPAAAAAACEEEEEE Usagi, and a Stockman-focused episode featuring what appeared to be a Triceraton version of the Shredder. Said series was cancelled, and several rejected pitches for its replacement were made before all parties settled on "Back to the Sewer". Art for the rejected series is now being released here. There is also the scrapped Season 5 episode "Nightmares Recycled", which was left unfinished due to objections from standards and practices; although not all the details have been confirmed, it would have apparently have revealed that Hun and minor villain Garbageman were originally conjoined twins who were separated at birth, with the latter being supposedly then doused with acid and left in a dumpster.

Another thing that was ultimately scrapped was

an arc called "The Shredder Wars"

in Back To The Sewers, where we'd find out

exactly how the battle between the Utrom, Demon, and Cyber Shredders got started in the first place.

, but these plans were discarded, possibly in favor of Turtles Forever.
Also, Peter Laird suggested crossovers with other comics created by Mirage employees, like Michael Dooney's Gizmo.

Terminator was going to have an animated series based on Terminator 2: Judgment Day.
One sponsor page for Toad Patrol stated that 13 extra episodes of the series were in production, possibly meaning the show was planned to have a third season. This didn't come to pass, however.
Speaking of David Mitton, in early seasons of Thomas & Friends, several other stories adapted from The Railway Series such as "The Missing Coach" and "Gordon Goes Foreign" were planned and semi developed, however, the two episodes were binned, the former due to being too dialogue heavy and difficult for young children to understand, whilst the latter was canned due to the requirement of extra one-shot sets. For the latter story, a modified Henry model would have been used to represent The Foreign Engine. Several finalized stories were retooled drastically to befit this (e.g. the original "Tender Engines" would have been a more accurate adaption of "Tenders For Henry" with the Flying Scotsman making a full appearance rather than just his tenders) with the show eventually choosing to focus on original stories featuring the original cast. By the time new props could be afforded, the show had traded hands and separated itself completely from the original novels (to the point where several established plot points were retconned, though the seventeenth season undid several of these).

Certain installments of The Railway Series such as "Drip Tank" and "Thomas And The Evil Diesel" were written at the request of the TV producers to use as story material. Though some were republished under the show's label, they were never adapted into episodes.
There was to be a planned feature length special that would have involved The Fat Controller loaning the railway to the king of Sodor. For whatever reason, this special was scrapped and replaced with Blue Mountain Mystery. It's unknown if any elements of the scrapped special ended up being reused in any of the later specials or episodes.
Derek was meant to appear in the sixteenth season with a non-speaking role, but this never materialized. It is believed that his absence may not have been deliberate- Derek's alternative name is Paxman, and so some theorize that he was confused with Paxton at the animation department.

If he had not been dead-set on becoming an actor, Jack Nicholson could have become an animator for Tom and Jerry and possibly Hanna-Barbera after MGM's cartoon department shut down. One of his first jobs in Hollywood was an errand boy under Bill Hanna and Joe Barbera at MGM, which lasted until the studio shut the department down. He befriended the animation crew and kept in touch with many of them even after he became a movie star. He was in fact offered a starting animator position after Hanna and Barbera saw he had some sketching talent, but he declined. He's at top far right in this group sketch.
The Trash Pack was set to have a TV series by Mondo TV with at least 26 episodes. Only 7 have surfaced, only with Greek and Spanish dubs, with the only English information being a theme song, press release summaries, and a now-broken website.
The children's show TUGS ended when TVS went bankrupt. David Mitton claimed to have around 96 scripts written, and said Series 2 was in planning while the original 13 shows were shot. Shortly before his passing, Mitton revealed a few points about what Season 2 would've been:

New tugboat characters in central roles - though he revealed this would've been curbed somewhat so the original Star Tugs and Z-Stacks wouldn't be neglected.
More stories would've taken place "Up River", in part because they found filming in the Bigg City Harbour set very complicated.

The Venture Bros. was supposed to be a comic. Its stories were going to be published in an indie anthology book called "Action Hair", written and drawn by Christopher McCulloch. But, when the notes became too big and convoluted for a sixteen-page comic, he joined forces with Jackson Publick to pitch it as an animated series:

Lunk and Dale, became Hank and Dale, and were turned into twins. Their original design also lacked the Generic Cuteness the boys had, bordering on Gonk. Dale was a nerdy, rat-faced weakling, and Lunk a football-loving Dumb Jock with a collapsed chin, almost as big as Brock.
The comic featured fake continuity nods, callbacks to issues that didn't exist, much like the 1963 Image comics. This idea was revisited in the "Escape from the House of Mummies Part II" episode. There is no part I.
A few plotlines and jokes were recycled from an abandoned Aquaman parody, which would have recycled art from the Super Friends cartoon, expanding on some Adult Swim skits. The Monarch's voice is a Shallow Parody of Black Manta, which was re-purposed when the creators realized Black Manta doesn't sound like that.
Several villains were designed but never used, or recycled in different roles:

Roy Brisby was originally Roy Dizzny, creator of Miggy Mouse.
The Pants Golem of 7th Avenue, a denim elemental.
Girl Hitler was written as a Radical Feminist with an army of followers. She was demoted to Baron Underbhëit's sidekick, and eventually turned good.

Brock's brother, Joe, believed to be dead, who was brainwashed by a flying imp only he could see. The "brainwashed soldier and patriotic ghost" plot points were recycled with Bud Manstrong and Abe Lincoln in the (poorly-received) "Guess Who's Coming to State Dinner" episode.

Phantom Limb was originally a street-level villain. His name and design were re-purposed when they needed a "pretentious ex-boyfriend" character.
Augustus St. Claude, a Bond Villain based in Akron. His name was recycled several seasons later for Billy and White's archenemy.
All of those villains would share the same Number Two: Doctor Girlfriend. She has that name because she dates all of the villains. Even Girl Hitler.
Otaku Senzuri was the only ninja seen on the show, but the ninja design was originally meant to be an Easter Egg for the audience, showing up in the background all the time. (Akin to the Visitors in South Park).

Also, like Kenny from South Park, the boys were supposed to get killed every episode. The revelation that they're clones would be a twist that the show's not just running on Negative Continuity.
Doctor Byron Orpheus was originally a The Tick character named Dymn Twilight. That surname was recycled for Orpheus' ally, Jefferson Twilight.

Wallace & Gromit:

Originally, Gromit was going to be a cat. He was then changed into a talking dog, as Nick Park felt that a dog was easier to make out of claynote . His ability to speak was removed after they filmed the scene in A Grand Day Out in which Wallace uses him as a saw horse and he looks disgusted and rolls his eyes. It was immediately decided that Gromit was funnier as a silent character, and that's what ended up happening.
There is an unmade story involving Wallace finding some dinosaur bones, opening a Jurassic Park with robotic dinosaurs, where they malfunction and go on a rampage.

Woody Woodpecker's debut short, Knock Knock almost didn't get released because Bernie Kreisler, then distributor of Universal Cartoons, thought Woody was the ugliest thing he had ever seen. "You're not paying for these pictures," Walter Lantz told him. "All you're doing is distributing them, so release him, because I'm taking a chance". And so he did. The cartoon was a smash with moviegoers, and Kreisler asked for a series of comebacks, pretending nothing ever happened (very similar to Warner Bros. Studios' Eddie Selzer accepting the Oscar for the 1949 Pepé Le Pew cartoon "For Scent-imental Reasons" after berating Chuck Jones for coming up with the character and telling him that Pepe wouldn't appeal to anyone).
An Animated Adaptation of Rob Liefeld's Youngblood was supposed to air on Fox Kids during the 95-96 season, along with a Cyberforce series. Liefeld claims the plans fell through when Marvel signed an exclusive deal with Fox to keep comic book properties from other publishers off the network. Test footage can be seen here.
---