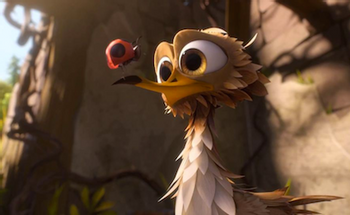 A 2014 French film produced by Haut et Court and TeamTO and directed by Christian De Vita.
The film centers around Yellowbird, a cowardly shut-in whose only friend is a ladybug. He is afraid of venturing into the outside world and living life as a real bird should. In a bid to help a total stranger and prove he has mettle, Yellowbird takes on a challenge far bigger than anything he's faced before. He embarks on a harrowing journey across Europe and realizes that few things are as meaningful as friendship.
Notable for having art direction by Benjamin Renner of Ernest et Célestine fame, and Seth Green voicing the titular bird.
---
This film contains the following tropes: