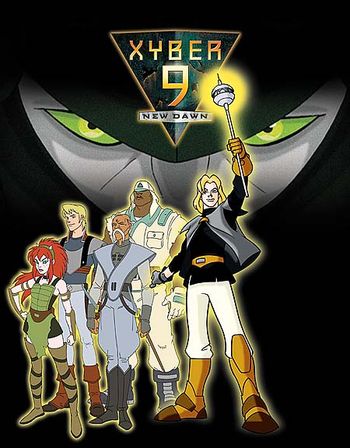 Xyber 9: New Dawn is a Science Fiction animated show by Saban Entertainment that aired on Fox Kids.
Terrana once was a utopia of technological advances and living in peace, but that age ended long ago. Amid the ruins, King Renard pushed his troops out and all over the land, while Queen Tatania tries her hardest to win her country back. King Renard is too powerful, because he is an ally of Machestro, an evil lord of the underworld thought only to exist in myth. Jack, The Chosen One and a 15-year-old orphan, is called upon by the people of Terrana. In order to become king, he needs to kill Machestro. Jack would be nothing without Xyber 9, a scepter-like "thinking machine" or superintelligent computer, the last of the Xybers. Machestro tries to get Xyber 9 from Jack to make him vulnerable. The series follows Jack's adventures and struggles.
The show itself got screwed over badly by the network. In 1999 the first ten episodes were shown, only for the show to be completely dropped in favor of the likely better sponsored NASCAR Racers. In 2007, the next 12 episodes were shown after the first 10 in one Jetix block, but the series ended on a less than satisfying note. Fans have risen again on the Internet, who admire the show for its well-developed plot.
---
Tropes used by the series:
---