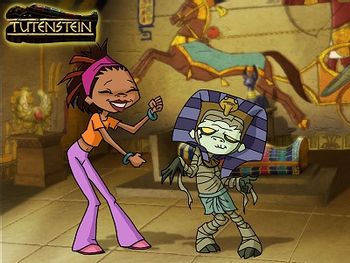 Tutenstein is an Emmy-Award-winning animated television series, produced by Porchlight Entertainment (Adventures from the Book of Virtues) for Discovery Kids that began broadcasting on November 1, 2003. Based on the comic book series of the same name by Jay Stephens (who would later create Cartoon Network's The Secret Saturdays), the half-hour series heavily features Egyptian Mythology.
In the series, the young mummy Tutankhensetamun (based on real-life Tutankhamun and usually called "Tutenstein" as in the title) is awakened about 3,000 years in a museum after his accidental death and now has to face the fact that his kingdom is gone. Helping him out is 12-year-old Cleo Carter, a girl interested in Ancient Egypt, and a magical cat named Luxor, who is both Cleo's pet and Tut's servant. The trio face a variety of issues caused by Tut's inexperience as a pharaoh, but frequently involving figures from Ancient Egyptian legend, most notably Set, the god of chaos, who seeks Tut's Staff of Was — a magical artifact that grants its wielder the right to rule over the world.
The series ran for 39 episodes, ending in 2008 with The Movie "Clash of the Pharoahs".
---
This show contains examples of:
---