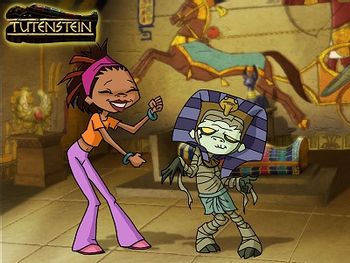 Tutenstein is an Emmy Award-winning animated television series, produced by Porchlight Entertainment (best known for Adventures from the Book of Virtues) for Discovery Kids. The series is based on the comic book character of the same name by Jay Stephens (The Secret Saturdays), who would serve as a creative consultant. The series ran for 39 episodes from November 1, 2003 to October 11, 2008, concluding with the television movie Clash of the Pharaohs.
The show follows the adventures of the child pharaoh Tutankhensetamun, based loosely on the real-life Tutankhamun, who is awoken three thousand years after his untimely death by a 12-year-old aspiring Egyptologist named Cleo Carter after she fixed some mistakes made to his exhibit by the museum curator. Together with Cleo's pet cat Luxor, who has been given the gift of speech and a position as Tut's servant/advisor, the trio spends their nights after the museum closes helping Tut (affectionally called Tutenstein) adjust to the modern world, solving the myriad of problems caused by Tut's inexperience as a pharaoh and inflated ego, and fighting back the threat of various Ancient Egyptian figures; the most dangerous being the Egyptian god Set, who seeks Tut's all-powerful Staff of Was, which would give him the might to rule the world.
In October 2022, it was announced that a reboot is in development
.
---
This show contains examples of:
Mean Boss: You probably wouldn't want to work for Horace Bedhety, but he's mostly just vain and petty.
Meaningful Name: Cleo's full name is Cleopatra Carter. The first part is obvious, while "Carter" alludes to Howard Carter, the archaeologist who found the original Tutankhamun's tomb.
Nepharious Pharaoh: Tut is not and never has been a merciful person.
Signature Headgear: Tut's gigantic nemes headdress, traditionally worn by pharaohs. He only takes it off a few times in the entire series.
Undeathly Pallor: Afroasiatic Tut, in death, is somehow a pale green color (the dark color of his exposed hands and feet make this kind of confusing.)
Undeath Always Ends: Averted - by the end of the series, Tutenstein is still a living mummy.
Zombie Gait: Tut pulls this in the show's opening, and every once in a while in the show as well.
---