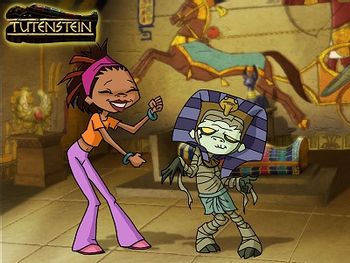 Tutenstein is an Emmy-Award-winning animated television series, produced by Porchlight Entertainment (Adventures from the Book of Virtues) for Discovery Kids that began broadcasting on November 1, 2003. Based on the comic book series of the same name by Jay Stephens (who would later create Cartoon Network's The Secret Saturdays), the half-hour series heavily features Egyptian Mythology.
In the series, the young mummy Tutankhensetamun (based on real-life Tutankhamun and usually called "Tutenstein" as in the title) is awakened about 3,000 years in a museum after his accidental death and now has to face the fact that his kingdom is gone. Helping him out is 12-year-old Cleo Carter, a girl interested in Ancient Egypt, and a magical cat named Luxor, who is both Cleo's pet and Tut's servant. The trio face a variety of issues caused by Tut's inexperience as a pharaoh, but frequently involving figures from Ancient Egyptian legend, most notably Set, the god of chaos, who seeks Tut's Staff of Was — a magical artifact that grants its wielder the right to rule over the world.
The series ran for 39 episodes, ending in 2008 with The Movie "Clash of the Pharoahs".
---
This show contains examples of:
Aesop Amnesia: Most episodes involve Tut learning that he should treat his friends well and/or not use magic for selfish reasons. It never sticks.
Ambiguously Gay: Luxor fits the bill, when you see the episode where he and Chloe have a Freaky Friday Moment.

"Perhaps I could wear that powder blue mini with a matching nehru jacket. I think Jake would find me quite fetching in it!"
For Halloween, I Am Going as Myself: In "Day of the Undead," Tut walks among mortals on Halloween, impressing trick-or-treaters with how much his costume looks and smells like a long-dead Egyptian mummy.
Jerkass Gods: Most of the Egyptian Gods are shown to be as temperamental, arrogant, and dangerously and randomly vindictive as Tut and often are the cause of many problems in different episodes (e.g. the Goddess of Love Hathor becoming offended that an obnoxious Tut wasn't getting respect and having a pyramid built for him so she turns into Sekhmet to kill some construction workers, the God Ra being furious at those who deny his authority, the Goddess Isis trying to eternally damn Tut for vandalizing a wall and cheating at a board game, etc.) Set happens to be the worst of the bunch.
Rip Van Tinkle: Tut's first act after being brought back from the dead is to run to the bathroom.
Royal Brat: Tut acts like a spoiled little Jerkass most of the time.
Scales of Justice: The episode Curse Of The Pharaoh has Tutenstein go through the weighing of his heartnote again in order to get rid of Ammut.
Undeathly Pallor: Afroasiatic Tut, in death, is somehow a pale green color (the dark color of his exposed hands and feet make this kind of confusing.)
Undeath Always Ends: Averted - by the end of the series, Tutenstein is still a living mummy.
Zombie Gait: Tut pulls this in the show's opening, and every once in a while in the show as well.
---