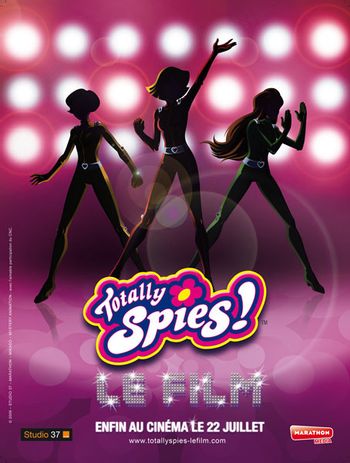 Totally Spies! The Movie is totally The Movie of Totally Spies!.
It premiered on 2009 in its native France, and in April 2010 in the United States. It is an Origin Story for the three girls, recounting how Sam, Alex, and Clover met, became close friends, and began work as secret agents for W.O.O.H.P., the World Organization Of Human Protection. The girls begin their adventure after having been transferred to a high school in Beverly Hills and wind up stopping an evil Super Villain named Fabu, a former fashion model who entrances teenagers, plans to demolish the Earth from a fabulous luxury resort in space, and boasts what's possibly the most ludicrous Freudian Excuse in the history of time.
They rescue some hot studs and an adorable piggy along the way.
---
Tropes:
---