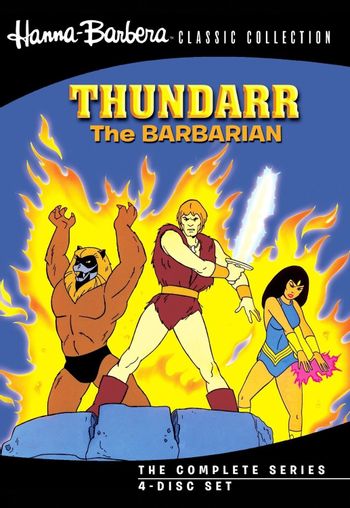 "The year: 1994. From out of space comes a runaway planet, hurtling between the Earth and the Moon, unleashing cosmic destruction! Man's civilization is cast in ruin!

Two thousand years later, Earth is reborn...

A strange new world rises from the old: a world of savagery, super science, and sorcery. But one man bursts his bonds to fight for justice! With his companions Ookla the Mok and Princess Ariel, he pits his strength, his courage, and his fabulous Sunsword against the forces of evil!

He is Thundarr, the Barbarian!"
In the year 1994, civilization was destroyed in a mighty cataclysm. (What? You don't remember that happening?) Some 2,000 years later, the world is still a pretty big mess, with many of the survivors' descendants having mutated into hideous monsters. Those who still remain human live precariously amongst the ruins of the old world, at the mercy of evil sorcerers who've managed to combine the technology of yore with ancient mysticism and create magic-fueled weapons of awesome power.
Into this broken world rides our muscular hero and his sidekicks, the magic-wielding Action Girl Princess Ariel(no, not that one) and the Chewbacca-like Ookla the Mok, a catlike, superpowered giant who communicates largely in growls. Together these three heroes ride the length and breadth of the post-cataclysmic world righting wrongs and protecting the shattered remnants of humanity from whatever dangers may threaten.
Created by the production team of Ruby-Spears with the help of comic book writer Steve Gerber and artists Jack Kirby and Alex Toth, this show was one of the better Conan-inspired Heroic Fantasy shows of the early 1980s. (Toth's character designs for the leads can be easily found online. One of them is of Ariel naked.) The opening sequence alone (which featured the flashy destruction of Earth) was enough to secure its place in the memory of many a kid from that era, who undoubtedly breathed a sigh of relief when 1994 had peacefully come and gone. A number of 90s kids remember the same opening, as Thundarr was a staple of the fledgling Cartoon Network, alongside shows like Centurions.
Was released on DVD and Bluray with a special feature: "Lords of Light!"
---
This show provides examples of:
---