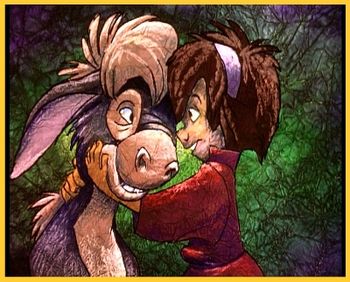 The Small One was a 1978 Disney short (26 minutes) Animated Film directed by Don Bluth. It was a theatrical film released during the Christmas season rather than a televised Christmas Special, serving as the second feature with the 1978 re-release of Disney's Pinocchio. It was Bluth's last full effort for Disney before he left to start his own company.
Initially, it was announced that the director would be Dick Sebast, a live-action film maker. Sebast had joined Disney in 1973 and had been one of the storyboard artists on The Rescuers. However, after that film had been completed, Don was put in charge of The Small One. (Sebast, ironically, would go on to become Story Director for the Dragon's Lair television cartoon.) Besides directing, Bluth wrote two of the film's songs himself: "Small One" and "The Merchants' Song".
The film epitomizes the split that was running through the Disney studios at the time. Though nearly everyone felt that the studio was going through a troubled period, opinions differed as to how to correct the problems, Bluth and his adherents believing that there should be a conscious return to the style of the studio's glory days in the Forties and Fifties, while others suggested a move toward more modern, experimental styles of animation. This dichotomy of styles affects the film itself, with the earlier part of the film harking back to the style of the Phil Harris era of animation, while the latter part of the film takes on the darker tones associated with parts of Pinocchio and Fantasia.
The film is unusual among Disney films for its strong religious theme. It seems to have done respectably well at the Box Office, though not so outstandingly as to make a decisive impact on the direction of the studio over the next years. Nevertheless, it is well remembered for the beauty and grace of its handling, and is arguably one of the best handlings of its holiday theme in animation.
Compare Rankin/Bass Productions' Animated Show Nestor, the Long-Eared Christmas Donkey for a somewhat similar concept.
---
The Small One contains examples of:
---