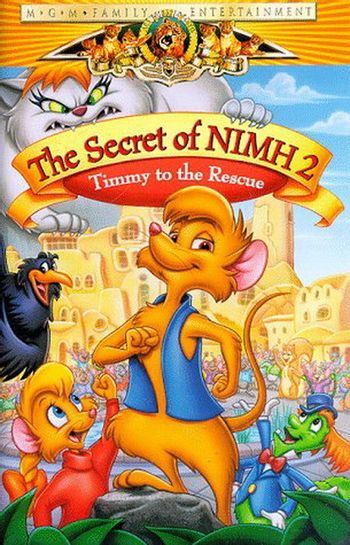 The Secret of NIMH 2: Timmy to the Rescue is a 1998 Direct-to-Video Animated Musical produced by MGM Animation. It is the sequel to The Secret of NIMH but was made without involvement from Don Bluth.
In the film, Timothy Brisby, the youngest son of Jonathan and Mrs. Brisby, goes to Thorn Valley wanting to become a hero like his father. When his brother Martin goes missing, it's up to Timmy and his partner Jenny to journey to NIMH and not only rescue Martin, but the other animals trapped there as well.
The film received mostly negative reviews, particularly compared to the first NIMH, and most Don Bluth fans like to quietly pretend it never happened.
---
The Secret of NIMH 2: Timmy to the Rescue contains examples of the following tropes:
---