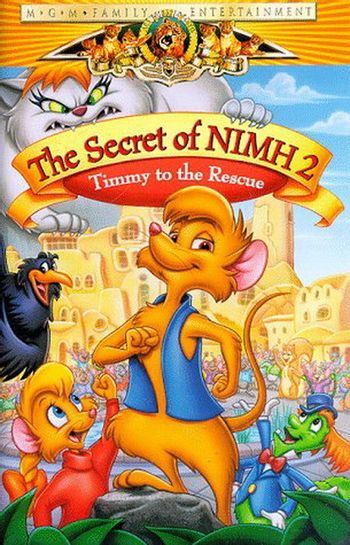 The Secret of NIMH 2: Timmy to the Rescue is a 1998 Direct to Video Animated Musical produced by MGM Animation. It is the sequel to The Secret of NIMH but was made without involvement from Don Bluth.
In the film, Timothy Brisby, the youngest son of Jonathan and Mrs. Brisby, goes to Thorn Valley wanting to become a hero like his father. When his brother Martin goes missing, it's up to Timmy and his partner Jenny to journey to NIMH and not only rescue Martin, but the other animals trapped there as well.
---
The Secret of NIMH 2: Timmy to the Rescue contains examples of the following tropes:
Anthropomorphic Shift: Especially jarring since they show clips from the original movie at the beginning.
Art Evolution: The sequel employs none of the harsh, dark imagery or highly intricate and realistic backgrounds that lent the original film its strong edge, and instead the animation, now using digital ink and paint, is bright and colorful (as well as noticeably cruder and lower budget) to supplant the much more kid-friendly tone of the sequel; this is made especially jarring after the opening prologue which consists of a montage of clips from the original film.
Ascended Extra: Though Timmy was a large plot point of the original movie, the character himself had little of a role or spotlight; he spent almost the entire film sick in bed, only having a single line of dialogue at the end. In the sequel he is in the starring role. This role promotion is identical to that of the book's sequels.
Badass Adorable: Timmy and Jenny are both cute-looking mice and have performed amazing feats.
Being Tortured Makes You Evil: This may be the reason why

Martin

became evil. It's never clarified whether the electroshocks he received actually changed him on a physical level, or whether it just turned him nuts because it hurt.
But Now I Must Go: Timmy leaves his family behind to fulfill an off-screen prophecy in the valley.
---