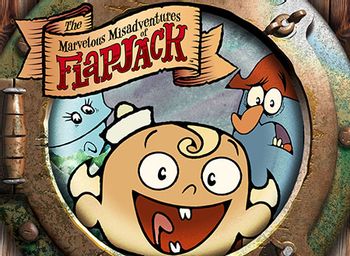 "Comedy, or at least the kind of comedy I like, are the ones that make you feel a bit uncomfortable and then hit you with a great joke."
— Show creator Thurop van Orman
From the mind of Mark "Thurop" van Orman comes a whale of a tale about an adventure-seeking young boy, a washed-up pirate, and a whale.
Flapjack is a cheerful yet gullible orphan raised by a motherly whale named Bubbie. One day, they rescue a pirate named Captain K'nuckles note pronounced "Kuh-nuckles" who regales Flapjack with tales of a mystical place called Candied Island, a land that he's spent much of his life searching for. Enamored by this, and much to the chagrin of Bubbie, Flapjack decides to help him on this quest for Candied Island and dreams of being a great adventurer like K'nuckles.
And that just barely touches the surface of this Cartoon Network animated series set in the screwed-up port town of Stormalong Harbor. To make a long story short, this show is very, very, very, very, very weird.
The show debuted June 5, 2008. Towards the end of its run the show became Screwed by the Network, unlike Chowder, concluding with a short six-episode third season and a series finale that aired completely unadvertised on August 31, 2010: only people who were subscribed to Van Orman through his DeviantArt page were even aware it was airing.
It's worth pointing out that since Flapjack's end, many of its key writers and storyboard artists have gone on to create their own series which went on to gain critical acclaim shortly afterwards, including Pendleton Ward (Adventure Time), J.G. Quintel (Regular Show), Alex Hirsch (Gravity Falls), and Patrick McHale (Over the Garden Wall). Van Orman himself went on to co-produce the similarly-humored Sanjay and Craig for Nickelodeon and Home: Adventures with Tip & Oh for Netflix, and co-direct The Angry Birds Movie 2.
Has its own very well-deserved nightmare fuel page.
You can now vote for your favorite episode by heading over to the Best Episode Crowner!
---
Who needs Candied Island? It's safer at TV Tropes!
---