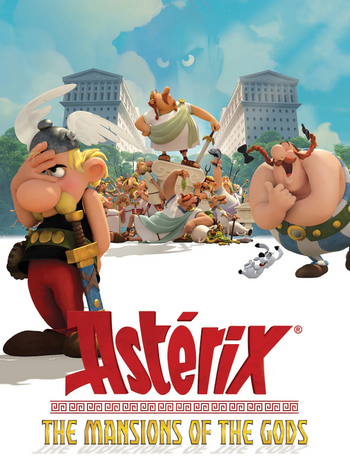 Asterix: The Mansions of the Gods (Astérix: Le Domaine des Dieux) is the ninth animated Asterix movie, directed by Alexandre Astier and Louis Clichy, and released in 2014. It is the first Asterix animated movie to be entirely made in CGI, and the last one where the eponymous character was voiced by Roger Carel in the French version.
The plot is mostly based on the story of the same name — Caesar has a massive housing project built near the Gaulish village, with which he hopes to entice the Gauls to adopt Roman ways — but it also considerably expands the story, notably by building on the Roman couple designated to be the first inhabitants.
A sequel, The Secret of the Magic Potion, was released in 2018.
---
Asterix: The Mansions of the Gods provides examples of:
---