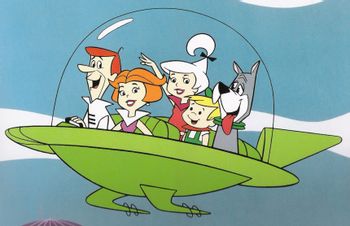 Meet George Jetson
His boy Elroy
Daughter Judy
Jane, his wife
—The opening theme
This Hanna-Barbera series demonstrates that even in comedy animation, Sci-Fi Writers Have No Sense of Scale. The first series broadcast in color by ABC, The Jetsons was essentially The Flintstonesnote Which predates this show by two years, and had always been in color, but which ABC initially broadcast in black and white. transferred to an idealized vision (even for the time) of the 21st century, with flying cars, conveyor-belt sidewalks and fancy (or rather, fancier) appliances. George Jetson and his family live in an ultra-high-rise apartment complex with their dog, Astro, and their robot maid, Rosie.
The show was originally canceled after one season due to low ratings, fueled in part because color televisions were still hard to come across in The '60s. After its prime-time run, the original 1962 series was rebroadcast on Saturday mornings on other networks, as well as in syndication. The plots have been compared to those in the Blondie comic strip and movies — not surprising, since Penny Singleton (who played Blondie in the films) was the voice of Jane Jetson. New Jetsons episodes were produced for syndication in 1985 and 1987, and in 1987-88, there were two feature-length Made For TV Movies. One of those movies, The Jetsons Meet the Flintstones, served as a natural crossover between the two animated families.
Universal released Jetsons: The Movie in 1990, complete with CGI, a Green Aesop, and late-80's pop singer Tiffany infamously given the (full) role of Judy Jetson over then-still-living original voice Janet Waldo. The Jetsons stayed dormant for almost 30 years after the movie, until 2017. After Warner Bros. released Direct to Video Crossovers with other Hanna-Barbera characters and WWE Superstars, the Jetsons starred in The Jetsons & WWE: Robo-WrestleMania!. Later that year, ABC greenlit a live-action sitcom about the family. 2017 saw the family return in comic book form as part of the Darker and Edgier "Hanna-Barbera Beyond" series.
---
Here's... the... Trope List:
---
HELP!
HELP!!
JANE, STOP THIS CRAZY THING!!!
---