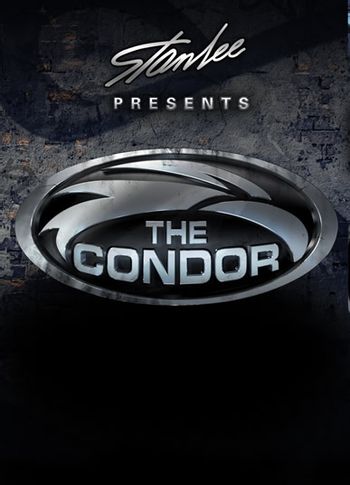 The Condor is an animated superhero film released in 2007, whose title character was created by Stan Lee. The story centers around Tony Valdez, a Latino teenager, professional skater and the son of two wealthy scientists, who are on the verge of a new breakthrough in nanotechnology. However, everything seemingly goes awry when Tony's parents are killed in a (not-so-accidental) car crash and he is attacked and beaten, leaving his legs permanently broken and him supposedly unable to walk again. But here comes science to the rescue! His closest friend, Sammi (who secretly loves him) had studied his parents' research and comes up with mechanized leg braces, which inject him with nanobots and enable him to walk again. She also builds him an unbelievably high-tech skateboard and a personalized helmet, with a heads-up display visor. With all this in tow, he becomes The Condor and sets about finding out the truth about his parents' deaths, and putting a stop to plans by Nigel Harrington (his parents' former business partner) and the assassin Taipan, to use their research for villainous intent.
---
This film contains examples of:
Creepy Monotone: Taipan talks like this with their helmet on. Done on purpose to

try and better hide that Valeria is Taipan

.
Fiery Redhead: Sammi is a redhead and if we are to take Z-Man's word for it, she's much sexier when she's angry.
Go Seduce My Archnemesis: This trope is turned almost entirely on its head. Nigel orders Taipan to kill Tony, but in her civilian life as Valeria, she seems to be equally concerned with having a little quality time with him first. She even lampshades the circumstances when she finds out Tony is The Condor; "I suppose that's what I get when I mix business with pleasure."
---