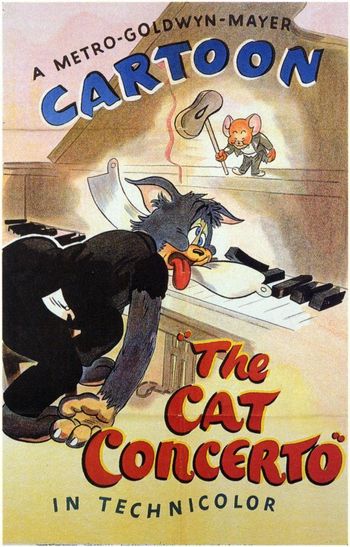 The Cat Concerto is a 1946 Tom and Jerry short, released to theatres on April 26, 1947 by Metro-Goldwyn-Mayer. It was produced by Fred Quimby and directed by William Hanna and Joseph Barbera, with musical supervision by Scott Bradley, and animation by Kenneth Muse, Ed Barge, and Irven Spence. It won the 1946 Academy Award for Best Short Subject: Cartoons. The short won the duo their fourth consecutive Academy Award for Best Animated Short Film.
In what was then an unusual setting for a Tom and Jerry short (this coming before the influx of Recycled In Space plots that would be used in the series later), the short opens with Tom getting ready to perform Franz Liszt's "Hungarian Rhapsody No. 2" on a piano in front of an audience at a formal recital. Little does he know that Jerry has (for some reason) decided to live inside the piano, and is rudely awakened by the hammers as Tom plays the piano keys. Jerry then realizes what is happening, but decides to take it in stride and come to the top of the piano, playfully "conducting" Tom with his finger. This irritates Tom, who then flicks Jerry away. And of course, This Means War!...
Also of note is that Rhapsody Rabbit, a Merrie Melodies short starring Bugs Bunny and featuring a nearly identical plot (complete with Bugs playing "Hungarian Rhapsody No. 2" and going up against a mouse living inside the piano), was released just a few months earlier. To this day no one knows who copied from whom or whether it was a complete coincidence. Animation historian Joe Adamson relates that Technicolor was swamped with work and accidentally sent dailies of Rhapsody Rabbit to MGM, prompting Hanna and Barbera to rush their film to get it released first. Friz Freleng, the director of Rhapsody Rabbit, always maintained that it was a complete coincidence that his short was so similar to the Tom and Jerry one. At any rate, The Cat Concerto was the one that received the Oscar.
Trope Namer for Cat Concerto, when alley cats perform a serenade (though usually singing rather than on the keyboard).
---
This cartoon provides examples of:
---